It's easy to see why not many Australian dancers venture aboard. Australians are a very patriotic folk, with a strong affinity for the arts. There are a healthy amount of dance companies, and the Australian Ballet, it's premier ballet company, is renowned for bringing it's own creative and elegant take on classic pieces.
Its a testament to Australia's strong dance community that when one of it's dancers does leave it's shores, he or she tends to make an impact. Think Royal Ballet principals Steven McRae and the recently retired Leanne Benjamin. Or Danielle Rowe, current principal at the Houston Ballet.
Danielle Muir may well be on that path as well. One of the Staatballet's newest corps members, Danielle is all elegant lines and suppleness. She's wonderfully intelligent and personable, frequently taking the time to compose detailed, thoughtful answers on her social media outlets to any inquirers, whether they are students looking for advice, fans, or curious passers-by. She also writes about her experiences as a dancer on her blog, Life of a Ballerina. Oh, and she taught herself how to do handstands. Is there anything she can't do? Aussie aussie aussie!
C&V SESSIONS WITH DANIELLE MUIR
You're an Australian girl trained at the Royal Ballet, and working in Staatsballet Berlin! It's probably quite a different path from your fellow Australian dancer peers have chosen, isn't it?
Yes it is a very different career path to most of my dance peers from Australia. Many are no longer dancing or chose a career in a dance style other than ballet.
What do you remember about being a baby ballet dancer at Australian Ballet?
I started ballet when I was 6 years old and I remember loving it from the very beginning. I also remember that when I was little, I didn't know you could do ballet as a job but I knew I didn't want to do anything else. Also, I got bullied at school so I used to look forward to ballet so much because I was much happier there and had lots of friends.
Does/did anyone else in your family dance?
No one else in my family dances. Just me!
What do you miss most about Australia? Conversely, what are your favourite things about Berlin so far?
I miss lots of things about Australia. Of course most of all I miss my family and my home. But I also miss the amazing weather, the beaches, the Australian accent and just the general way of life.
But there are lots of things I like about Berlin. I like how easy it is to get around the city, I like the very interesting history and all of the beautiful parks.
What made you decide that you wanted to become a professional?
I didn't really decide I wanted to be a professional ballet dancer. I loved ballet from the day I started so I never had to think about it. There was nothing else in the world I wanted to do other than ballet so there was no decision. I just did what I loved to do and what made me happy and I ended up here!
Did your parents require any convincing when you decided you wanted to pursue ballet professionally, or were they on board from the start?
They knew it was my passion and they knew I worked very hard and was very good so there was no way they could say no.
The only thing that took a little bit of convincing for my dad was when I first went full time. He wanted to let me go but he also didn't want me to leave school. But he finally decided on letting me go if I did school by correspondence and if I didn't keep up with my school work I would have to go back to school. But I just wanted to dance so I worked really hard at my school work in the evenings and on the weekend so I could keep dancing.
Now my parents are very happy they let me follow my dream!
Tell us about your journey to the Royal – we heard you were invited by the director to audition. What was the process like?
I was first spotted by the Director of the Royal Ballet School at a ballet competition in New Zealand called the Alana Haines Australasian Awards. The director was one of the judges at the competition.
At the party after the finals, she approached my teacher and I and said I had a lot of potential and she would like me to send a DVD to her in a year because at the time I was still too young. So about a year later I sent a DVD. That year I went to the Genee International Ballet Competition in Singapore and after the competition, instead of going home my mum and I went to London so I could take class at the Royal Ballet School for a week to see if I liked it and to see if the director was still interested in me.
On my second day at the school, the director called me into her office and offered me a scholarship to come to the school the next year. I remember telling my mum that afternoon and she didn't believe me at first! She thought I was joking!
What was life like at the Royal Ballet school? Was it, for example, very intense, competitive and grueling,  or open andwelcoming,? Or was or all of these things! What was your relationship with your teachers like?
To be honest, life at the Royal Ballet School was all of those things. The daily schedule was very exhausting. It was such hard work.
I enjoyed it most days but there were days when I felt so exhausted or when I felt frustrated because my teachers were pushing me very hard but I felt like I wasn't at the standard I should be. The teachers were nice people but sometimes they were so hard on us. So most of the time I liked my teachers but sometimes they could forget that we were still so young and would put too much pressure on us.
There was friendly competition with the other students. We all became so close like a family and we would support each other at school and do lots of fun things together in the evenings and on the weekends, but we would also really motivate each other and push each other to work harder and be better.
The standard of the dancers was so high at the school that sometimes we would all have days where we thought we were not good enough and didn't compare to the others in our class, but in the end I believe we all graduated as the best dancers we could have been at the time.
So life at the Royal Ballet School was very tough but so worth it and I have learnt so many important lessons, grown as a person and made lifelong friends and memories.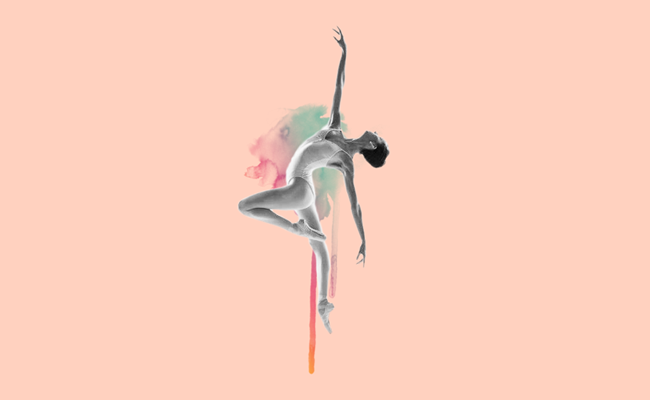 2013 was a watershed year for you – you graduated from the Royal and was accepted into a very prestigious professional company! Did you always have ambitions to dance with an overseas company or did you initially plan to stay in Australia? What about Staatsballet attracted you to it?
When I was very young, the only company I knew of was the Australian Ballet, so of course I wanted to dance with that company, but as I got older and became more knowledgeable about ballet and companies around the world, I decided I could have a much more exciting career and a lot more opportunites overseas. I especially wanted to join a company in Europe.
The main thing that attracted me to Staatsballett Berlin was the incredible Polina Semionova. She is one of my favourite ballet dancers and to dance in the same company she danced in was very appealing to me. Then I did the audition and I loved the atmosphere and the class and just felt very comfortable. I did research on the repertoire and loved the fact that the company performs lots of my favourite classical repertoire but also plenty of new contemporary works which I also love to do.
What was your debut ballet with Staatsballet? Tell us about the experience!
The first time I performed with Staatsballett Berlin was in the season opening gala. There lots of different short pieces and pas de deux performed. I performed in Swan Lake Waltz and Balanchine's Ballet Imperial.
Then my first full length ballet Was Swan Lake in which I performed Waltz and Polonaise, Swans and Tarantella.
The first time I stepped on the Deutsche Oper stage was a very exciting experience. I have performed on so many different stages but the fact that this was the first stage I would perform on as a member of a company made it a different experience for me. I was also thinking about all of the times in the future that I would be performing on this same stage.
Swan Lake was an amazing experience because it is probably the most famous ballet and after doing many performances of it, I really felt like I had become a professional.
Did you find it easy to make the transition from student to a corps member?
I found the transition very easy actually. There are definitely some things to get used to but I have found it a lot easier on my body than school.
The one thing that is more difficult is remembering A LOT of choreography. There are so many ballets to learn and I have had to learn them so quickly in such a short amount of time. But now that I am no longer training, I have more time to rest my body and look after myself and I don't have teachers constantly watching me and telling me what I am doing wrong.
I actually feel like I am improving quicker now that I am able to focus on single aspects of my technique at a time and work at my own pace.
Describe a typical day for you.
The schedule changes depending on whether we have a performance that day or not.
On performance days, I have class at 10:30 then rehearsals until 1:30. Then I get to come home and have a rest and then go back to the theatre for a 7:30 performance and usually get home at about 11. On days when I don't have a performance I also start with class at 10:30 but rehearse until 6:15.
How did you survive Nutcracker season?
For me, Nutcracker wasn't too difficult because I just finished Swan Lake which is a lot more physically and mentally demanding, so that made Nutcracker seem a lot easier. And of course the fact that it's christmas time lifts everyone's mood and makes it even more enjoyable.
You are pretty active on social media, and do your best to interact with your fans and answer questions. While it's evident that you enjoy it and have fun, how do you manage to keep up, given how busy you are? Do you feel any pressure to dispense the 'correct' advice, so to speak, given that there are so many young dancers online who look to you for help/guidance?
Yes, like most young people these days I can't live without social media! Haha!
I really enjoy talking to other aspiring dancers and answering their questions because I know what it's like to be training in school and I know how difficult it can be sometimes.
Of course when people are looking to me for advice, I don't want to say the wrong thing but I just speak from my own experiences and give honest answers. I dance because it is my own passion, but being able to help and inspire people at the same time makes it so much better!
We love the pictures you post of your straddle handstands! Where did you learn to do that, and was it hard doing one in a full-on pancake tutu?
Actually, I taught myself how to do handstands. People always ask me if I ever did gymnastics but I never have. I just thought it looked fun so I used to spend hours in my living room practising until I eventually found my balance and I've never lost it. I don't find it difficult in a tutu. I think I could do it no matter what I'm wearing!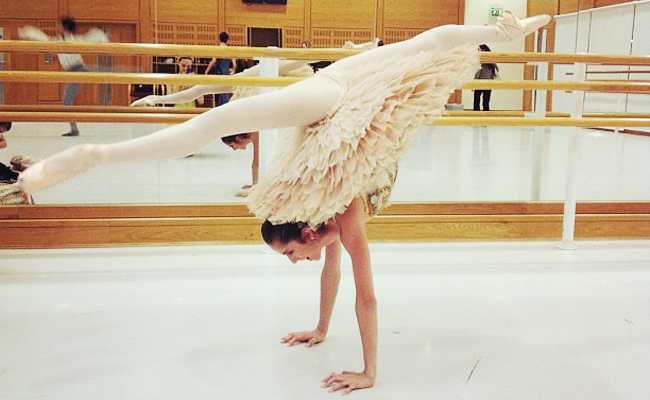 Dani rocks out a straddle handstand in full pancake tutu regalia.
Ballet is a demanding art form. How do you keep from burning out?
In order to keep from burning out, I have to balance my life. I can't dance all the time.
I think that is a big mistake a lot of young dancers make. They know it's very hard work to make it and it involves a lot of dedication and training, but that doesn't mean you become obsessive.
When I am in class and rehearsal I work very hard.I stay focussed on my goals and what I am doing when I'm in the studio but when I finish for the day, I leave the studio and do something 'normal'.
I do things to completely take my mind off ballet so that when I am back in the studio the next day, I am still motivated and ready to go, rather than exhausted and over it.
As a young dancer, what do you think are your strengths and weaknesses?
My biggest technical weakness is my turn out.  My legs are bowed and hyper-extended, which makes turn out very difficult for me so I have to work very hard at it all the time.
I'd say my biggest strength is probably my mind-set. I have learnt to always think positive and believe in myself and that has helped me more than any physical strength.
Do you do any other conditioning or stretching outside of class? How do you find the motivation and energy to keep up with it after a long day of rehearsals/training?
Sometimes I stretch in the evening but that's usually all I do. I always make sure to work hard in the studio and when I come home, that is time to myself to just relax.
What is your favourite dance moment from 2013 – personally or otherwise?
Personally, my favourite dance moment from 2013 was when I performed a principal role in a new ballet created for my Royal Ballet School graduation performance on the Royal Opera House stage. That was incredible. It was the final time I was dancing with RBS, it was on an incredible stage in front of such a huge audience, including my parents, and I had all of my closest friends from school on stage with me. It is a memory I will have forever and luckily I have a DVD of of the performance that I can always look back on.
And finally – what are your new year's resolutions? Do you think you'll be able to keep them? 
I actually don't have any new years resolutions this year. If I had to think of one, it would be just to stay happy and positive. That's the most important thing. I'm sure I'll be able to stick to that one!
——————
We'll be posting Dani's answers to our quickfire questions on Monday!
Follow Danielle Muir on:
Twitter: @daniellekmuir
Instagram: @daniellekmuir
Ask.fm: @daniellekmuir
Dani's blog: Life of a Ballerina
Youtube: dancingdani25