Miko Fogarty is a person of extremes. Extremely gifted. Extremely flexible. Extremely precise. Extremely popular. If ballet were a Mean Girls movie, Miko would be the girl who makes car commercials in Japan.
Praised for her grace and technical prowess, Miko had started making waves and gathering accolades with her dancing as a young girl. Then at the age of 13 she was featured in the ballet documentary First Position, a movie that followed the journey of several dance students as they prepared for the prestigious Youth American Grand Prix competition. The film was a hit. Miko impressed audiences with her dancing and won them over with her quiet dedication – and a star was born.

But here's another one of Miko's extreme characteristics – extremely nice. Despite a wealth of plaudits and her huge fanbase, Miko is far from being a Queen Bee.  She's sweet and unassuming, and it's easy to forget that we might be talking to one of the next great stars of the ballet world. She is a bright young lady who gives polished answers and takes care to think through the more serious questions.
But then her youth shines through when she's gushing about her tutus or recounting her reaction upon learning that her brother Jules had a girlfriend. Her voice brightens with excitement, and a soft giggle punctuates her sentences.
It's utterly, extremely charming.
C&V SESSIONS WITH MIKO FOGARTY
What did you have for breakfast?
A bowl of cereal and half a grapefruit.
What did you wish you had for breakfast instead (if anything?)
 Today was pretty good. I always like eating eggs for breakfast though. Maybe an omelette, and some ham.
You danced with Rex Tilton recently  in a production of the Nutcracker. What was that like?
It was fun! Rex was really nice.
Do you ever get nervous when you have to dance with professionals?
I hadn't watched Breaking Pointe before, so I wasn't scared about dancing with Rex.
I do try to do everything really well, because it's important to make a good first impression. But after a few rehearsals, everything  becomes pretty normal.
But if I had to dance with someone who was extremely famous and whom everyone knows, I probably would get scared.
You started ballet at 4, and your love of it grew and grew from there. What were your favourite ballets to watch growing up? Any productions in particular?
I loved to watch ballet on TV when I was young. I liked Sleeping Beauty.
We also had a DVD with lots of excerpts from the Kirov Ballet. I liked that a lot.
 The dancers were so pretty and I thought it would be so cool if I could be ever like them one day.
Was there a point where you realised you were good enough to become a professional dancer?
There wasn't a moment when I thought I could make it. I just always had a goal to do it and I kept working at it.
When I was little I had so many activities. I did tennis, piano, violin and gymnastics. I was pretty good at violin, but I decided to stop doing all the other things and focus on ballet .
Your mother was a professional pianist. Did she ever try to pass on her talents at piano to you?
She taught me piano when I was little. She wanted me to be a professional violinist but I wanted to do ballet! I found violin harder than than ballet actually. I loved ballet more.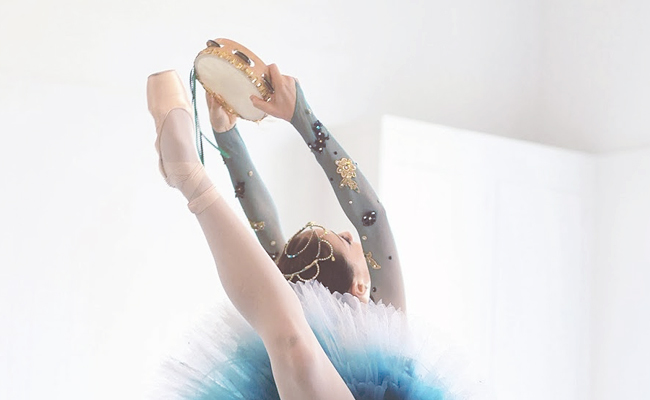 Credit: GinkoPhoto
Even though you are very accomplished at such a young age, it must be natural for any dancer to worry about succeeding as a professional.
Yeah, I do worry. I feel like I need to improve so much. All the dancers in professional companies are so amazing. I still worry about when I can actually make it.
We think you can! You must still be very excited about turning professional in a few years.
Yes. I really want to be in a ballet company!
What is your dream company?
I have a lot! I really like the ones in Europe, like the Royal Ballet, English National Ballet, Stuttgart Ballet and Dutch National Ballet. I also like the ABT here in America.
I dreamt of dancing with the Royal since I was a little girl, but they're a really hard company to get into! Hopefully one day. I just have to keep working hard!
Competitions are one of the best ways for talented young dancers to gain exposure and opportunities. Do you remember what your first competition was like?
I was probably 5 or 6 years old. I did so many competitions when I was little so it's hard to remember. It was a group dance and I think I had a lot of fun performing with my friends..
Now that you've been doing it for a few years, has competing gotten easier?
I never was nervous when I was young. I found it a lot of fun, especially the group dances.
But now that the dances I perform are much harder, with lots of turns that I have to perform perfectly on stage, I do get nervous sometimes! Especially if it's a big competition, because I have been practicing so hard for it and I would be sad if I didn't perform well.
So how do you deal with the nerves?
I don't get nervous enough to throw up or something, so it's not too bad. Just a little nervous. I feel like it all goes to my stomach and my stomach just gets really clenched!
It hasn't hindered your performance on stage.
No. It's actually helped.  Sometimes in competitions I relax when I've reached the finals, and I end up not performing as well as I feel I should.
But I was very nervous during the IBC in Moscow this June. I was nervous the whole time, and I think the nerves helped my performances during all 3 rounds of competition.
Miko performing a variation from La Esmeralda
With so much happening around you during these competitions, how do you stay focused? Especially when you have photographers and/or camera crews following you around.
Yes, it can be hard. There were so many news people around during Prix de Lausanne, and when I was 12 the First Position crew were following me around. It can be hard to concentrate and do your best in those situations.
But I learnt that I have to be strong and say no. A lot of times, people will want to interview you right before you go on stage. You have be okay with saying no, and tell them you would like to do your interviews after the competition because you need to get in your zone.
The little interviews are not as important as the competition you are there for.
When I was younger I was not really good at saying no to news crews and ended up giving lots of interviews. It affected my performances. But now that I'm older, I know better.
When you prepare variations for competitions, how much do you and your teachers keep in mind what the judges might want to see?
That's pretty important. I try to find a balance between what the judges might like and what I can do, and what the competition regulations are when choosing variations and deciding on choreography. In some competitions, judges may like seeing turns, while in others they may prefer quality over quantity,
Is there a big difference between preparing for performances versus competitions?
I think it's the same for both. I don't get nervous for performances, because I just want to make people happy. But for competitions I do. That's the main difference for me.
Have you ever had to kiss someone onstage yet?
No. I haven't done that yet!
What has been your favourite costume to wear?
We've been buying tutus from Japan recently, and those are so pretty. My favourite one is a green tutu that I wore for Esmeralda.
There was another purple one from Japan that I wore as the Sugarplum fairy recently. That one is super pretty as well.
I actually really like wearing tutus. I feel a bit like a princess wearing the tutu and the tiara so I don't ever get bored of them. Sometimes when costumes get smelly and sweaty you of course don't really like wearing them. But I always like tutus.
I used to look at ballet books when I was young and tell my mum that I wanted to wear the tutus and pointe shoes, and now I do!
You're training with the Indiana Ballet Conservatory and with  Kaoru Jinushi in Japan. 
Yes, I go back and forth between them.
How does this arrangement work out?
My mum's from Japan. She found this teacher who was really good, so she suggested that I should take a class with them when we went back to Japan. I did, and I really liked it. That was when I was 13, and I only went there 2 weeks a year. But recently I've been spending more time with them because my teacher in Japan is very good!
With the Indiana Ballet Conservatory, I rented out a studio from them when I was practicing for the YAGP in Indianapolis. I found out that the teachers there were from Russia and had a good reputation. After the YAGP I went back to Indiana to train with them. It was only for a week, but I improved so much with them. So I ended up training for 6 weeks with them before the Moscow IBC.
I train for about 2 months each in Japan and in Indiana, but in between I go home for a few days to spend time with my family.
How different do you find the Japanese style from the Vaganova technique you've learnt?
It's very different! In Japan, they are not as flow-y as Vaganova. But they can balance a little better, and they tend to hold each pose, whereas the Vaganova style is more fluid and they move through everything.
I feel like my Japanese teacher has the proper way of Japanese teaching and the Japanese technique, but he's still very Vaganova.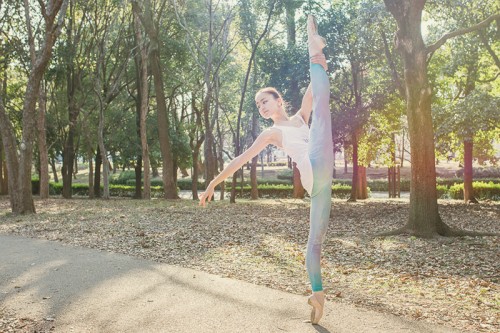 Miko in our Peacock leggings
How many times have you watched First Position? 
I've seen it 7 times in theaters. I don't get tired of watching it, although I know what's happening next. I liked the film and how the director made it.
You're probably used to watching playback of your dancing – were you okay with watching yourself in a non-dancing context on film?
I thought I sounded and looked weird! But it wasn't hard to watch  myself. It's nice to look back. I was pretty young then and now I can look back and laugh at myself.
Well we thought you looked perfectly lovely in the film!
Thank you!
How has Jules been? A lot of people are probably curious about what he's been up to since he stopped dancing.
He like a normal teenager. He's a freshman at high school and he has a girlfriend now. He's doing well and he's keeping his grades up. He looks so different as well!
How did your parents react when they found out he had a girlfriend?
They were pretty cool. But we all teased him a lot. So after that he never told us anything!
I teased him so much!
Your mum accompanies you when you travel overseas for ballet. I know you two are very close and that your mum is incredibly supportive,  but surely you must fight sometimes! How do you guys resolve your arguments?
I've learnt to listen to what she says. Kind of!
She's taught me over the years to listen to her and not fight back. She's a smart woman and she's usually right! Even if I fight back I'm normally wrong.  She does get mad at me sometimes,  but mostly we get along pretty well.
So it's mostly your dad and brother at home?
Yes, I miss them but I facetime them a lot! My dog Balto is also at home, and my cat. His name is Maneki Neko, which means 'lucky cat' in Japanese, but I mostly call him Mani.
Do your dog and your cat get along?
No they don't! We've always wanted a cat though, but my dad said we couldn't get one. One day I suggested we go to the animal shelter just to have a look, and we ended up coming home with a cat!
That is an excellent strategy.
Haha, yes, I love my cat.  He sleeps with me.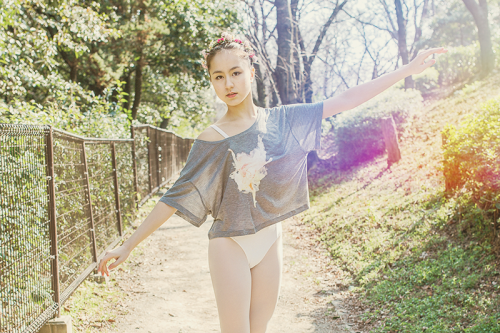 Miko in our Cojocaru Crop Top
Did you do anything special for your 16th birthday?
I was actually in Indiana preparing for the Moscow competition, so we didn't have time to celebrate.
But after I won the gold medal in the Moscow IBC, we had a celebratory party. I felt like that was my birthday party as well.
Did you get cake?
Yes, I ate a bit of cake!
It must've been amazing winning gold in Moscow. It's such a prestigious competition.
I thought it was impossible for me to win gold at the IBC even if I danced well, because normally foreigners don't get gold medals. Only the Russians.
But my dance went really well at the finals, and I knew that I showed the judges what I could do. I knew was happy with my performance, even if I didn't get a gold medal. But it turned out that I won the gold. I couldn't believe it! It didn't register at all at that point.
As a young dancer, what do you think are your strengths and what areas would you like to improve on?
I think I need to improve everything! There is so much that I need to work on still. I guess my strengths are … turns, maybe? I'm not sure what my strengths are! I feel like I need to work on everything! I want to be a well-rounded dancer who can do both classical and contemporary.
How do you keep from being too critical of yourself when you're trying to reach perfection – which is an impossible standard to attain!
People always send me nice comments and messages on facebook and instagram. If I just look at those it makes me feel happier. Even if I had a bad day, my followers always make me feel better.
What have been your proudest dance moments so far?
Winning gold at the IBC is something I'm pretty proud of. Being able to dance on all these stages worldwide is pretty crazy as well. All these experiences of going to all these competitions have been really good ones.
What do you like to do during your downtime from ballet?
Well I do online school, and I try to do a few lessons a day when I'm not training so that I can keep up.
If I'm not doing schoolwork, I'm usually on instagram and facebook. I love the edits my fans make! They're so cool.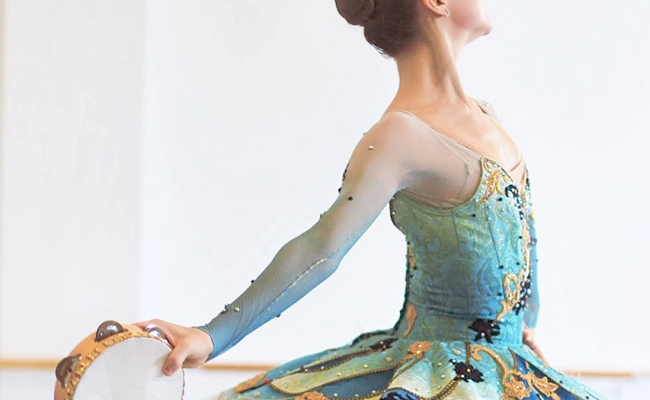 Credit: GinkoPhoto
Many hours of practice have led up to one of your greatest challenges this year – your driving test.
My dad taught me! He's a very good coach. He's very calm and he gave me good corrections. I drive manual with a stick shift.
Manual! That's impressive!
Yes I really like driving! I can't drive in Japan of course, and in Indiana we usually get a rental, so I don't get to drive much. Sometimes I drive when I'm back home, but that's not very often.
How will you and your family be spending Christmas?
I have a short Christmas break – maybe one or two weeks. We haven't planned anything yet, but we'll all be together and that's the most important thing. We'll figure it out.
What's on your Christmas wishlist?
Nothing right now. I used to want a professional camera (a DSLR), but they're really expensive and I don't have time to take pictures nowadays.
I was thinking of getting coloured contact lenses, to see what my eyes would look like if they were in a different colour – like green or something. But I'm not sure if that's a good idea!
Your mum's in the next room from you right now, so if you want something for Christmas, say it really loudly so that she can hear you!
My parents are really nice. I normally don't ask for things, but if I do they're very nice and will usually get it for me!
But I don't really need much – just for my parents to keep supporting me.
What are your plans for 2014? Where can fans expect to see you dance?
In January, I'll be dancing in a gala in Denver, Colarado. I might go to some international ballet competitions during the summer. I'll be guesting at the Taiwan Grand Prix in August as well. I can't wait to visit Taiwan!
——————
Read Miko's answers to our quickfire questions!
 We wish Miko the best of luck for the next year. We're excited to see what 2014 holds for her, and we  are sure she will kill it at her competitions!
Follow Miko Fogarty on:
Twitter: @MikoFogarty
Instagram: @MikoFogarty
Youtube:  iluvmybalto
Facebook: Official Facebook Page