Let her entertain you – after all, it's what Olga Karmansky was born to do. Before Julie Zetlin became the first American rhythmic gymnast to qualify for the Olympic games in London, that expectation had been foisted onto Olga's shoulders.
She was daughter of a rhythmic gymnast and America's best, a US national champion and two-time Pan American champion. But Olga made the difficult decision to retire from the sport in 2006, when she realised she would not be given a fair chance to qualify for the Beijing Olympics.
Many gymnasts who retire are content to put their performing days behind them, tucked away with their hoops, their ribbons and their crystal-encrusted leotards. For, there is the circus. Companies like Cirque du Soleil offer a physical challenge and the rewards of performing, without the pressure-cooker environment of elite competition.
Olga's post-elite life was a little different, though. Touring with Panic at the Disco!, performing for Usher, being part of an art exhibition in Venice kind-of different. Eventually, the lure of the circus did prove irresistible to Olga, but it was a circus of a different sort. She was cast in the recent revival of Pippin, a musical about a boy, a circus troupe, and a fantastical story. It was a show that broke ground with it's enmeshing of circus arts and musical theatre into a glorious nightly spectacle on Broadway, and saw it win a host of Tonys, including the Tony for best revival of a musical.
Though the show is still going strong with a healthy attendance rates and a rumoured 5-hour rush line, Olga has  decided she's content to leave this corner of the sky – her last performance with Pippin comes at the end of June. It might reflective of someone constantly looking to challenge herself in new and exciting ways. Circus gypsies never stay too long in one place, after all. Or of someone with the wisdom to leave well before the writing's on the wall, as when she bowed out of the elite stage in '06.  It's easy to look back, to be bogged down in the wondering what could have been. But Olga's gaze is forward, looking on to what's next.
C&V SESSIONS WITH OLGA KARMANSKY 
We always start with this question – what did you have for breakfast?
I had the best breakfast ever.  Toasted Ezekiel sprouted bread with crushed avocado, olive oil and freshly squeezed lime juice (salt, pepper, red pepper flakes).
What do you wish you had for breakfast instead, if anything?
Avocado holds a very special place in my heart, so nothing!
You started as a rhythmic gymnast, following in your mother's footsteps. Was she your main motivation for becoming involved in the sport?
Though my mother introduced me to rhythmic gymnastics, my involvement came from my own strong desire.
My brother and I were 2 rambunctious children and our parents– specifically my mom who was studying for her Masters Degree and needed some peace and quiet, could not tolerate us if they didn't direct our energy into many activities.  So we were enrolled in many things from a young age.   Dance, art, swimming, karate and rhythmic gymnastics.
Though my mother introduced me to it, eventually, for me, rhythmic began to take a greater priority than anything else I did.  I wasn't even particularly good as a kid.  I just really, really loved it.
What did you enjoy most about rhythmic gymnastics, and what did you enjoy the least?
I loved the community, my friendships at the gym. My coaches were my mentors, they had a huge impact on all aspects of my life.  We learned life lessons at the gym.  I loved working towards goals.  The idea of something being impossible originally and then in a few days/weeks/months the mastery of mind/body/physics.
The complete focus and concentration it took to execute a skill.  The music, the story of a routine.  Finally, I really loved the thrill of performance.
In the end, if I wasn't being watched, I didn't have much interest.
Elite-level training is practically a full-time job, and physically exhausting to boot – usually 7 hours. 6 days a week – how did you manage to train and attend college at the same time? And you haven't slowed down – now you're in a Broadway show, coach students and attend NYU at the same time. Are you actually a highly-evolved super-productive sub-species of the human race?
Honestly, I don't know how it's done.  I try my best to be a human sub-species.   However the reality is called burnout.
I get carried away– overly ambitious and overly excited about having and doing it all.  Everytime I think I've learned my lesson, I do it again.  Say yes to too many things, pick up projects left and right, agree to help with a, b and c.
I often bite off more than I can chew.  Still, somehow I make it work, so maybe subconsciously I know it will all be okay in the end even if there is a phase where it gets stressful.  Sooooo…I have a problem and I am actively working on it. 🙂
You were considered one of the US's best rhythmic gymnasts when you were competing, but you retired in 2006. What factors led to this decision? Was it difficult to reconcile the idea of not making a run for the 2008 Olympics, or were you ready to move on?
Not to be dramatic but it was one of the most deeply sorrowful days of my life.  I had to come to terms with the fact that qualifying to the Olympics in rhythmic gymnastics for the USA was close to impossible because of factors out of your hands.
It's so sad how the sport has a tendency to crush young souls.  Adults are playing with children's livelihood like it's a poker game.  As in every rhythmic gymnasts career, the politics and variables get so frustrating.  You think if you just train harder, longer, more and remove all distractions and only focus on gym, you can change something … you can make some sort of difference.
 At the end of my career, I was what I and those around me considered the best shape of my life.  I had tucked myself into a cave of discipline for a year and when I went back to Corbeil-Essones, the annual premiere World Cup of RG, I received the lowest ranking I had ever had.  Lower than my first year competing in the event when I was barely 15 years old.
The following day, as I sat watching who had made it into finals–the top 15 ranked gymnasts.  My jaw and heart both dropped.  My coach and I looked at one another and could not believe what we were seeing.
Years later I've been approached and apologized to by key players of these games.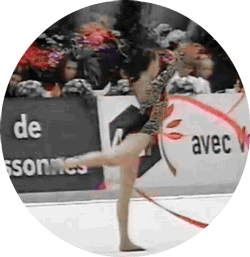 Olga competing at Corbeil-Essons
 Dance training is a big part of rhythmic gymnastics. How much dance training did you have to undergo during your gymnastics days? Was it mostly ballet, or were there other styles you had to learn?
I went to a 'talent'-oriented school and danced all sorts of styles there.  In addition I was constantly taking a variety of dance styles at Broadway Dance Center and elsewhere voluntarily on my day off from gym training.  Hip-hop, contemporary, street-jazz.
More than that though, I was going to nightclubs strictly because I loved to dance so much from a very young age.  I was inspired by the dancers I saw there and would study their movement.
 To non-rhythmic fans, or people who only tune into gymnastics once in 4 years, rhythmic is perceived as ultra-flexible young ladies with ultra-strict diets dancing around with ribbons. What's your response to that?
The closest  I have come to figuring out the puzzle of why rhythmic gymnastics has not received more attention in this country is to compare it to ballet.  It's something simply reserved for a different type of consumer.  I look forward to the day this changes course.  RG replacing the Superbowl? Yeah!  Calling all marketing experts….
Was it difficult to transition from the intensity of full-time training and elite competition to a less gruelling lifestyle post-retirement?
I could write a book about this part of my life.  It took me practically 3 years to crawl out of the darkness of post-retirement.  I learned a lot about myself.
Many athletes who retire from gymnastics usually move on to other pursuits, but you made good use of your gymnastics training and became a circus performer and coach instead! How did you become involved in circus arts?
I was interested in performance in general– dance and theater and was pursuing those things when I was contacted by an aerial arts company about training and performing with them.   I came by their training space which was a nightclub called Hiro Ballroom at the Maritime Hotel in Chelsea in which they performed at night.  I fell in love with being in the air and that company became my family.
Besides coaching circus, you are currently performing in the Broadway revival of Pippin. It's such a unique show that combines musical theater with circus – makes us wish we could teleport to NYC to watch it! How did you become involved with the show? 
It was May 2012, and I finished my semester at uni.  My only plans for the summer were to go watch the Olympics in London – I had my flights and tickets booked.  During that year, I had begun to think that I would slowly begin to transition from performing to a 'normal' profession later that year.
Several people kept contacting me about this audition [for Pippin] since the beginning of the year but I was having conflicts with audition dates, plus performing was gently becoming less of a priority.  Randomly, they hadn't found the people they were looking for and there happened to be one last audition one after the last day of my semester and I was like…what the heck?! I have nothing to do, I'll go for fun.  I wasn't really informed about the project at all.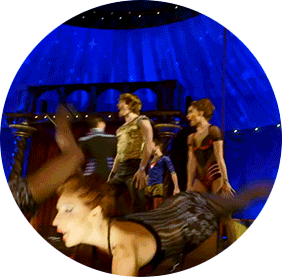 Olga in Pippin
What was the audition process like?
Auditions were held at Union Square Theater and it was an all day event, around 40 people had come in from all over.  All the auditioners watched in the house as each person went up and performed their individual act on the stage.
I was relaxed and totally fell in love with my auditioner – Gypsy Snider, the choreographer from 7 Fingers (Les Doights de la main).  After I finished my piece where I did a medley of contortion and some rhythmic stuff.  She told me she if she could turn back time she would be a rhythmic gymnast – I told her she could always live vicariously through her children.
There was also an improv portion to the audition.  Gypsy asked 2 performers to come up for some body-contact improv with one another and then she would slowly add in additional performers until there was a group improv living on the stage.  That was so much fun.
Afterwards,  there was a cut, and those names that were called out were asked to meet at a dance studio in the evening for the dance portion of the audition.  The fosse portion was the hardest by far.  It is such a unique style of dance and the isolations are quite difficult, especially for acrobats whose bodies work differently.
We learned the 'Calypso',a famous piece of choreography from the original show [by Bob Fosse]. It was a lot of fun.  We were learning the combos next to amazing broadway dancers and legends who were auditioning.   Luckily we ended up auditioning it separately from them. It was quite intimidating.
 In the dance audition room was a long table that was dubbed 'the last supper', because there were so many people sitting at it. From the director Diane Paulus to the infamous producers Barry and Fran Weissler.  I couldn't say I killed the dance portion, but I gave it all I had.
A few weeks later, I got the call that I was cast.
Did you pick up any singing tips from Patina Miller or any of your castmates?
Oh yeah I did.  Patina was right there sitting next to me when I was asked to sing at our first rehearsal.  I had never sung before.  Like seriously.  My whole life I have been a sarcastic singer.
The first time I try to sing for real–of course it had to be in a room of voice and music professionals, and award winners.
In any case, Patina was so sweet.  She could tell a cold sweat was coming over me as it was my turn to let the music director hear my voice.  (Oh, I also announced to the room that I had never really sung before.)  She was super supportive.  She gave me a huge hug and said some kind words.
Later on in rehearsals, if I was having a hard time finding a note, she would often assist.  She's the best.
You have been with Pippin since it's Broadway debut. That's quite a lot of performances under your belt – how do you keep things fresh? How much leeway do you have to play around and try new things or skills with your performance?
The show is set.  You really aren't supposed to change anything.  When things morph, as they naturally do, our dance captain and circus captain will bring it up in a note session.  So you have to stick to what you have.
In terms of keeping it fresh, there is always work to be done.  You can always keep cleaning and working on every move in the show.  It's always a work in progress.
Personally, I have little character things I work out for myself.  Every show I will see what works, what doesn't.  These things are internal, so it changes nothing for the show.
Occasionally, if someone is out, opportunities arise to swing some of their tricks.  That's always fun.  I got to do the hoop solo for a while in Simple Joys and then the Lyra (the hoop/cerceau) with Pippin in the love scene, 'With You' .
Also, having really great castmates to bounce off of helps.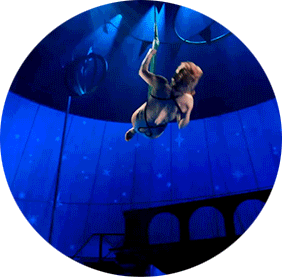 The hoop scene in Pippin
Please tell us you know the reason why Andrea Martin looks so fabulous in a corset and hot pants at 67 years old. 
Let me begin by saying Andrea Martin is the best.  I just love her so much.
She worked so hard while she was at the show.  She kept a pretty strict fitness regimen.  She went to Mark Fisher Fitness for a while and worked with various trainers.
She is also pretty genetically gifted.  She comes from an Armenian background.  I have a whole theory about Armenians and their naturally occurring sculpted bodies.
You performed with the rest of the cast at the Tony awards last year. Tell us about your Tony experience!
The Tonys were so very exciting.  Leading up to it, we had a couple of rehearsals with Neil Patrick Harris.  He was super to work with.
The day of the Tonys was one of the longest days of our lives.  We had to be at the theater at 5 am.  Which meant waking up at 4 am.  Oh, and we had a show the night before which ended at 11pm.
 Running on no sleep, we prepped at our theater.
We were driven by bus to Radio City Music Hall to do a dress rehearsal of the opening number with Neil.  We drove back to the Music Box, our theater, to wait.  We drove back to Radio City.  We did a dress rehearsal for Magic To Do. We bussed back to our theater.  We did our own Sunday matinee show.  We bussed to Radio City again to perform the opening. Bussed back to Music Box.  Watched the Tonys on a TV in our orchestras lounge in our costumes.  Bussed back to Radio City.  Performed Magic To Do.  Bussed back to Music Box.
We ran back to the orchestras lounge to watch our director Diane Paulus win for Best Director, Pippin for Best Musical, Patina for Best Actress, Andrea for Best Supporting.  It was so great to be in this little basement room with all my castmates watching the Tonys on a tiny retro TV, when we had just been there, on stage a few minutes before.
When we won….we went nuts.  There is a video out there of us jumping on tables, screaming, hugging, crying.  It was an epic moment.
Performing live on stage means there's no chance of a do over, which wants makes it both thrilling and daunting. What more when there's singing, dancing, acting and acrobatics all going on at once! What are some memorable stage mishaps during Pippin – funny, embarrassing, scary or otherwise?
Funny things happen all the time. Our King,  Terrence Mann, is an incredible improviser and was given some leniency with his scene.  He is hilarious.  He changes things every show.  He has the audience chanting with him, he gets flirty with us 'soldiers' on stage.  You never know what to expect.  Sometimes he just sits on top of the dancers who are not allowed to move during parts of the scene
Last year, during the final scene which is quite long, the the lights in the whole theater began to flicker.  It  was like there was a ghost in the theater.  The house lights and the stage lights were just going crazy.  The entire cast is on stage for the entire scene and we just kept looking at each other, like, what is happening in here? It was so creepy. I don't know if they figured out what happened.
Another time, during the show, one of our actors microwaved Tilapia fish in the stage manager's office,which is at the same level as the stage.  Not just heated up, but cooked the Tilapia in the microwave. Suddenly, during the show, this very intense, foul deep sea fish smell enveloped the whole stage and backstage.  People began gagging on and off stage.  It made people upset but it was also quite hilarious.
Olga on tour with Panic at the Disco
What's your favourite moment during the show?
My favorite moment during the show is doing silks in the finale.  I love the rush of being up in the air.  Till this day, after more than 500 shows,  I get butterflies in my tummy right before.  I love it!
What's the hardest skill, personally, that you've ever had to learn?
A straight handstand. It's close to impossible with a flexible back.
What is one piece of advice you would give to your younger self?
Have more fun.  Care a little less.
You are a contortion coach – where and when can people find you if they want to take classes from you? Do you teach any other types of classes? 
I teach everywhere, around the world and US and also my own private studio in NYC. I teach group classes at several locations in NYC.  Body and Pole, Circus Warehouse and also a new space Evolution Enrichment Center opening on the Lower East Side in Manhattan.
 Could you in your coachly wisdom dispense some sage tips or stretches for pulling a straight needle?
A straight needle tip would be to think about combining the power in your arms and leg.  Take a moment to isolate the two.  First, focus on your leg, your hamstring and quad.  While in the stretch, see how much your quad can help you power through to an extension. Next, take a moment and push/pull more through using the strength in your arms. They do work together.
Also, paying special attention of the trajectory of the leg.  Imagine the foot travelling not just directly upward, which often leaves the leg far behind the head, but think about pulling the leg a bit forward (and up).  Of course, always without dropping the chest.
You've achieved so much in your life so far – rhythmic gymnastics champion, circus artiste, Broadway performer, the list goes on. What's been your proudest accomplishment to date?
Learning to sing in this show.  I always had a secret dream of being able to carry a tune.  It was not easy to learn.  However, the amount of control I have over my voice now compared to 2 years ago is miraculous. Of course, taking weekly lessons and singing in the show 8 times a week expedited my progress.
——————-
Read Olga's answers to our quickfire questions here.
Olga is raising money for Broadway Cares/Equity Fights AIDS, a non-profit organization that provides medical, financial and mental support to AIDS patients and their families, by participating in their annual Broadway Bares fundraiser. You can donate to Olga's cause here.
For those interested in taking contortion/flexibility classes with Olga, you can contact her via her webpage.
Follow Olga Karmansky on:
WWW: Olga's official website
Facebook: @Olga.Karmansky
Instagram: @olgakarmansky
Twitter: @olgakarmansky