Gillian Murphy answers our fun quickfire questions.
QUICKFIRE QUESTIONS
Black Swan, White Swan or Swanilda?
I guess the first thing that comes to mind is Black Swan. But it's hard to make that a quickfire question – I mean White Swan is the heart of the ballet and I love being Odette. But in terms of what do I enjoy more, and what's more fun, Black Swan, absolutely. Swanilda's really sweet but I don't think it's the same.
I think I know the answer to this but – preferred pointe shoe brand?
Gaynor Minden! Love it. I've been wearing them for a little more than 20 years. Love how they don't make noise, their consistency, they feel great. I've always been a huge fan.
Let's delve into it a bit more for the bunheads – are you a supple or a hard shank, or a wide box…
Oh, for the hardcore bunheads! I don't even know. My model number is 312133. If you're really serious and you can figure out what that is let me know!
What's your most memorable stage mishap?
I landed on my back one time at the New York International Ballet Competition, right before I joined ABT. There was a guy doing  a contemporary solo as a tiger on the floor, sweating everywhere right before I did my variation. I did my variation, which was sort of contemporary ballet – very twisty, turny, bending and some jumping. At the end, I went to do a jump and slipped, landed on my back and finished in my final position. So that was pretty rough!
I've been pretty lucky in terms of stage mishaps as a professional but that was kind of epic. It was a solo, and I was young, and I was like, 'oh my God that was completely ridiculous looking'. I kind of laughed about it, just shake it off, what are you going to do? But it was embarrassing.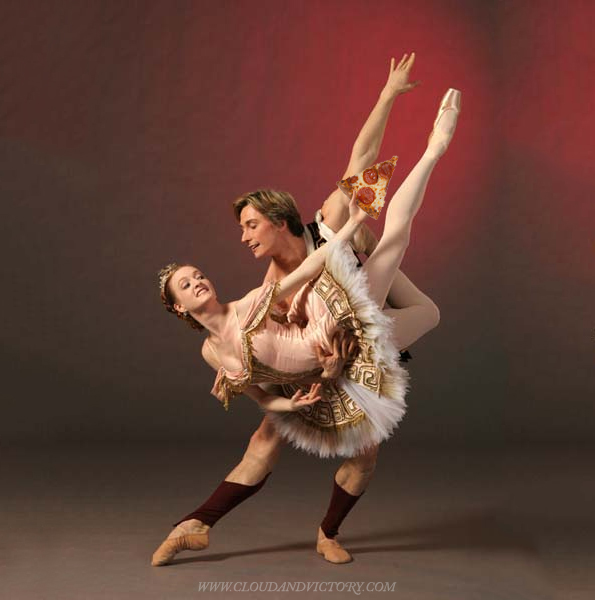 Reaching for pizza: Gillian Murphy with Maxim Beloserkovsky in ABT's Sylvia
Original by: Marty Sohl
If you could dance any male role, which would it be and which female would partner you?
I do love Fancy Free. I could try to be the 2nd Sailor and partner Cassie Trenary.
What's a ballet exercise you find particularly like?
I love pas de chats and chaines. Those are two of my favourite steps for sure.
If you were challenged to a dance-off, name 3 people who would be in your crew and why?
Lil Buck, Stephen Colbert and JBDubs (aka James Whiteside) – because we would bring it.
Who would play you in a movie about your life?
I really like Saoirse Ronan. She would need to get a little older and she would need a dance double. Or Meryl Streep would be great, but we have nothing in common other than the fact that I think she's awesome.
But she's Meryl, she can do anything. She probably won't even need a dance double.
Yeah, she's amazing.
You're quite an avid reader – name one literary character you'd like to take to dinner
Siddhartha, from Herman Hesse. I mean he wouldn't eat much, probably, but he's the Buddha.
——————-
Read our full interview with Gillian.
Follow Gillian  on:
Instagram: @gillianemurphy
Twitter: @gillianemurphy
WWW: gillianmurphy.com