Holiday season is almost upon us. It's the most wonderful time of the year… to shop! But with so many options around, how do you know you're treating your BFFs, loved ones and (of course) yourself to the good stuff? Finding the perfect present for the ballet dancer in your life can be tricky.
That's where we come in. The C&V Squad of professional ballerinas, adult dancers and pre-professionals have  narrowed down our ballet favourites, essentials and covetables just for you in this dance gift guide. From dancewear to training accessories to dance recovery tools, here are our picks for the best ballet gifts!
Katie is a professional ballerina with Miami City Ballet and the og Ballet Youtube queen.
Min is the bosslady of C&V and an adult ballet beginner.
Hyperice Hypervolt – As someone with a chronically tight back thanks to hours spent in front of a laptop, and perpetually tight everything else due to exercise, I have a assortment of tools that I use to keep my body semi-functioning. Hyperice is the gold standard of muscle recovery tools and the hypervolt is THE go to theragun of professional dancers and athletes everywhere. At USD$300 it's significantly more expensive than your standard fascia release tools, but it's apparently much more effacious. Am I a professional dancer? No. Do I want this anyway? Yes.
C&V Glide leotard – When I created Glide, my aim was to design a leotard that was simple yet striking. What I love about Glide is that it can look more athletic or feminine depending on how you wear it. Pair Glide in cherry jam with a mini wrap skirt, for instance, for a Rubies-inspired look. Or pull on a pair of shorts and you could go from ballet studio to gymnastics training. Both the colours look flattering on just about every skin tone. Glide in cherry jam has been my favourite, but lately I've been loving her in pink frosting!
C&V Russian Foetus Tee – I find this tee shirt amusing to the point where I actually wore while I was in Russia. My friends (both professional and non) and I always jokingly grumble about those darned Russian foetuses constantly making us all look bad. And since everyone in the ballet world seems to be thinking it, so figured it deserved to go on a tee. It's fun to wear, and really comfortable thanks to the long staple organic cotton I use for our tees (which is sustainably grown btw!)
MDM Intrinsic – These shoes are the most comfortable and supportive ballet flats I've worn in class. They're kind of like the Gaynors of ballet flats. (Hi Gaynor, Mdm if you see this please sponsor me I volunteer to be your first granny ballet ambassador) They make my feet work harder, but the shock absorbent bottom is gentle on my knees and the heel cup provides mild realignment. I need a new pair so hopefully Santa will get the hint. I like that they come in different widths, which are very important for my bunions!
Tickets to Hamburg Ballet's La Dames aux Camelias at the Esplanade – I've heard so many people rave about this show. Neumeier's productions are so athletic, intense and emotive. He's the director of Hamburg Ballet, which means he's directing this particular production. I'll get 10 tickets, please.
Roberto Bolle 2020 Calendar – Because if I can't touch Roberto's abs in person, at least this way I can have his cut-glass cheekbones and smouldering gaze greet at me every day from my desk. I won't get any work done, but it'll totally be worth it.
Noe is a student at the Ballet Conservatory at Skyra.
C&V Deader Than My Pointe Shoes Tee and Turnout Error 404 Tee – C&V tees are my absolute favorite because they are so cute and stylish and remind me not to take myself too seriously.  I've been coveting these two tees for FOREVER and I am praying I get them under the tree!
Sara Mearns x So Danca Full Body Warm-Up Jumper – Ok, so I already have one of these in Antique Rose and it is AMAZING. It's so soft, cute and flattering and I love that I can wear it either covering my chest or rolled on my hips.  I need it in Charcoal too!
Hyperice Hypervolt – This is definitely on the pricier side, but a girl can dream, right? I am constantly trying to release certain muscle groups to both recover and to prevent injury, and the Hypervolt is basically the best deep massager on the planet.
C&V Doing It For Pizza Dance Bag in Rose Gold – I have this bag in pink and sparks so much joy that you'll want to pack and unpack your bag all day long, over and over again. Tons of pockets, including a special shoe compartment and a wet/dry pocket for clothes.  It fits so much stuff, and even though I already have it in pink I'm certain I can come up with a reason to use two of these bags at once.  Because rose gold.  And also pizza, obvs.
So Danca SD-122 Ballet Flats – Your favorite, most flattering technique shoe, but leveled up. 122s are genius shoes, and they make everyone look like they have great feet.  They have a memory foam heel cup and pad, which completes your line even if you have a disappearing heel like me, and the mesh that hugs your arch helps keep it lifted.  The most comfortable and flattering ballet flats I've ever had, I always need more!  Perfect stocking stuffer.
Rubiawear Legwarmers – You can't have enough of these.  It's impossible. I basically want allll the RubiaWear things, but if I had to choose just one right now I'd probably pick Full Leg Legwarmers in Raspberry Sherbet. Heart eyes for these!!
Jeanette is a professional ballerina with Saatsballett Bayarisches and a C&V lady.
Recovery Pump – These are the beeeeest for tired and swollen legs. They really do aid in recovery by improving blood circulation with the air pump. (Well, ice baths are even better but way less convenient to move around. 😋) I wish I could have my very own (we have a couple at one of the buildings at work) then I could do it every night before sleeping, but I could never afford one in a million years. 😅
C&V Doing It for Pizza Dance Bag in Rose Gold – I want the limited edition doing it for pizza bag because I love rose gold and it would match my engagement ring. 😅 I didn't know I needed one of these bag until I had one. The shape and pockets are so logical, it makes it easy to stay organized for work.
Eleve Leotard in Cat Fabric – A girl at work has a leotard in this fabric and I feel compelled to order one too but I just can't justify it… Eeeek #catlady
C&V Odette Cropped Sweater – Because sweatshirts are the best, especially when Odette is on the front of it. And it's pink. (I have the cropped pizza one and it is soooo comfy.)
Rubiawear x C&V Legwarmers – Y'all where are my cute dip-dyed legwarmers? I haven't bought new legwarmers since 2013. (And it shows…) I gotta check Instagram more often for a drop…
C&V Stickers – I want the C&V stickers. I want them all. Preferably a Christmas edition featuring a Rudolph Drosselemier. Good idea? Am I a new creative mind at C&V? (No, stay in your lane.)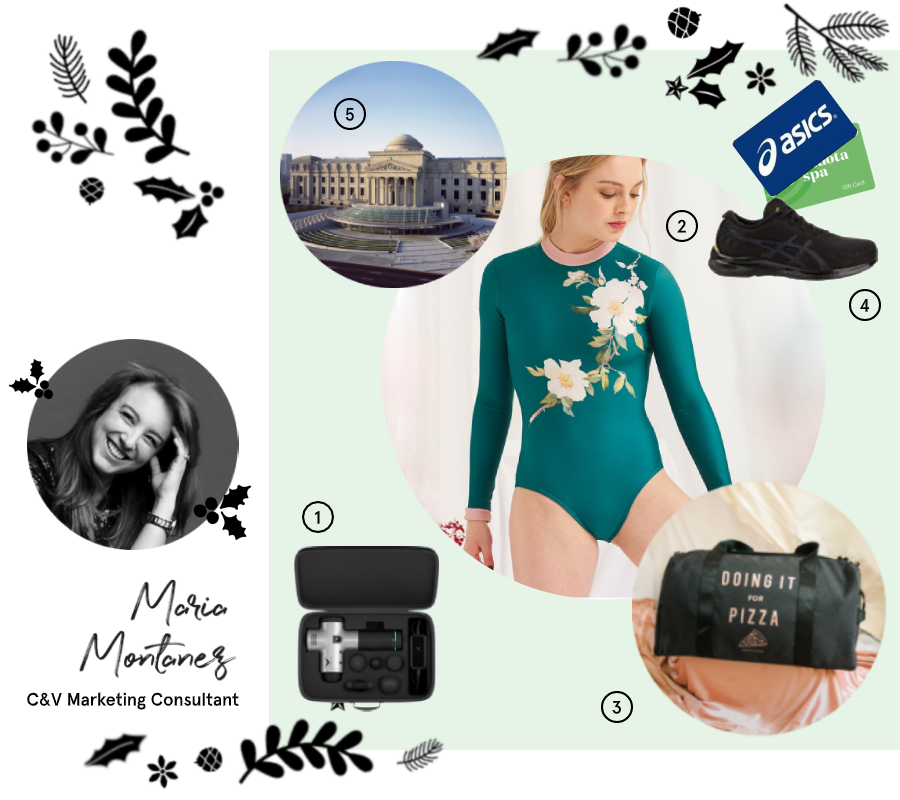 Maria Montanez has a BFA in dance and is returning to ballet as an adult. She is also C&V's part-time marketing consultant.
Nicolette is an adult ballet dancer.