Trying to find the perfect dance present for your ballet boo this Christmas? Or maybe you're looking to treat yo'self this holiday season? We asked our C&V Squad for their ballet favourites, must-haves and covetables in our Cloud & Victory gift guide. From dancewear to training accessories to recovery tools, here are our picks for the best ballet gifts!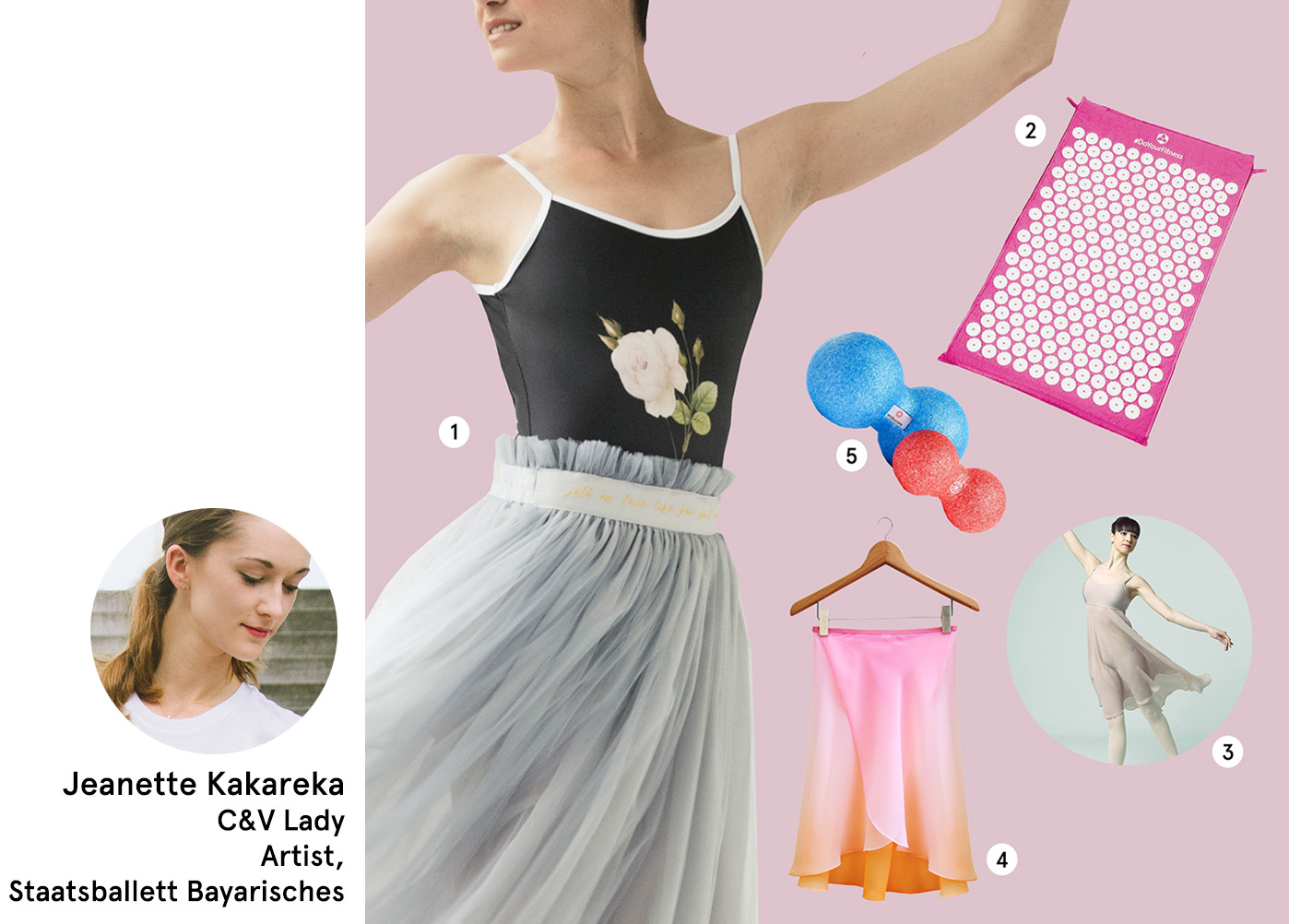 Jeanette is a professional ballerina.
1. Cloud & Victory Black Rose Leotard – I have both the Black Rose and Almond Blossom leotards from C&V and they're super comfy, don't show sweat, and are very unique. Whenever I wear them I get compliments on their creativity – they're such beautiful leotards! But what I like most is that all C&V products are made in fair-wage factories that ensure safe working conditions for their employees.
2. Acupressure Mat in pink – These are actually acupuncture mats with 8,210 small "thorns" to get in and release pressure points. It sounds like such an amazing way to relieve tension and help my feet and body recover after work, so I'd like to give it a try. I've been looking into these for a long time now.
3. DellaLo Milano rehearsal skirt/dress – I would love a double layer dress from this Italian brand that I can use as a dress or skirt, probably something in a neutral pink. A friend of mine has one like this and it's so beautiful. It's fun to create custom pieces with this brand using their different fabrics and colours.
4. Degradé Rehearsal Skirt in Sunset –  I own this skirt! It's the perfect rehearsal or class length and in such a fun, rich colour. I'm a sucker for ombré so it's a natural favourite of mine.
5. Enducore Peanut Duo Ball – This amazing product doubles as a ball and a roller! I've borrowed it from a friend before and it does an amazing job of getting into the muscles for optimal release. Please, Santa!

Ashley is a professional ballerina and a principal dancer.
1. Chacott by Freed of London Sauna shorts –  These shorts are an everyday warm-up piece for me.  I like to wear them long when I'm starting barre and as I warm up I can roll them lower on my waist and higher on my leg, all the while keeping my hips nice and toasty.
2. BBooties – In my opinion they're the best booties out there!  Not only do they literally come in any color and pattern imaginable, but I love the way they're constructed so that they stand up nicely when you wear them.  They'll last through some serious wear and tear too!
3. RubiaWear leg warmers – Of course!  Haha, needless to say I'm a fan.  Lately I've been wearing the full-leg style in a dark brown or thin black.  Pairing them with my Sauna shorts through barre, this additional thin layer gives me just enough warmth without getting in the way of working my technique.
4. Cloud & Victory Skirts – Once I'm all warmed up and wanting to feel like a glamorous ballerina I like throwing on a Cloud & Victory skirt, the fabric has such a beautiful flow to it! Favorites include the Degradé Rehearsal skirt and the Embroidered Waistband Tulle skirt.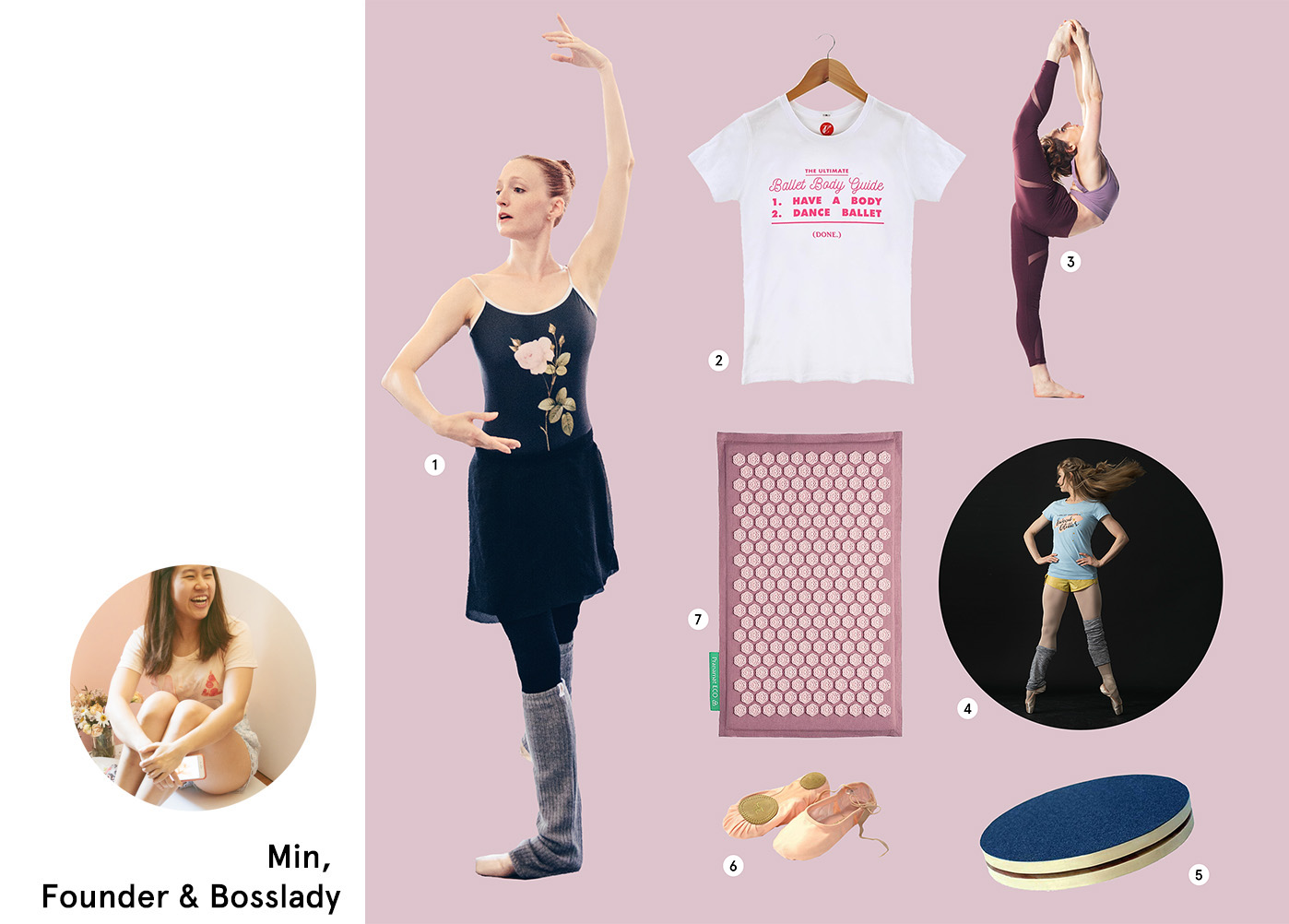 Min is an adult ballet beginner.
1. Cloud & Victory Black Rose leotard – When I designed this leotard, my purpose was to create a non-boring black leotard. By my accounts I succeeded, if only because it's one of the few black leotards I actually wear. But don't take my word for it – Gillian Murphy likes it too! I worked really hard on the design, fit and feel – I think I went through about 8 prototypes. I'm not a professional dancer, and making a leotard that professionals, students and hobbyists would wear was something I didn't feel confident about. To have someone like Gillian give her stamp of approval – and Gillian is not someone who'll wear something she think doesn't look right on her! – was a really affirming and a humbling moment. (Gillian paired our leotard with another of of my gift guide picks! Hint: it's number 4 on the list)
2. Cloud & Victory Ballet Body Guide tee – I am not built for ballet -not just because I don't have a conventional 'ballet body shape', whatever that is, but anatomically as well. I came up with this tee as a reminder that ballet isn't just for one type of body (looking at you, Balanchine). No one has a perfect ballet body and it doesn't matter: anyone can dance ballet. As with all our tees, these's made from organic, luxurious long-staple cotton. This means they're free of pesticides and nasty chemicals (very important!) and as my friends have told me: "they're so soft and soooo comfy!"
3. Private Flexibility Classes with Olga Karmansky – my friend Olga Karmansky is a former US National Rhythmic gymnastics champion who now works as a circus artist specializing in contortion and handbalancing. She's also the best flexibility coach I've ever, EVER trained with, combining muscle-activating micro movements with stretches that emphasize proper form, alignment, breathing and strength-training. Ballet dancers are constantly trying to become bendier, and Olga is the only person I trust to get you to reach your flexibility goals in a safe and healthy manner. To top it off, she's one of the nicest people you'll ever meet. Sadly for me she's based in New York, or I would be pestering her for classes all day, every day.
4. Rubiawear legwarmers – I never figured I'd need legwarmers – I live in the tropics! But then Rubiawear bosslady and Boston Ballet principal dancer Ashley Ellis gave me a bagful of them. It really takes me a while to get my body going, and in the air-conditioned dance studios of Singapore, these really help me to get me warmed up. My current favourites are a goes-with-anything grey pair and a bright raspberry-hued one, but Ashley offers these legwarmers in a wide range of limited-edition, snuggly fabrics. I'm constantly stalking her site to see if there's some spiffy new colour that catches my eye.
5. Prana acupressure mat – I suffer from perpetually tight calf and back muscles. When I went for a Chinese massage/tui na a few months back, the masseuse took one look at my back and let out a horrified gasp at how tight it was. Foam rolling isn't very efficient (or fun) because you can only work one part of the body at a time. A spiky mat you can vegetate on while it relaxes a whole bunch of your muscles? Yes please! Prana claims to their mats are made from eco-friendly materials, which is important to me – C&V is an ethical clothing brand because I know that environmentally-friendly, natural materials are better for the planet and the people who wear our clothes.
6. RiversEdge Rotational Disc –  Like I said, I'm not anatomically built for ballet. My legs naturally rotate inwards and I sit back on my hyperextended knees, which has led to all kinds of problems with my posture and gait. Ballet's gone some way to correcting that, but I could really use these rotator discs to condition those deep gluteal muscles and inner thighs to turn out!
7. Gaynor Minden Joy Slippers – I love my Joy slippers – they're durable and comfortable! Split sole slippers with an arch-hugging middle, a shock-absorbing footbed and that signature Gaynor Minden gold stamp? Sold! Plus, the ladies at Gaynor Minden are a riot (John Minden, you're cool too) and my secret wish is to move in next to their office so that we can take over the dance world and discuss Roberto Bolle's abs together.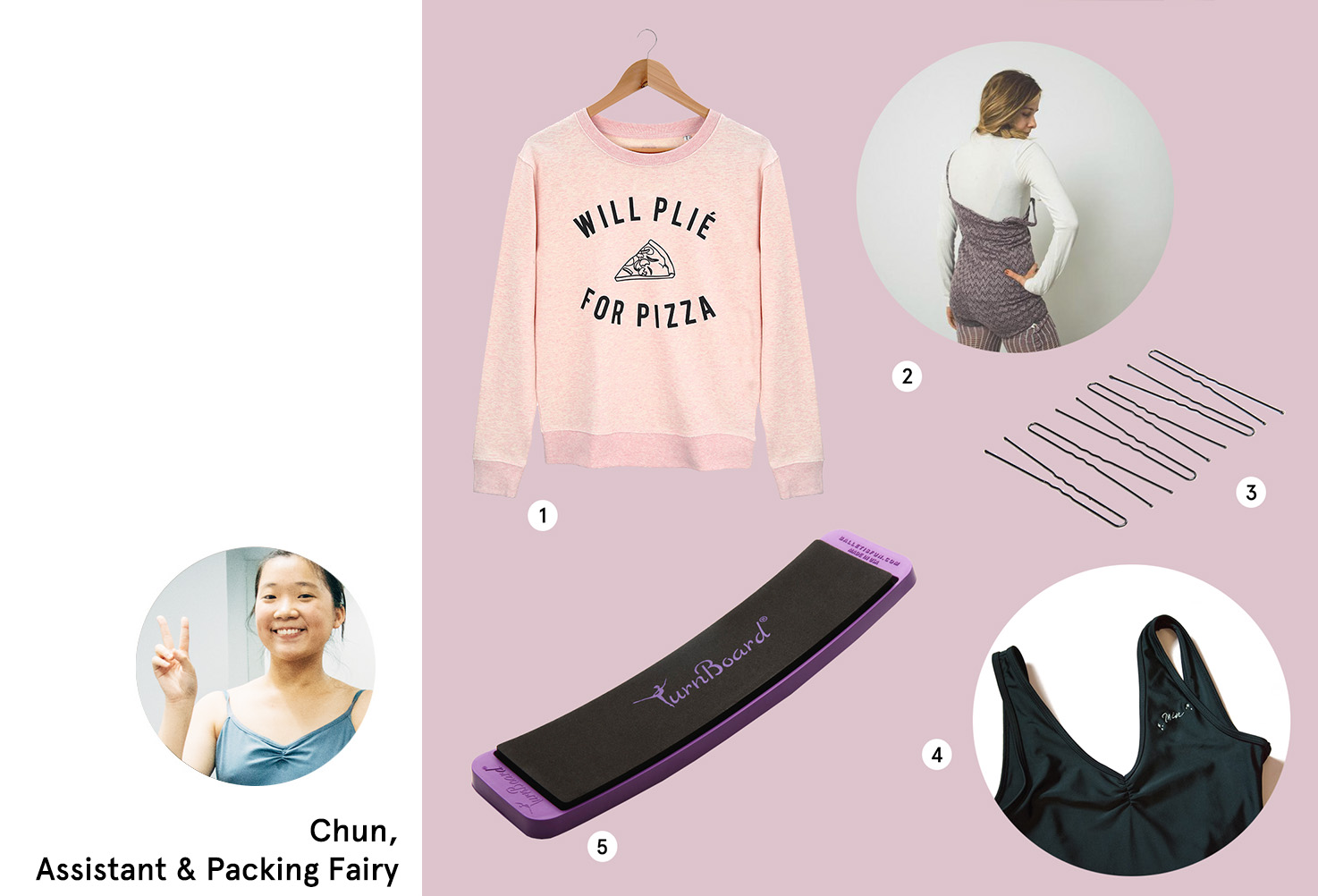 Chun is a student dancer.
1. C&V Plie for Pizza Sweater – This is a must-have any day – and especially for Christmas! At C&V we all know that pizza beats Thanksgiving turkey, and this the perfect sweater to keep me warm and snuggly.
2.  Rubiawear Romper – I really want to try a dance romper that will keep my body warm throughout class. RubiaWear romper would be great plus to my dance wardrobe,  and it comes from a great dancer  – Boston Ballet principal dancer Ashley Ellis. The pros know best!
3. 1lb of Black Bobby Pins – It never hurts to have more bobby pins. You know, just because. They always disappear mysteriously!
4. Cloud & Victory Classic Black Leotard with monogram – This is be the best ballet gift ever. A Customised. Leotard – in black! Some strict dance teachers restrict me to wearing black leotards only. This way, I can wear a black leotard and still look fancy in black!
5. TurnBoard – I always want to improve my turns, and a TurnBoard may be the perfect tool to help me. I've read many reviews of them – they apparently help you to find your center and improve your spotting.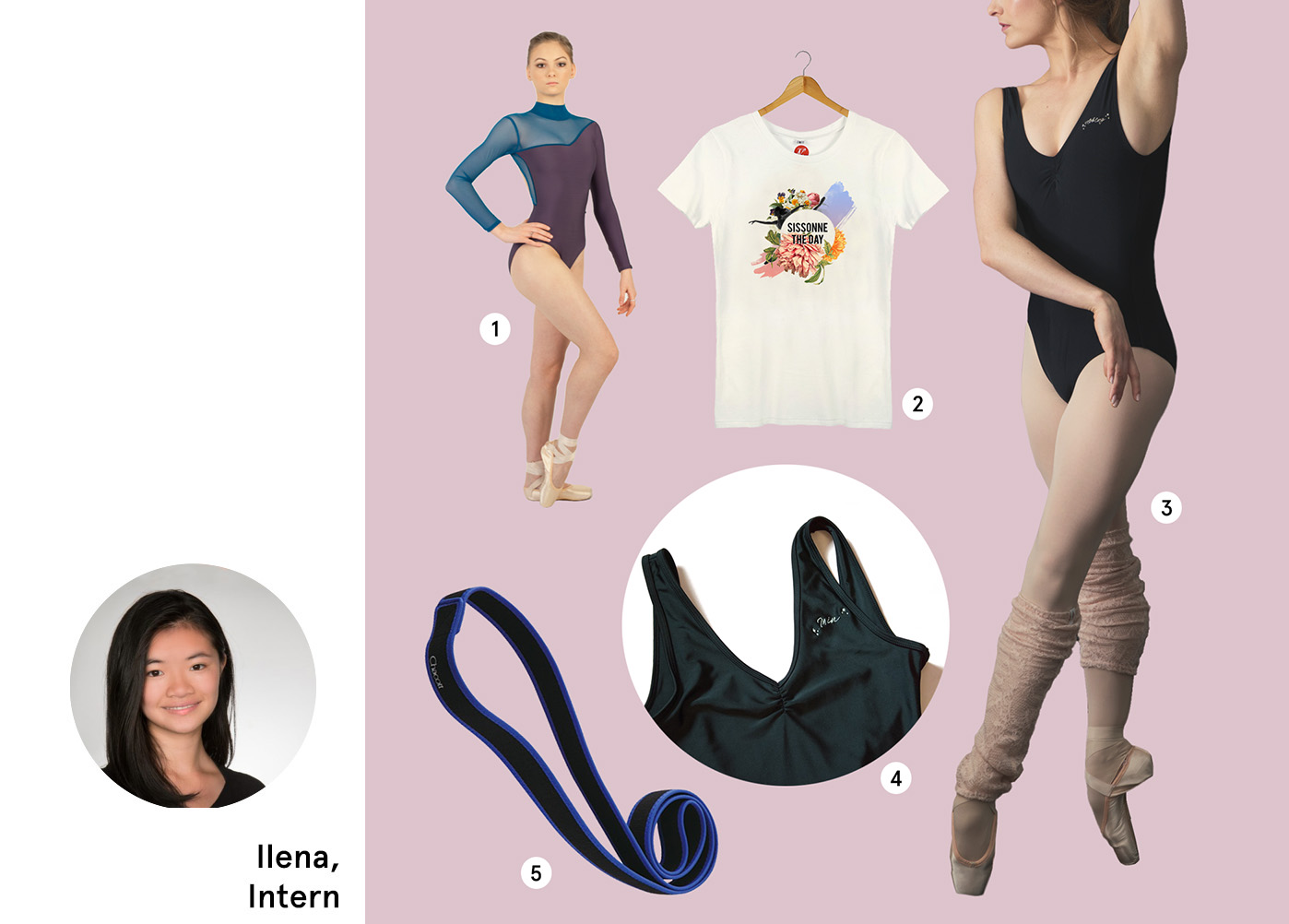 Ilena is a student dancer.
1. Luckyleo Leotards – Luckyleo leotards are gorgeous — and they offer both ready-to-wear leotards and an option to create custom designs. They have such a great variety in both solid colors and creative prints, in classical and modern leotard cuts. Although I don't have one, I think these leotards exemplify what any ballet student would be looking for in a fun leotard to wear to class.
2. Cloud & Victory Sissonne The Day Tee – On days when your dancer finds that expressing their love for ballet on Instagram isn't enough, walk around wearing this shirt. I love how this shirt could work with jeans or over a leotard. Regardless of where this shirt is worn, the colorful florals and splash of watercolour will certainly catch the attention of all their friends, even those that aren't dancers.
3. Rubiawear Legwarmers – Legwarmers are a constant for me during class — I'm always wearing them, even if I'm folding them down, wearing thinner ones during the summer, only wearing legwarmers on one legs at a time. These are high-quality legwarmers for any dancer who can't take class without legwarmers, and is always stretching out holes in theirs (or losing them). Ashley wears this with my next gift guide item, which is…
4. Cloud & Victory Classic Black Leotard with monogram – Almost every dancer has been required to wear a black leotard at least once in their lives, and they start to feel boring. We wish we were allowed to wear colors in class! Meet this C&V leotard, which is not only perfectly cut with a pinch front and a low back, but also features a custom monogram to add that special little touch.
5. Chacott Dance Band – This Chacott Dance Band, which comes in two strengths, is an excellent tool to supplement any dancer's training. The hard band provides a surprising amount of resistance which allows the dancer to build strength, even in simple positions like an arabesque. I used to have one, but it unfortunately vanished backstage during Nutcracker rehearsals. My favorite part about it was definitely the sturdy cloth fabric it was made of, in contrast to other resistance bands made of rubber.