As part of Eating Disorders Awareness week (February 26 – March 4, 2017),  I asked dancers at different stages of their career from companies around the world to send in a picture of a breakfast meal they had recently, which I posted on C&V's social media with the hashtag #balletbreakfastclub.
Eating Disorders are insidious, life-destroying illnesses that affect people from all walks of life. Ballet dancers especially face demands on their body, not just physically but aesthetically. That doesn't negate the fact that it's not just okay, but totally necessarily to eat and be healthy, whether we're professional dancers or simply doing it for the love of the art. 
By posting these breakfast pictures, the dancers and I hope to emphasise the importance of nourishing our bodies, as well as to let those suffering from eating disorders know that they don't have to struggle alone in shame and silence.
– Min, Cloud & Victory
Ballet Breakfast Club
Gillian Murphy, principal dancer, American Ballet Theatre: 'Along with a skim latte and some oj, this medley from Pret a Manger (egg, quinoa, arugula, tomato, and avocado) is yummy and gives me the perfect mix of protein, carbs, and healthy fats to get going before class each morning ???'
Evan McKie, principal dancer, The National Ballet of Canada: veggie omelette and fruit.
Isabella Boylston, principal dancer, American Ballet Theatre: eggs, melted cheese, toast, potato hash, guacamole, coffee. 'And can't forget that hot sauce!'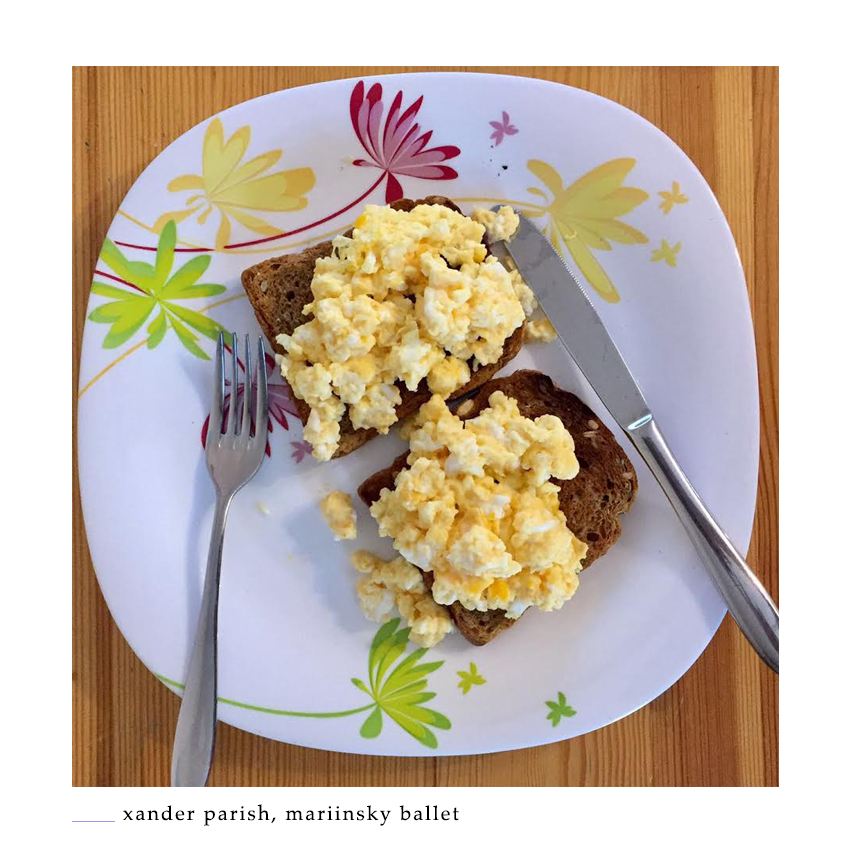 Xander Parish, first soloist, Mariinsky Ballet: 'Now how's that for a good looking scrambled eggs on toast?!'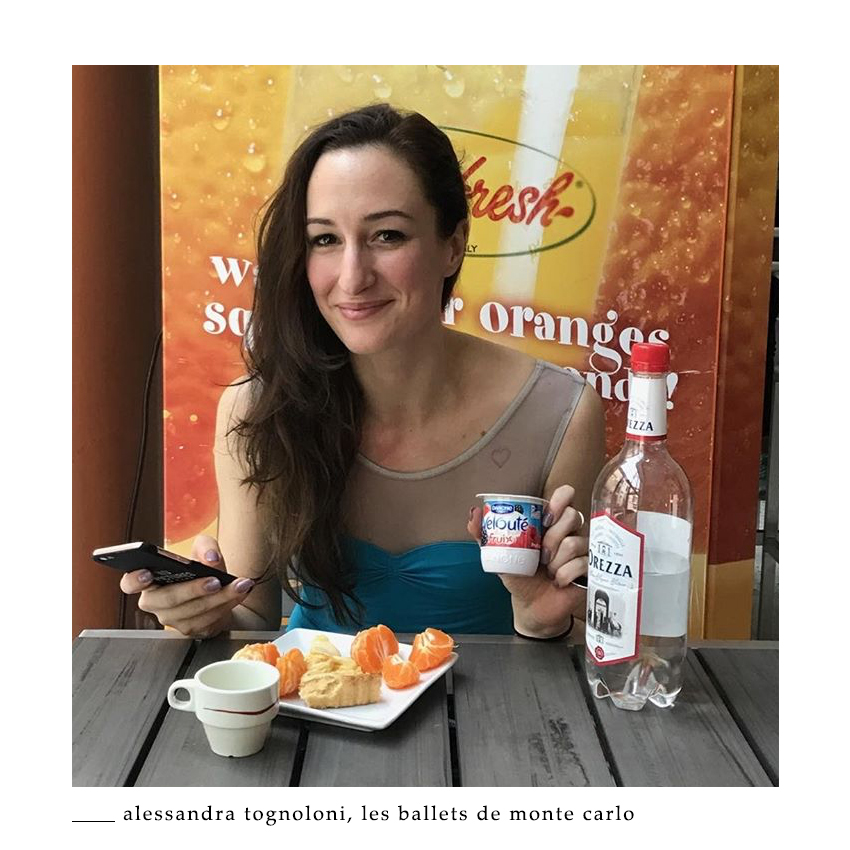 Alessandra Tognoloni, dancer, Les Ballets de Monte Carlo: ''I ate breakfast at the canteen of Les Ballets de Monte Carlo. I generally always have some yogurt, with some fruit like mandarins and some apple pie, prepared fresh from our chef. And an espresso as I am Italian!'
Patricia Zhou, corps de ballet, Staatsballett Berlin: 'Breakfast is always three scrambled organic eggs cooked in a tablespoon of butter, and a cup of bulletproof coffee (which is essentially coffee with butter in it). I follow a Ketogenic diet – a low-carb, high-fat diet in which your body burns fat instead of carbs for energy – so making sure I get enough fat in the morning is pretty crucial!
It sounds totally backwards and crazy, especially since everything "healthy" nowadays is "low-fat" -which usually means high-sugar by the way – but I've found that the Keto diet works wonderfully for me, so I've stuck to it.
When I first started cooking for myself I always tried to eat healthily and what I thought I should eat as a dancer, but after years of dancing professionally, I've realized that there is no one "dancer diet". Everyone has their own way of eating.
It's important to realize that nutrition and diet are personal and unique. What works for someone else, might not work for you, and the Keto diet, while extremely restrictive at times, has had a massive impact on my life. My body feels generally much better and I have much more energy as well. Plus I have an excuse to eat bacon and cheese… I'm not trying to persuade you to go Keto but merely insisting that you listen to your body, take care of what you eat, and make sure to stay healthy.'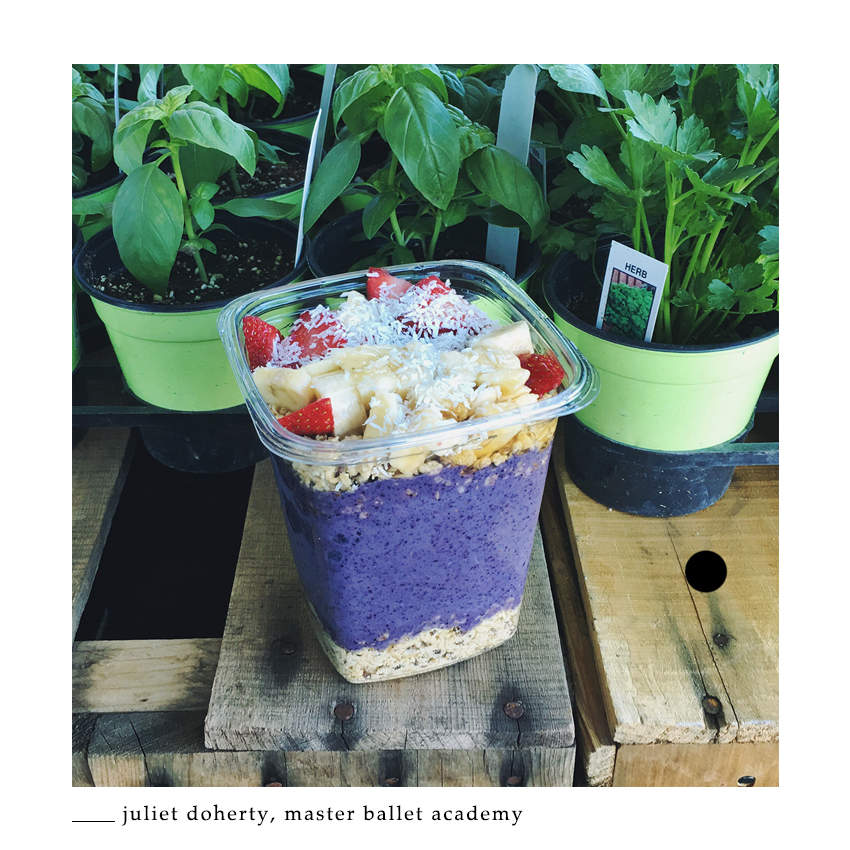 Juliet Doherty: 'This is an Açaí smoothie with granola, fresh fruit and coconut. I also ate part of my boyfriend Slawek's breakfast! Health is a daily practice. Nourish yourself with food, nourish yourself with movement, and most importantly nourish yourself with kind thoughts.

Some days take more courage than others. Focus on your intentions, focus on what makes you happy and what tugs at your heart. Life is a wild and precious thing. Taking care of ourselves is a way of honoring our gift of existence. '
Ashley Ellis, principal dancer, Boston Ballet: 'Tea, bananas, blueberries, oatmeal with all kinds of good stuff… flax, cinnamon, raisins. It's important for us to nourish ourselves with good food that will not only give us energy but also aid in recovery and longevity. Starting my day off right with a good breakfast that will keep me dancing strong throughout the day.'
Jeanette Kakareka, artist, English National Ballet: 'This porridge gets me going in the morning for a long day of rehearsing and shows, and fills me up all happy. Also black coffee is love!'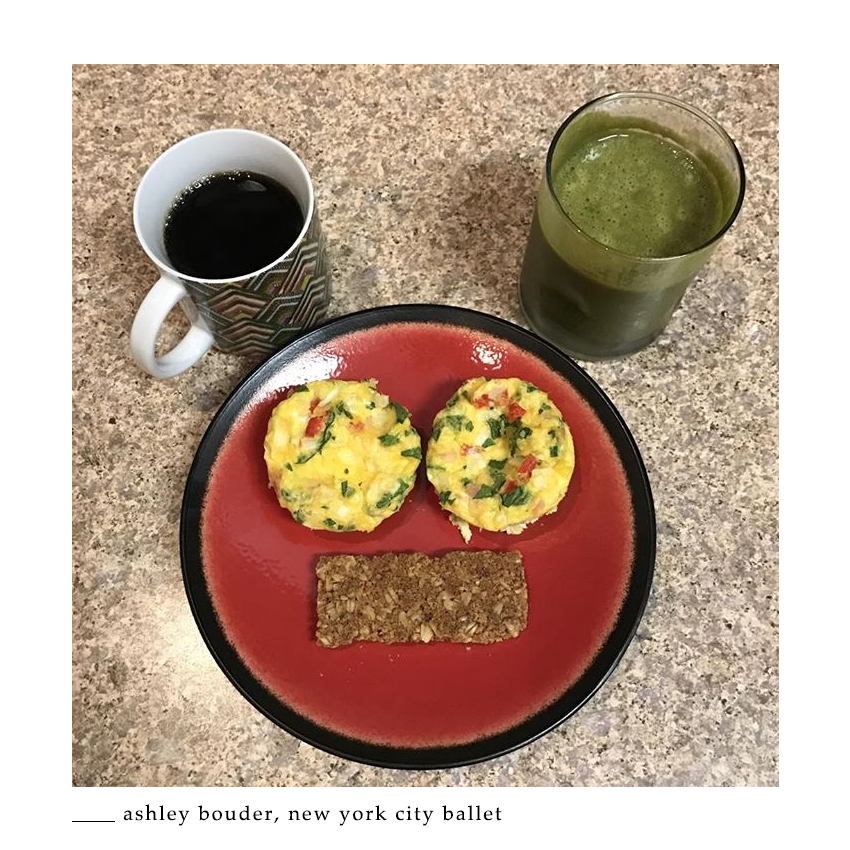 Ashley Bouder, principal dancer, New York City Ballet: 'Homemade scrambled egg muffins with green and red peppers, onions, spinach, ham and cheddar. A granola bar. A green smoothie with spinach, orange juice, an apple, and strawberries. And a coffee. Breakfast of champions!'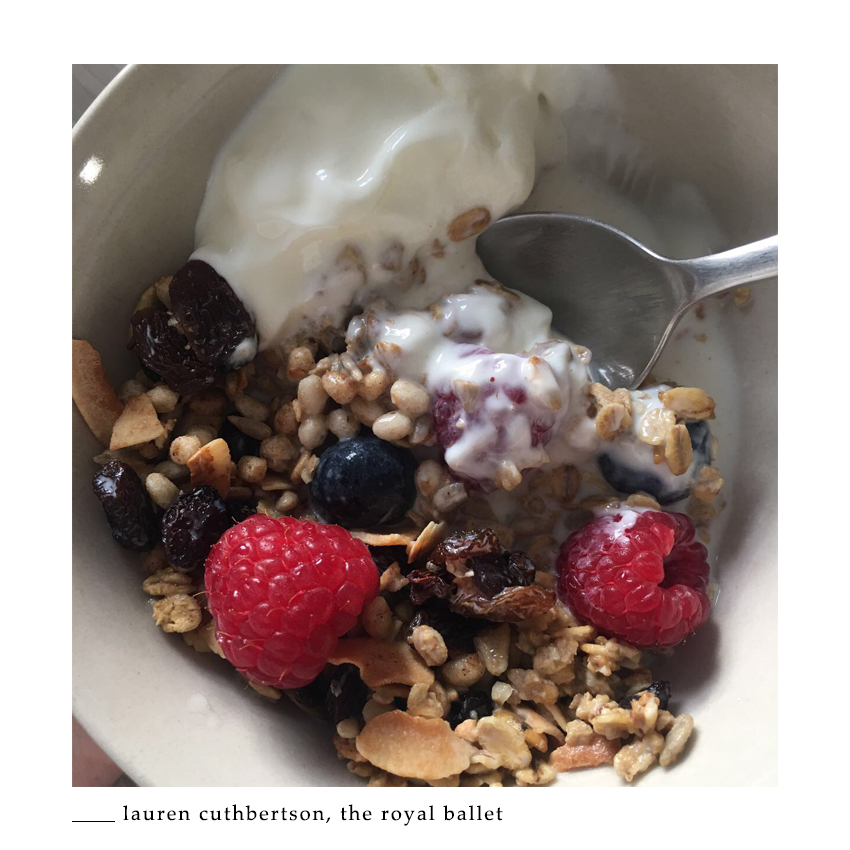 Lauren Cuthbertson, principal dancer, the Royal Ballet: 'Buckwheat granola with raisins, pumpkin seeds, almonds, blueberries, raspberries, a dollop of Greek yoghurt and a dash of almond milk, and espresso with cold milk.'
'I love breakfast but struggle eating in the morning but I force myself to because I know it will give me the right energy for the morning.'
Lou Spichtig, artist, Queensland Ballet: 'CARBS CARBS CARBS & coffee! While bread is often labelled as "empty calories", I beg to differ: like any food and person ?, it's what's inside that matters! Read the label & make the right choices! '
'I've had my fair share of struggles to find out what fuel I need to get through the day! Everyone is different, don't let anyone impose their choices on YOU!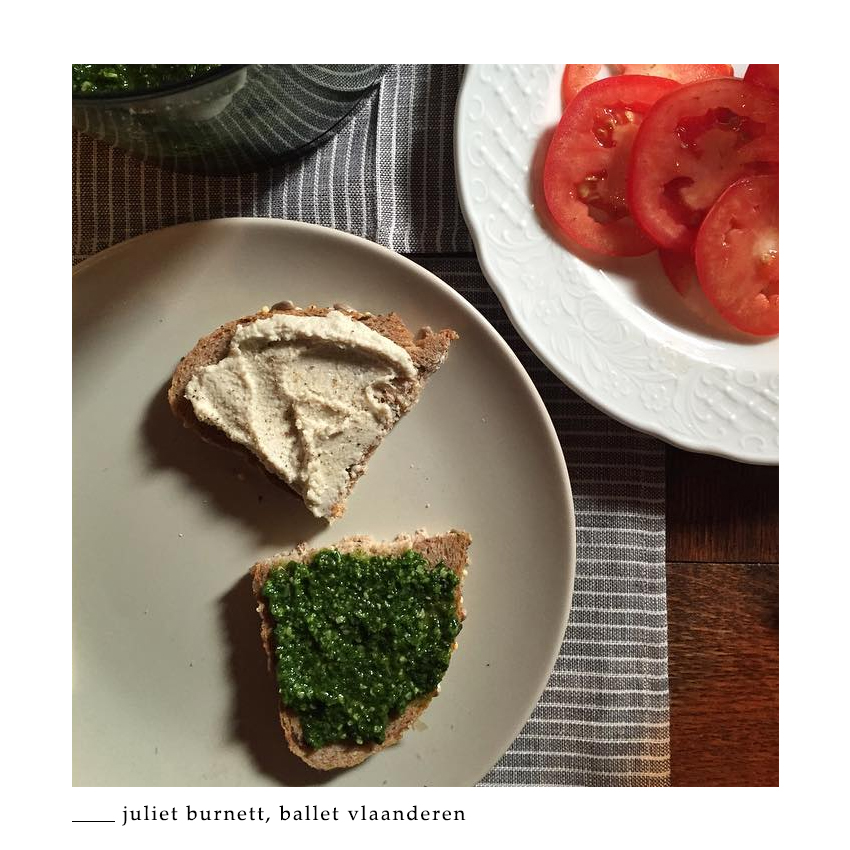 Juliet Burnett, first soloist, Ballet Vlaanderen: 'Homemade pesto and cashew 'cheese' with fresh tomato on toast.'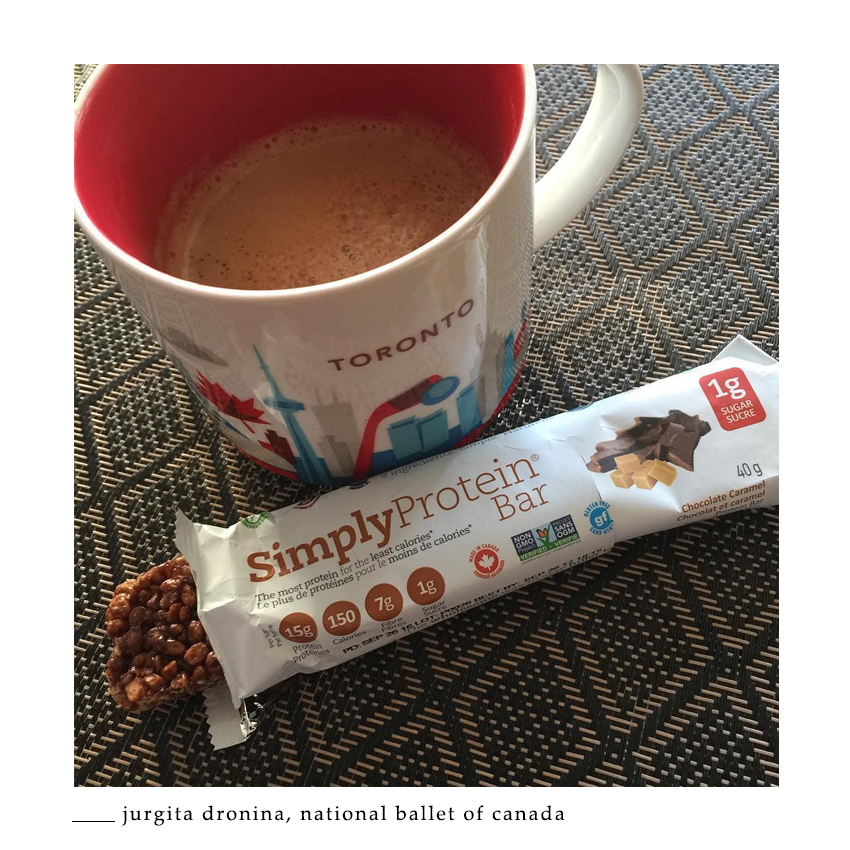 Jurgita Dronina, principal dancer, National Ballet of Canada: 'My usual breakfast: coffee with almond milk, as I am intolerant to milk protein, and a simply protein bar . I always struggled to eat "normal" full breakfast or any breakfast at all… and just living on coffee till after ballet class caused me many problems. Simply Protein IS BETTER THAN HAVING NOTHING AT ALL! It's extremely light, but at the same time provides me with good amount of protein in the morning, tastes delicious and is a bit sweet to satisfy my taste. It keeps me full and not hungry till ballet class is finished. Breakfast is important but if you can not have full breakfast,  that's just one of the options to choose from for a quick breakfast on the go till you get a chance to eat proper food.'