From free ballet classes in Rio to dancing in one of the most recognised dance companies in the world, Dance Theatre of Harlem's Ingrid Silva is the definition of a success story. A ballet dancer, dog lover, role model, social media influencer, women's advocate and more, her life these days seems filled with endless hustle and go-getting.
Armed with a positive attitude and some pretty impressive ballet skills, Ingrid doesn't take her position as a figure of influence lightly. She uses her platform to talk about her experiences as a black Brazilian ballerina, and recently co-founded EmpowHer, an online and offline platform to connect and inspire women.
It's a lot to take on, especially when ballet dancers barely have time for a life outside the studio. But for Ingrid, finding your identity outside of ballet is important: "it helps me reach and see things differently," she says. And if she can do that while impacting other people's lives in a meaningful way, more power to her.
C&V SESSIONS WITH INGRID SILVA
What did you have for breakfast?
I had a smoothie, with green juice, strawberry, avocado and pineapple.
I read that you started dancing when you were 8 years old as a kid, in Brazil. You took open classes that they offered to young children? Tell me more about that.
I started when I was 8 in the community dance project called Dancando Para Nao Dancar.
They were close to my neighbourhood and they offered free dance classes. I was always very energetic and my mum went like, "Yes! Go dance, go audition, go take class." So I did.
I would say that I never chose dance — I feel like dance chose me. And I started falling in love with the art form.
What did you love about it as a kid?
I think what I loved about it was the music, the structure, also how hard it was. I was learning something new everyday, and then I went back and did more.
What was the training like? They're community classes for kids, was it fun or strict?
My teacher was very strict. I think we had a lot of fun when she did choreography and stuff.
So that was super exciting. But, yeah, she was like, "you guys have to do it, you have to practise, you have to be the best of yourselves." She was never this smiley kind of teacher.
But I loved it.
I think I made a lot of good friends in my first few years of dancing, which made it more exciting.
I started swimming when I was 3 years old. And then doing ballet at the age of 8, it was a completely different thing. And I don't know, I think I fell in love with the challenge of dancing.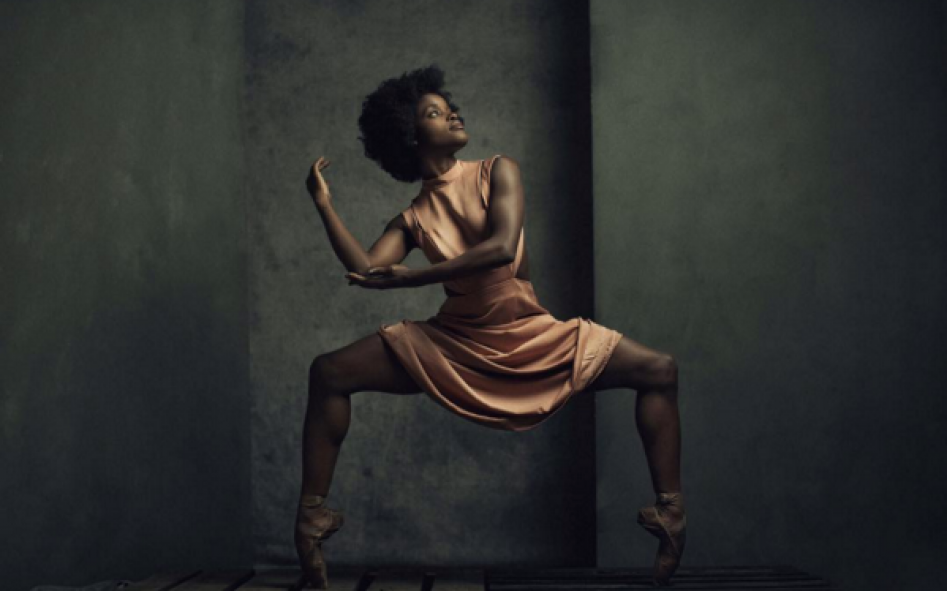 Pic by Alex Logaiski
When you started to get more serious about it, did you continue training at the community dance class or did you have other training?
Yes. So I was there for 10 years, and I also danced in 3 other dance schools.
I basically did ballet all day. Yeah I would finish school, I think… if it was in the morning it was from 7am to 12, then I would do ballet all day. All the way until 10pm.
Wow.
Yes, that was a lot.
You must've really loved it.
Oh yeah, for sure! I could do it all day, for sure.
I went to Teatro Muncipal in Brazil. It was like another amazing huge dance school. I was also an apprentice at Grupo Corpo, a ballet company. And I went to Centro de Movimento Deborah Colker, another dance school in Brazil.
And did you reach a point where you wanted to do this professionally, or were you just dancing because you loved it ?
I think at first I was just dancing because you don't really know much about what you want. Then you figure it out, how it is.
I think I only felt like I could become a professional was when I first moved to New York. At that point, I was 18. And that's where I started dancing with the Dance Theatre of Harlem.
Was that the one where you were doing the summer intensive?
Yeah, I did the summer intensive with Dance Theatre of Harlem, in 2007. Then I went back to Brazil, then I got back to New York in January 2008.I was with the school for 3 months, and then Mr. Mitchell moved me up to the Dance Theatre of Harlem Ensemble, which was the small young company.
And how did you manage to get about getting the summer intensive with Dance Theatre of Harlem?
I had moved from Brazil to New York to audition for the Dance Theatre of Harlem when their summer intensive was happening. I was just lucky to be in the middle of what was happening.
A Brazilian teacher that used to dance in the company had seen me dancing back in Brazil. And she's like, "she has to go dance with the Dance Theatre of Harlem."
So then I sent all my paperwork, and they really liked me, but they wanted to see me in person. So I came in person to audition for the company.
That must've been pretty exciting!
Oh, pretty exciting and pretty scary!
It was my first international trip, outside of New York. And I didn't speak English. So, to me it was like, 'Wow! What are we doing?'
It was quite amazing, that experience, to be honest. I was scared, but I feel like everything happens for a reason. This was actually one of the biggest responsibilities of my life. So, I was very grateful for that.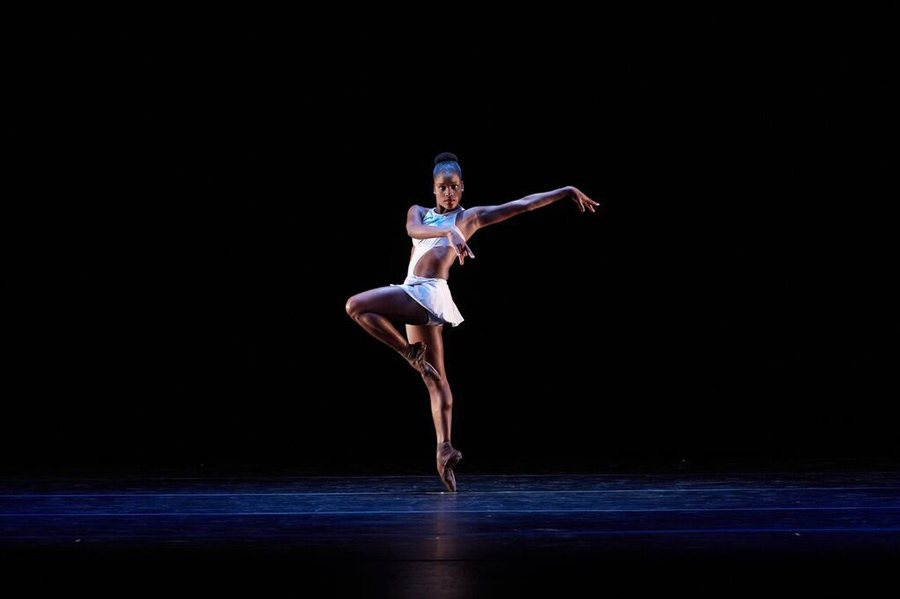 Ingrid performing with Dance Theatre of Harlem
Pic by Rachel Neville
Given there were so many different factors which also made it scary, why and how did you manage to get a good experience, love it and find enjoyment in it?
Well, I think I always had great support from my family. They have been, especially my mum, my number one fan forever.
I used to, and still do, talk to her everyday. She's always there with me throughout in any process.
I think the hardest part for me was not being able to understand conversations, other than ballet.
Because ballet itself is… the language of ballet is international. So anyone would know what a plie is anywhere in the world.
I think to me the food, and you know, trying to talk to people and to understand them a little bit – those was like the weird things for me. My mum always managed to keep me on my toes basically and stay very persistent. There were times when I was really upset and I wanted to give up. But none these times made me not to love dance.
Yeah. So have you managed to find good Brazilian food places in New York now that you've been here for a couple of years?
Yeah, yeah. I did manage that! It's great! It's quite interesting.
And what attracted you to Dance Theatre of Harlem?
I love the concept of the company being so diverse.
And the rep – they dance things from all over the world.
I never had that much experience – in Brazil, you do a lot of classical ballets. But the rep here is so diverse. I get to work with different choreographers, and that's quite amazing.
I also like that we tour all over the world. Not many people have the opportunity to be working in a place where they can travel. You can travel, dance, and you get to visit places, get to perform. You know, who has this kind of opportunity? Not many people at all!
And did you have to… like you said your training was classical, whereas at Dance Theatre of Harlem, it was classical but there are also other elements from different dance styles. Did you have to adjust to it?
I think both places were very classical, but I never danced work as contemporary as I do here at Dance Theatre of Harlem. We work with so many choreographers, the diversity is so amazing.
Back in Brazil, my teacher was so focused on classical. Nothing so contemporary – this takes me to different places, and I can explore new aspects of me.
How do I say this… I'm more engaged, I get to know more of myself, get to explore and do ballet where I never thought I would.
I also think that it's challenging, but that's how you grow as a dancer. So yeah, I'm very happy.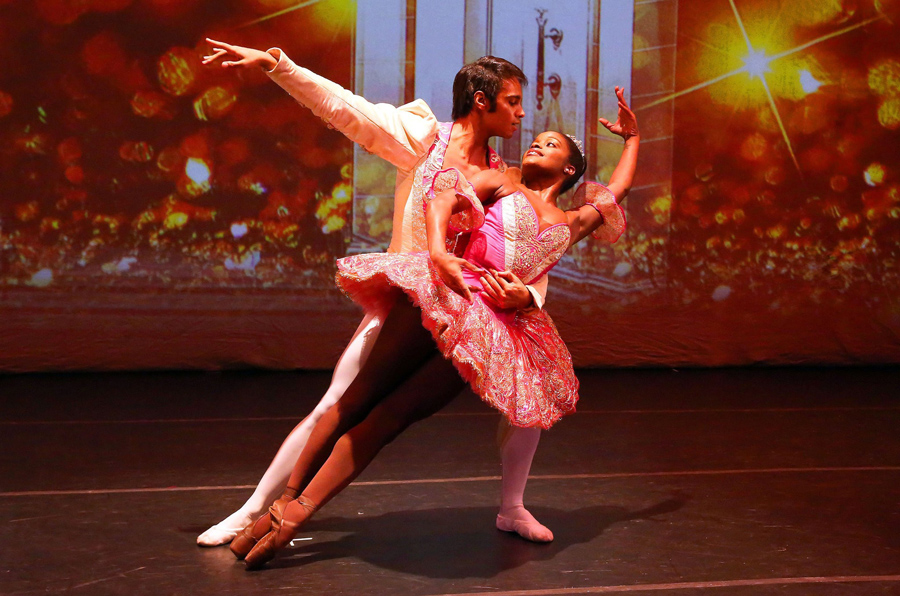 Ingrid as the Sugar Plum Fairy in The Brooklyn Nutcracker
Pic by Andrea Mohin
Was it difficult to adjust to this more contemporary style?
Yes. It was really hard, but I danced with Grupo Corpo and they are very contemporary.
So I see how each company is different. And you and engage with each company in a different way, and that makes you want to explore how you perform.
You know, talking to you now, you seem to have a very positive mindset about things.
Oh yeah, I'm very positive. Well, you have to be, you know.
Working as a dancer is so hard, physically and mentally. There's always someone judging you, there's always someone watching you.
You always get corrections, and maybe what you were doing was just not good enough.
You always doubt yourself. Like, "I've been doing this, dancing, what am I doing to myself?"  
And if you are not positive about it you can't overcome anything. Or even become what you could become.
And I think the greatest part of that is having my mum. Whenever I have a hard day, I talk to her: "hey, look what's happening, I'm really upset about it."
And she's like, "no, think positive! Life is not like that." And I don't know, I think I've always been surrounded by people who have supported me, even during the hard times. And that makes me grow more and more.
So as a dancer, and generally as a person, how do you deal with all the pressures that can be put on women, especially in ballet? You know, there's all this body image and aesthetic pressures.
Well, I always think that everyone is special, and that's why they are here on earth with their own special gift, and who they are.
I try to never to compare myself with other people because I am my own person. and they will never be me.
I think that being positive everyday, even with the hard challenges, makes you see the world differently.
You know, sometimes you want that chance in dance so bad, but sometimes you are not ready for it.
And you don't know…this happens a lot when you are a dancer, like you always think you can do so much more, and yes you can, but sometimes your director, your teachers –  they are there to help you.
And because I have a very good support system outside of the dance world, it helps me deal with the challenges that I have everyday.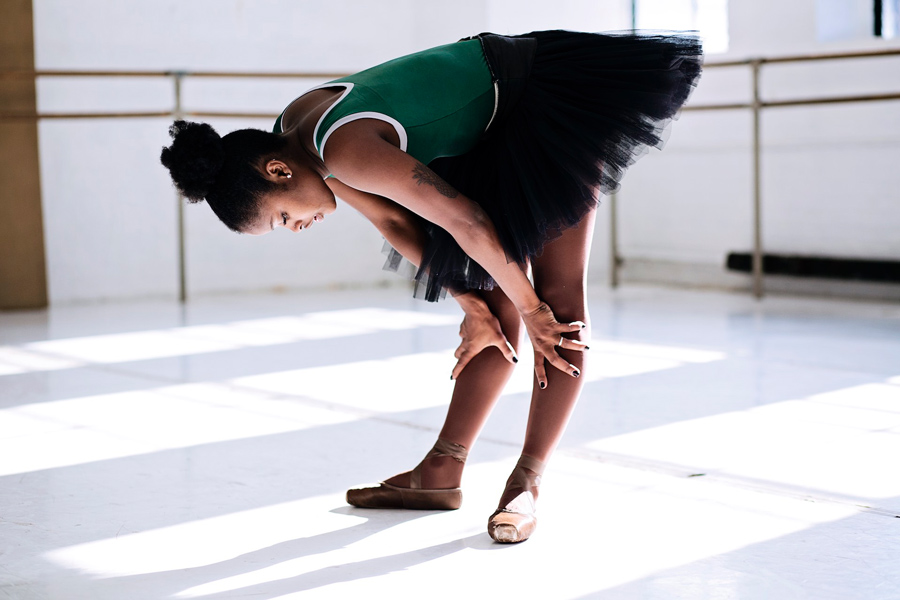 Pic by Kymberly M Wang
Yeah. And you've also like embraced the role of like a representative of black culture and black women in ballet. It seems like this happened just very organically.
I don't know. It's so interesting because I've never planned for this, none of that.
I've never seen myself as being a famous person, especially since I don't care about being famous.
But I do care about being inspirational, and showing people that you are capable of doing things that you never imagine yourself doing.
And I felt like just sharing my story, and being true to myself. And people started seeing me in a differently way.
They started to relate; like I had difficulties with my hair, like when I did my transition of not having my hair straight and going natural, and I shared that with people, and they were like, "Oh, you can do this, or you can do that."
Or, when I share these stories, people are like "Oh, I've been through this, or I've done that."
So when you share stories like that, you can relate to people. You know, you are more approachable than, "Oh, I'm just a ballerina." Where is your human side?
I'm human and a dancer. I share my story in both ways. And I get excited when people get to relate and see themselves in the stories.
Do you find it a bit scary to be so vulnerable sometimes? Even talking something about something like your hair, because you've opened yourself up to people to judge you.
Thank god, I haven't really received any bad bad energy on my social media.
I feel very vulnerable when I share the stories with people but I also believe that that will change their views and perspective when they see you share it.
People probably get less judgmental. People see that it happens to everyone. And I'm very grateful that majority of my followers are also women. And they very supportive.
Do you feel the weight of responsibility because you are somebody who's representing black culture in ballet? Ballet is not as diverse as it maybe could be. And now here you are, like an icon or representative of a certain culture. Do you feel a lot of responsibility to say behave or conduct yourself in a proper way?
Yeah. I feel a lot of responsibility. I feel a lot of pressure. You know, sometimes people don't know what you go through in your day but they still want you to look perfect.
Yeah.
No one is perfect. And people will never be perfect. That's just how it is. But sometimes people expect so much from you.
I'm very blessed to have been with people who have high expectations of me but are also supportive. I know my role as an inspirational person, and people always expect so much from me. But I've always been able to tell them the truth.
Sometimes, if I'm not having a good day, I'm not feeling well – I don't share about it that much, but sometimes I do. Like how I'm feeling, or any changes in routine.
It's also because I'm Brazilian.
When you are a ballerina there you are an icon, because we don't have many there. People are looking forward to seeing what you're doing.
So I always try to have high standards of myself and my career. So when people see me they understand, "Oh wow, she's very professional." I always try to do my best
I think the thing about social media is that, like you said, people expect you to be perfect all the time. People may not realise how difficult it is to be a dancer. You know, just the everyday grind of it and dealing with the hard work, the expectations that you have for yourself, and the expectations that other people have of you, injuries, things like that.
Yeah. I'm also very much of an activist. I created a women's group called EmpowHer New York.
I feel like when I created that group, it gave me that push to not just be that kind of dancer that only talks about dance — the world is much bigger than just dance.
Sometimes, there are situations where you have such a huge platform, and you're an example for so many, you have to talk about things! You have to express your opinion.
Once again, you're not obligated to, but if you feel comfortable, why not? I always feel powerful in that sense.
When you are somebody who juggles with so many things, how do you find that balance of staying sane and doing your best as a dancer, and at the same time making time with all these different things that you do?
How do I explain? I feel like I'm very happy with the things that are outside of dance. It helps me reach and see things differently.
Sometimes when you're just on the dance floor, you don't see other things happening.
So I always find the best times to do it. And when I work with people, I'm always honest with how I want the public eye see me. I think that's very important. You need to make sure you don't sell yourself short – it's not who I am.
I always try to go, "Hey, this is exactly my work, and this is exactly who I am. And this is my vision."
And thank God that all the people who I've worked with have been very understanding.
I try to find balance whenever I have like days off. Or whenever we don't have anything in the season on the schedule, I'm always on the clock checking in about what other things we're doing with EmpowHer, and stuff like that.
So then what do you do for your downtime to recover?
My downtime… I enjoy my dog Frida!
She's so adorable. I love seeing pictures of her.
Yeah, she's my best friend. I'm part of a French bulldog group, and we meet every weekend. And we have like meet-ups, and it's so much fun.  
And meeting different people outside of my comfort zone, that's also important for balance, you know. Sometimes we don't see that very often – we don't realise we need the balance. When I get home, I go out, I hang out with my family members, I spend time with my family.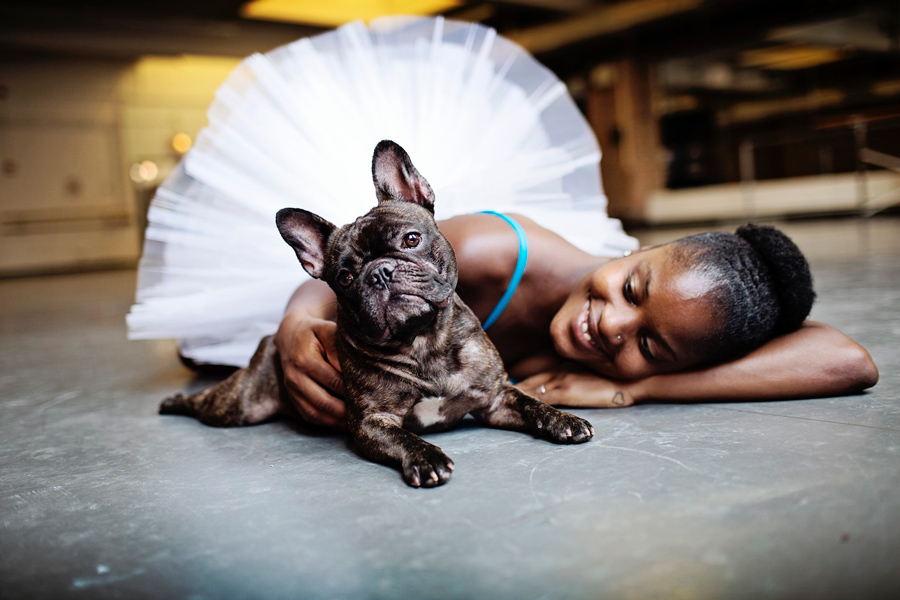 Pic by Kimberly M Wang
Yeah, I think it's very important. You can get really caught up in doing ballet, it can be so consuming, that you know it's important to have time for other interests outside. I think that makes you a better dancer too, when you have more experiences.
Yeah.
We talked about diversity in ballet. A lot of things that other people take for granted can present problems to dancers of colour. Like the way you do your hair, or the colour of your tights, or the colour of your pointe shoes. For you, is there any particular things that you would like to see addressed more in the ballet industry?
Yes. For example, I used to have skin-coloured tights, but the brand discontinued the tights. Then what do you do in cases like this, you know?
Sometimes people don't pay attention. It's not a big deal for them. "Oh, I'm not affected, I don't know how it works."
Forget about other shades as well. As for shoes colours..I feel like the shoe thing is gonna take forever to happen.
Of course there are some brands who have started, but it takes so much for them to get there. Like it's enough, but it's also not enough.
Yeah I guess people don't realise the things that dancers of colour struggle with.
No, they don't. They have no idea.
It's so complicated. It's so personal for dancers just like me to have been able to own a pair of tights that match our skin colour. It's so hard.
I feel like it's time for the brands to get together and just start investing more in all shades of dancers.
Because sometimes people feel forgotten, because there are not many things or colours for them.
And it's up to us, those who have worked with brands and companies and people, to open their eyes and show them that the market is so much bigger than they imagined.
It's still a long way to go.
Yeah! I feel like sometimes brands are so caught up in what makes money than what else is more outside of the picture, you know?
Yeah. It's interesting. With makeup brands, they've started off offering foundation in lots of different skin tones. I think they've start to realise that once you do that, you attract more customers because more women are like "oh, now you cater to me so I will buy your brand and support your product."
Mm hmm, yeah.
There are so many dancers asking for it, I don't understand why it's taking so long.
I just want people to be able to be more open to the cause.  I'm actually happy to be able to be part of a company that — we don't wear pink tights. So, we actually don't have any options.
And someone in the company will have to figure it out how to dye tights for me. Like…there is no other way, we're gonna have to figure something out.
Yes,I know dancers of colour who are concerned with wearing pink tights. Because then their lines are not continuous because the colours are different between the tights and their skin tone
Yeah. And it does! It does affect people's line, it doesn't look good under the light. Some things can look crazy, trust me.  But we'll get there.
But I would really love to know about EmpowHer New York! I know you co-founded it with your friend who is part of your French bulldog club.
Yes. So my co-founder Helya Mohammadian and I met maybe 2, 3 years ago. She has a Frenchie and we were walking our dogs. We became very close friends.
I mentioned to her that I wanted to create a platform for women. Not just one type of womam, but women all over the world.
So  we founded EmpowHer New York.  It's the only worldwide instagram platform now that has a takeover everyday, with someone different, from all over the world.
I'm very happy to be engaging in something like that. It's so amazing. We have been able to reach out to more than 200 women since December. And that's a big deal. We had our first event in January this year. And we had our second event on July 11th which was sold out.  We had 120 women attending, we had a panel discussion with 6 amazing women telling their stories. We had partnerships with L'Oreal, Aveena, and Sakara Life as well.
So this all came together with people who were helping us grow. And we were very excited about it.
I think EmpowHer New York is basically a powerful platform for women to share stories, to give women a real voice and help them achieve their goals despite the challenges that they have.
We invite them to share their day, and to share with us their stories, like "Hey, my name is such and such. I do this and that…" And then… it's amazing. Very exciting.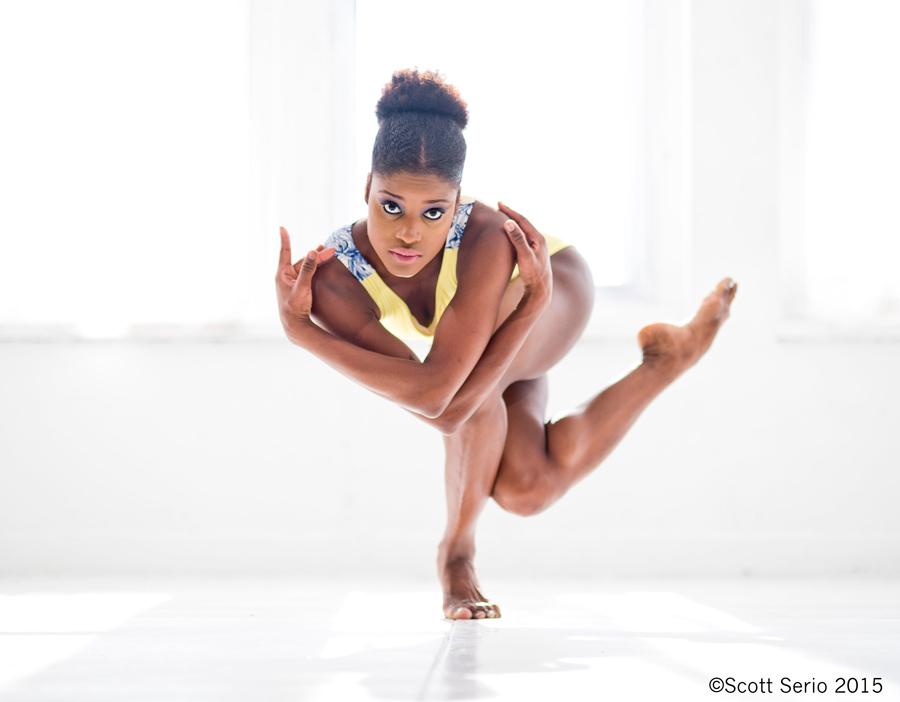 Pic by Scott Serio
How do you decide what kind of women you invite on EmpowHer New York?
We don't decide by what you do, what's your story, whatever like that. We just decide by whether you are an interesting person. Or if you get in contact with us and you wanna share your story, you are more than welcome.
There is no criteria. You don't have to be famous, you don't have to have many followers. You can be a mum, a grandma, a painter, a carpenter, a person who works in business, a person who paints walls – you can be whoever, and you're more than welcome to share your story on our platform.
Women of all occupations and backgrounds.
Yes!
What would you like this company to become? What is your big hope for this company?
I don't know. Because it has been becoming even more than of what I imagined. It has connected me with so many people.
I think, right now, what I'm doing with this platform is that we are connecting women. This is our idea. We want them to share their business, to advertise themselves, to feel empowered, to share their struggles.
We're having 3 events a year, with more and more people attending from all over the world. We're having panellists from all over the world, from all walks of life, sharing their stories. People with huge struggles, or people with less struggles.
When you find a platform like this, you feel empowered. You can feel those people who go through the things that you went through.
So I think what I'm hoping for and what's happening is that we are becoming a place of connection and empowerment.
Are there any cool EmpowHer projects that are coming up?
Right now, we are working on our next event in October, but I don't have a date set, or a place yet. We're are working on it, me and my partner.
It's gonna be another panel with other women sharing their stories. People can just come after their work, talk, have a few drinks during happy hour and relax with each other.
I like that because it doesn't sound intimidating. It's just like a cool thing where you come and listen to some women and mingle.
I feel like it's more of a safe space, for you to feel comfortable and share.
I really like that idea. What have you learnt through EmpowHer?
Oh, I've learned so much. I think I've learned new stories.
I've met new people, people who have actually transformed my life. People that have brought something new to my views and my perspectives.
Sometimes, when you don't know, like when we talked about with pointe shoes, when you don't know about other people's experience, you don't really know what's happening outside of your box.
I think that's what has been happening. I've been learning with EmpowHer New York. I'm feeling very proud that I've been able to help women become more social and able to share about their journey and share their work.
With other places, you have to pay for advertising, you have to pay to get people to notice you. On our platform you can just be you. There is no judgement.
How involved are you in the day-to-day operations?
Oh, god, I'm super involved.  
When we started EmpowHer New York in December, Helya and I had to do everything by ourselves. From scheduling people to do the takeovers to inviting them to do the takeovers, posting layouts… we had our hands full.
And now we have an amazing team that has been working with us and helping us to grow. Because it's growing more and more, so we can't do it ourselves.
It must be a very different experience for you, running this.
Oh yeah. But to me, it's not that difficult. Because I've always done that to my career as well. I don't have a PR company who works for me and get me jobs. I do everything by myself.
You hustle!
Yeah! I do have a manager who actually helps me. I'm very blessed that all the work that has come my way is organic – people actually come find me. And I've been very happy about it.
People find me on Instagram, or like social media, or my website. I don't know, I'm just being me and they just come and find me.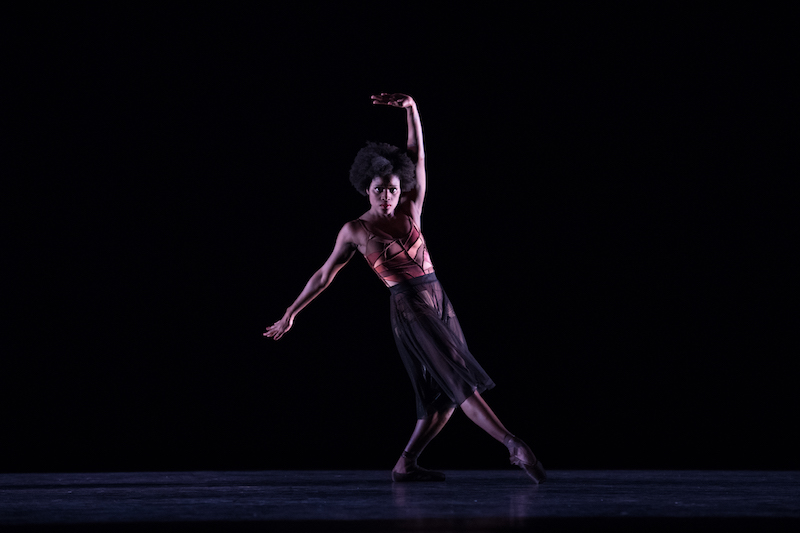 Pic by Rachel Neville
What are the biggest challenges for you? And what are the things that you are most proud of that you've accomplished.
I think, to me, one of the things that I am most proud of is everything that I have today.
I've accomplished enough. And I'm actually proud of everything. Coming from Brazil to here, not speaking English. Or last year, when I worked with Alicia Keys. I've been able to be the founder of EmpowHer New York. I think everything is special to me, every little accomplishment.
I think being a dancer is very challenging and I feel like I'm always challenging myself in every single way. I don't know, it's so hard.
I also want to know what you celebrate.
I don't know, I celebrate because, for me, it's a struggle being a black dancer in the dance world, and in classical ballet. Constantly being judged people. You always have to prove so much.
But I think for me, I have nothing to prove – only to share. And I embrace every single challenge that comes my way. I embrace every little single project that I have.
It could be teaching in the middle of nowhere to 3 kids, then teaching in an amazing school here in New York City. I think I'm learning as I grow.
_ _ _ _ _
Quickfire questions
What's your dream role to dance?
I like Kitri. I would love dance Kitri one day. But my dream role as a dancer is to work with as many choreographers as I can.
I'm open for collaborations with any companies or choreographers who would love to create something with me.
I don't wanna get stuck with like who should I do this with, or who should I do that with — I want to be open to work with whenever, and whatever, you know.
If you could dance any male part, or role, any male variation, what would it be? And which female would you choose to partner you?
Oh god… That's so interesting!
I like Diana and Acteon. My partner will be… well, I love Osipova.
I don't know, I love her. I think she would be my partner.
Is there an exercise that you find helpful for ballet?
I think that ballet barre is so fundamental. Everything that we do at the barre. So to me, I don't think there is one single exercise. I think the whole barre.
What's your favourite pizza toppings?
Ooh, I love pizza… Hm, I love bacon, cheese – extra cheese, always. I love tomato. I haven't had pizza, I haven't had dinner and you're making me hungry.
I love black olives. What else? Green peppers, onions. I like to put a lot of things on my pizza, but those are the ones I love.
That's fun. What's your favourite book at the moment?
Body Positive Power by Megan Jayne. She's a writer activist. She talks about body positivity, which I think is so important for our dance world.
People always want to be crazy and skinny that they forget and get sick. That's not healthy.
Who would play you in a movie about your life?
A Brazilian actress, her name is Tais Araujo. I think she would be my first choice. She's amazing and so inspirational. She has an amazing story. She talks about everything you can imagine. She's very open.
I actually got to meet her, and I was like "Wow, I never imagined that I would be in this position  to go 'wow', she's actually a human." I also think it's the way she carries herself, she's very approachable. She's amazing.
_ _ _ _ _
Follow Ingrid on: EmpowHerny
Instagram: @ingridsilva @empowher_ny
Facebook: Ingrid Silva EmpowHerny
Youtube: Ingrid Silva
Twitter: @Ingrid_silvarj