Lithe and luminous, Patricia Zhou is known in the dance circles as the talented young lady who began her formal ballet training at 13.Even so,  a stint at the Kirov Academy of Ballet's summer program soon led to her sucessfully auditioning to be a full-time student. You would be hard-pressed to tell that she wasn't born a bunhead when watching videos of her dancing. But it took hard work, dedication and many extra classes for Patricia to harness her innate aptitude for classical ballet.
Patricia's abilities were easy to notice, and she was awarded a full scholarship to the Kirov. She also made waves on the competition circuit with a slew of medals, which culminated in her winning the prestigious Prix de Lausanne in 2011. She was invited to apprentice with the Royal Ballet, and by then had sufficiently captivated the dance world's attention that even Dancing With the Stars came knocking, and featured Patricia as a guest performer on the show.
Patricia is now with the Staatsballett Berlin. We at C&V have been fans of Patricia ever since we stumbled upon her blog a few years ago. We impatiently await the day we'll have a chance to see Patricia light up to stage in person, but for now we'll have to be content with following her culinary creations, dance clips and photos on Instagram.
What did you have for breakfast?
Greek yogurt topped with a banana and home-made granola. Coffee and tea, of course.
What did you wish you had for breakfast instead?
An almond croissant. Or maybe a lemon-pistachio loaf. It's always impossible to eat anything that sweet and sickly before work. I've tried it once.
I didn't feel very well to say the least.
You seem to be a fast learner, considering how quickly you managed to make the transition from other forms of dance (lyrical. acrobatics, jazz, chinese dance etc) to ballet – although of course you had to work very, very hard.
Do you think that's true of yourself? 
When I was young I actually had a very tough time in picking up choreography although I've always been a gifted mimic-er. I've only recently been able to start picking things up, and remembering them, faster.
Did you have a lot of difficulty adapting from a Vaganova syllabus to a more English style during your time at the Royal Ballet?
I didn't have a very difficult time at Royal since their company has a big mix of styles. Not everyone is super English, so I think I blended in okay.
Naturally, I did change a few aspects of my dancing–the hardest thing for me was moving quickly!
How much of your non-ballet dance training was an asset to you?
I definitely think it all helped.
I even attribute tap to helping with musicality. I think just moving in general from a young age helps with coordination.
Conversely, was there anything you had difficulty trying to un-learn?
Not that I can remember!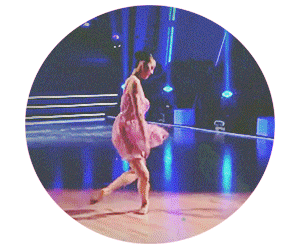 Patricia on Dancing With the Stars
Your parents were initially resistant to your decision to pursue a dance career.  Why did you decide that you wanted to dance full time, instead of maybe going to a good dance college –  Especially knowing that your parents wouldn't likely approve?
Well my parents initially did want me to become a doctor or scientist, but later on supported me to go after my dream.
They were kind of all-or-nothing about it, so either it was go professional, or stop spending so much time on dance. I don't remember if dance college was ever considered to be honest.
How did you manage to get your parents on board with your decision to pursue dance?
I promised them that I would keep my grades at a 4.0 average – which I think for an Asian is quite the norm…
So in case I got injured or didn't make it as a dancer, I'd still have the good grades to fall back on.
Was your sister supportive or skeptical about your decision as well?
I think my sister was quite supportive. She also loved dancing, so I think she understood where I was coming from.
Naturally, she wanted me to follow my dreams and has actually always been my loudest supporter in the audience.
Speaking of your older sister, we gathered from following your blog that she lives in New York, works in something fashion-related and holds  degrees in computing & economics.
Whose life is more awesome – yours or hers?
Well I'm inclined to say hers, but I think she would say the same about mine!
She works as a brand-design product strategist, which I think already sounds cooler, and has the cutest dog. She's always working on amazing projects with brands like Tom Ford and Jo Malone, etc.
She also lives in New York, which to me is the center of the universe and home of the mystifying "cronut".
Conversely, my job does lead me across the globe and I get to perform in beautiful theaters and wear some amazing costumes.
Who usually wins during the fights – you or her?
I would say my sister wins… my mom likes to say that she would've been a great lawyer. I usually listen to her anyway, because she's older.
Describe your sense of style!
Well I love black, and I love color. I think I'm always either completely in black or dressed quite brightly. There's no in-between. In general, I think I dress quite eccentrically because I wear whatever I like.
 Do you have any favourite brands/stores?
I tend to like nicely-made, simply designed clothes. On that note, my favourite brands of the moment are & Other Stories, Everlane and Topshop.
You are a proclaimed foodie, and your instagram feed is chock-full of your delicious meals. But rice seems absent from your life. Do you not like it? Isn't failure to eat rice some violation of a Super Sacred Code of Being Chinese? We speak as fellow Chinese!
I do love rice!
We actually don't eat a lot of rice at home, so I've never really gotten into the habit of doing so. Plus I don't have a rice cooker, so the rice is never as fluffy and delicious as it is in China!

Patricia arabesque-ing in our Jete tank and a Designed by Alice skirt. Credit: Alice Williamson.
You joined Staatsballett Berlin as a corps member last year.  Any German food you have have taken a liking to?
I'm not smitten with German food just yet. I do like the abundance of hazelnut-ty chocolates, marzipan, and yummy bread in Germany though!
What are your highlights or stand-out dance moments with the company so far?
We are danced Balanchine's "Ballet Imperial" as part of our 2013-2014 Opening Gala. Ireally enjoyed rehearsing for that.
I absolutely love the choreography and it's nice to be able to really dance in the corps as opposed to in Swan Lake,which I love as well, but where you want to look the same as everyone else  – it can be constricting. Tchaikovsky's score is also so beautiful and really pulls you in.
The ballet really drains all of your energy from you, but it's a great feeling.
 How do you deal with the days in rehearsal where nothing seems to go right – whether you're feeling tired, extra sore, lousy?
There's really nothing you can do but keep pushing.
I'm sad to say that these kinds of days are almost equal in number to the ones where I feel really good.
I actually force myself to do each combination twice and I never leave class early. Usually I'll keep practicing what's gone wrong until I get it right. It seems very fastidious, but I think it's the only way one can improve.
Is there anything in the 2013/2014 season that you are especially looking forward to?
I'm really looking forward to working with Preljocaj on the premiere of "The Nights – Nach 1001 Nights" in February.
We learned a bit of it when he came to cast his piece, and I absolutely loved it. I've never done anything as grounded stylistically, so I think it will be a really interesting learning experience for me. I can't wait!
What do you consider the proudest moment in your dance career so far?
The  Giselle pas de deux at The Stars of Russian Ballet Gala, which I recently danced.
I really worked on it step by step and worked out every gesture so that it would mean something as opposed to just look nice. It was a piece that I'd wanted to dance for years, so being able to finally realise that was a dream come true.
The best part was that I got a lot of positive feedback from it.
It was great to hear how touched people were by my performance, that they could really feel that every movement was telling a story. It was extremely rewarding especially because I had minimal coaching.
It was all very raw – my own effort, my own vision, my own Giselle.
Many decades from now, when you have hung up your pointe shoes and are hanging out with your 40 cats while a bevy of handsome men feed you delicious old lady food, what sort of dancer would you like to be remembered as?
Haha to the cats! I approve.
I'd like to be remembered as someone who moved people.
Of course, technique and 'tricks' are important, which is why I work on them so much, but my top priority and all of my dream roles are about telling a story and really filling each step with emotion.
——————
Cronuts are equally fascinating to us! In our ideal world, we'd be eating cronuts while watching  our favourite dancers perform for our pleasure – Patricia included of course!
We'll be posting Patricia's answers to out quickfire questions on Monday.
C&V NOVEMBER SESSION: The it-boy of British ballet and recent Bolshoi graduate, Daniel Dolan.
Follow Patricia Zhou on:
Twitter: @Patricia_Zhou
Instagram: @Patricia_Zhou
Blogspot: Patricia Zhou: the life & happenings
WWW: Patricia's official website
Special thanks to Alice Williamson  (Designed by Alice) for the lovely photos of Patricia!