For a time, Xander Parish seemed like the Jody Sawyer of the English ballet scene. Now, we are not saying that Xander has poor turnout or bad feet (have you seen his feet?), or that he called Ethan Stiefel a sucky boyfriend. But rather, his tenure at the Royal Ballet seemed more or less spent, as Jody said in Centre Stage, "in the back of a corps waving a rose back and forth".
But while Jody's potential was better fulfilled by forgoing the classical American Ballet Company for Ethan Stiefel – sorry, Cooper Nielson's, contemporary leanings and black leather pants, Xander's career began to flourish even while his feet remained firmly turned-out in the classical repertoire. But the change he made to get there was far more drastic. He left the familiarity of home for Russia, and one of the grand old dames of classical ballet – the Mariinsky Ballet company.
Being the first Englishman to join the Mariinsky certainly made people sit up and take notice. But along with newfound attention comes expectation, and everyone was curious to know more about the Mariinsky's new acquisition. What did they see in him that the Royal didn't? And under Yuri Fateyev's tutelage, roles started to come. An unexpected solo in Raymonda, the Poet in Chopiniana, a pas de deux here, a pas de trois there. By 2013, his performances were attracting out-and-out raves by critics, and agony by the British media as to how the Royal could have let such a talent go. That year, Xander made his debut in his first principal role as Count Albrecht in Giselle. If the online footage is anything to go by, he was a package of elegance, and, yes, great feet. It was a role he recently reprised, with his debut as Romeo in Romeo and Juliet slipped in between.
"Great things, surely, await Xander Parish," noted a review by the Guardian, cautiously optimistic at one of Xander's early performances with the Mariinsky.
They surely do.
C&V SESSIONS WITH XANDER PARISH
What did you have for breakfast?
I always start the day with a good breakfast- eggs, toast, juice and porridge.
What did you wish you had for breakfast instead, if anything?
EB! That stands for English Breakfast- the above plus sausages, tomatoes, mushrooms, bacon & baked beans. If I set about making that I'd probably miss class.
You started dancing as a young boy. Did you take class with your sister, Demelza? Was there any competition between you guys?
I started dancing when I was 8. We must have done classes together but I don't remember any competition at all, support more likely.
What was it like training and dancing with your sister as students, and later as professionals at the Royal Ballet? Did you push each other, or was it more of a "let the other have his/her own space" type of situation?
I had been at White Lodge for about a year and a half when she arrived and I was super proud to have my little sister there with me!
At that point it was a very rare thing to have siblings in the school. I liked being the big brother but we left each other to ourselves dancing wise. In our final year before we joined the RB we danced Sleeping Beauty pas de deux together in one of the school shows which was fun and working together was easy and natural.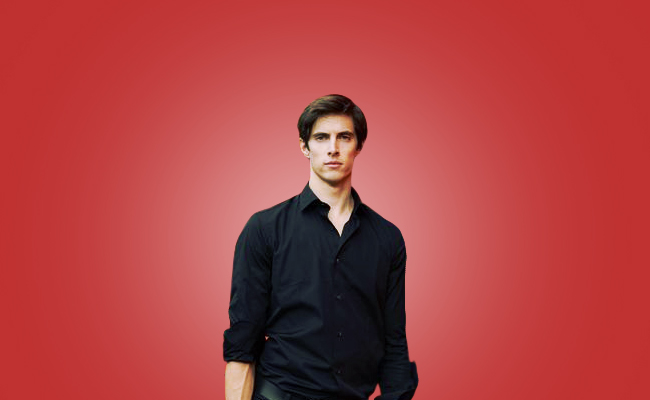 Original photo: Claire Park.
You shared a flat with your sister when you were at the Royal Ballet. 2 siblings living together – how did you manage to not kill each other?
We lived together for four and a half years until I left for Russia and it worked really well. We get on well and have a lot of the same friends, plus in such a pressured place as the ballet world, I think we both appreciated having each other around.
You've mentioned that you made the tough decision to leave the Royal because you felt you weren't growing as a dancer there, but many considered you a delightful revelation when you debuted with Mariinsky. Do you have any idea why they passed you by during your tenure there?
Every director has his or her preferences which is a good thing and makes companies different. I always try to be very careful not to criticise the then RB management for passing over me because at the end of the day that was their prerogative.
Although I had buckets of enthusiasm I certainly wasn't strong back then and even though I'm flattered that people have said they would have liked to see me stay and dance more there, if I had, I wouldn't have had the incredible adventure of coming to St Petersburg and dancing with the Mariinsky Ballet!
You made your debut principal performance as Prince Albrecht last year. Tell us what the experience was like!
Albrecht was my first full length principal role and it was kind of a make or break situation. I was 26 at that point and had danced a lot of soloist rep and a couple of 1 act principal roles. But having already been in the Mariinsky for 3 years it was looking like the leap to the next level wasn't going to happen.
The previous season I had snapped a ligament in one of my ankles while dancing Swan Lake pas de trois and was off for 5 months. Of course companies don't like it when dancers get injured and coming back I knew it hadn't helped me.
I worked back to full strength with my coach and eventually the following year, my director told me he was giving me the chance to dance Albrecht, so I knew I had to do a good job of it and prove I could make the leap to that level. So, with all that in my mind, it was a relief and a fantastic experience when it all went well!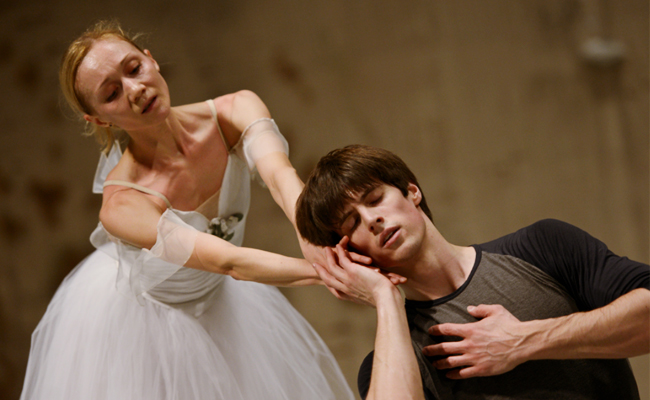 Xander with Svetlana Ivanova in rehearsals for Giselle. Credit: Valentin Baranovsky
What is your take on the character of Albrecht? On the face of it, he may not seem like be the most sympathetic of fellows: he cheats on his fiancée and lies to Giselle, causing her to join the Dead Bride Dance Party. How do you get the audience to root for him?
Simple- at the end of the day, they all want to be him! There's not a person watching who wouldn't want just for a day, to be the guy from the castle who can dress up as a peasant to go and have some fun with the pretty girl in the village. Awesome fun!
Actually, getting into his character was the most fun part of preparing this role. Personally, although I know the shallowness of what I just described is how it looks on the surface, I play Albrecht as a totally sincere person – I suspect that the above is how it started, maybe a week or two before when he was bored in the castle and decided to go and have some fun. But since then, he's grown to really like this girl – maybe to his own surprise . So now I play it that I love Giselle and most of what I dance and say to her in the first act is real and from my heart which makes her death more tragic.
Albrecht is a pretty full-on role – he literally dances to the brink of death. How do you strike a balance between conveying the complete exhaustion and haplessness he feels versus maintaining the grace and form of classical ballet?
The second act is a wonderful counterbalance to the first act in character. It is extremely difficult in terms of stamina and just getting through it but I've found that staying in the character and acting it sincerely really helps to carry me through. Think about what you're conveying to the audience and if you've prepared well in the studio the classical ballet should take care of itself.
Is there anything you do to get into character for a role?
Think about it. I simply put myself into the particular character's shoes and ask myself, what would he be feeling and why. What would he do now? How would he react to that? If it's hard to decide, then I ask myself what would I do if it was me?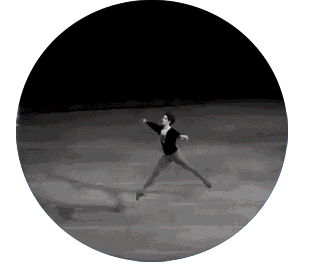 Xander dancing a variation from Giselle. 
After all these years, do you still get nervous before a performance?
It depends what it the performance is. I don't like being nervous so I try not to be. In the past I've been more nervous for a corps role than for a principal role, simply because I know that if I'm the lead, I can at least try and blag my way through. It's not so simple in a corps role when you've got to be in line with everyone else and not make any mistakes.
Russian ballet companies have a very hectic schedule. One day you might be a soloist in Scheherazade, the next day it might be Les Sylphides. Was it difficult learning and keeping track of all the roles and dance steps, especially in your first season with the Mariinsky?
That's true. In my first season it wasn't too hard because I didn't have so much rep to concentrate on. Now there's more but it's actually quite refreshing to have such a varied diet of ballets. Rehearse it for a few days, do a show. Next!
What's a typical day like for you these days?
Class is at 11am, rehearsals are spread out here and there between 12 and the show which can be 7, 7.30 or 8pm. Of course I'm not in every show. There were 25 ballet shows in January in St Petersburg plus tours to Denmark and and the USA as well.
Ballet costumes run the gamut from gloriously opulent to sparse – has you ever looked at a costume and thought, "I hope I don't look like a complete cow in this."
This is making me think back to my last performance with the Royal Ballet in Ashton's 'Tales of Beatrix Potter' in which I was 'Mother Pig'… Also here, there was a time when it seemed every new costume I got was either green or involved a skirt, or both…
We read an article that said you lugged over a bagful of peanut butter when you first went to St Petersburg. Are you a chunky or smooth fan? What British foods do you miss most?
CHUNKY! Smooth is just wrong. It would be like a pizza without any topping. I think I brought back more boxes of Kellogg's Crunchy Nut Cornflakes than anything else, and Oatibix.
Giselle knew it was true love the day Albrect shared his favourite cereal with her.
Conversely, what are your favourite things about St Petersburg since moving here?
It's such a beautiful city, I love the architecture and the the palaces. So inspirational.
How do you cope with the pressure and fatigue that must come with being a professional dancer in such an eminent company? What keeps you going?
I am very close to my parents and they support me greatly, plus I'm a person of faith and pray a lot.
What do you think your strengths and weaknesses are as a dancer?
Performance comes more naturally for me than technique so I have to work to ensure the steps are good.
Which of your upcoming performances in 2014 are you especially excited about?
I'm hopefully dancing Prince Siegfried soon, possibly in March.
Then in the summer the Mariinsky are going to London for 3 weeks which I'm really looking forward to!
What's one piece of advice you wish someone had given you when you were younger?
Don't get so caught up trying to make a step perfect, just dance it and enjoy it and the rest will follow.
Many, many years from now, when you've hung up your ballet shoes and are ready for a life of quiet retirement watching Eastenders and throwing water balloons at passers-by (we jest, of course!), what sort of dancer would you like to be remembered as?
I'm not a fan of Eastenders but the water balloons are very much a possibility! I'd like to be remembered as a dancer who gave those who watched me something tangible emotionally to take away with them.
——————
Xander recently made his debut in the titular role of Balanchine's Apollo, and will debut as Prince Siegfried in the Mariinsky's Swan Lake on March 6th.
Read Xander's responses to our quickfire questions!
Follow Xander Parish on:
Twitter: @XanderParish
Instagram: @_Xander
Facebook: Xander Parish Fans
WWW: Xander's Official Website