Should I change my job? Should I move? Where do I go next? Is this the right time? What am I doing with my life? Change is inevitable, but seldom easy. In an ongoing series called Movers and Shakers, we'll be talking to dancers who've made changes in their lives and careers to find out what they've learnt and what impact it's had on them.
Here, we talk to Patricia Zhou, Prix de Lausanne winner and one of the first interviwees on our blog, about moving from a full time classical to contemporary dancer, changing cities, starting a YouTube channel and embracing her derpiness.   
I meet Patricia Zhou in the sunlit studios of the Esplanade theatre in Singapore, and we jog towards each other and hug, giggling a little. We have been email, instagram, Facebook friends for about 4 years now (thank you Internet) – ever since I had the pleasure of interviewing her for this blog. I have been following her career for a little longer than that, from when she moved from an apprentice at the Royal Ballet to a full-fledged corps member at Staatsballett Berlin.
Patricia recently made another move, leaving Staatsballett for Benjamin Millepied's LA Dance Project. I wasn't surprised when I learned she had left the turbulent Staatsballett – she'd been there for 5 years and accumulated a prolific repertoire but remained in the corps. I was, however, a little taken aback to realise that she had moved away from a large classical ballet company to the intimate, 11 member contemporary company LA Dance Project, founded by Benjamin Millepied. After all, this was the woman who'd scooped up a slew of classical ballet awards as a student dancer, from YAGP to the Prix de Lausanne. "All my teachers at Kirov said I was going to be a principal straightaway," she says. It seems a lot of expectation to impose on a dancer during her formative years. "Of course that never happens." Patricia rolls her eyes. But it was an indication of the strong classical foundation Patricia seems to excel at, and I assumed it was where she would stay rooted in.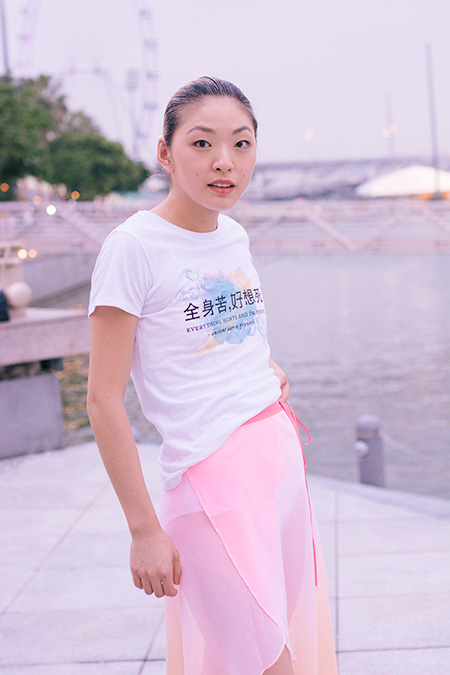 Patricia Zhou in our Ancient Dance Proverb tee.
Pic: Min, Cloud & Victory
We head out to get coffee – well, coffee for her, water for my caffeine-intolerant self, and there's the polite tussle for who gets to pay, customary for anybody raised in a Chinese household. I win. "But I wanted to buy you a drink!" she says, mock-pouting. Not a chance. 
We arrange ourselves onto chairs. Chalk it up to the power of Internet friendships, but I feel like we're comfortable enough with each other that I don't have to dance around this question: why did you leave Staatsballett? I ask. "I felt like I wasn't being pushed enough at Staatsballett," she says. "I loved working with Nacho [Duato, outgoing director of Staatsballett], but it's really hard to move up in a big company. We have 80 dancers. It's hard to get corrections. I've danced most of the repertoire at Staatsballett, and I thought maybe I could go somewhere else to improve."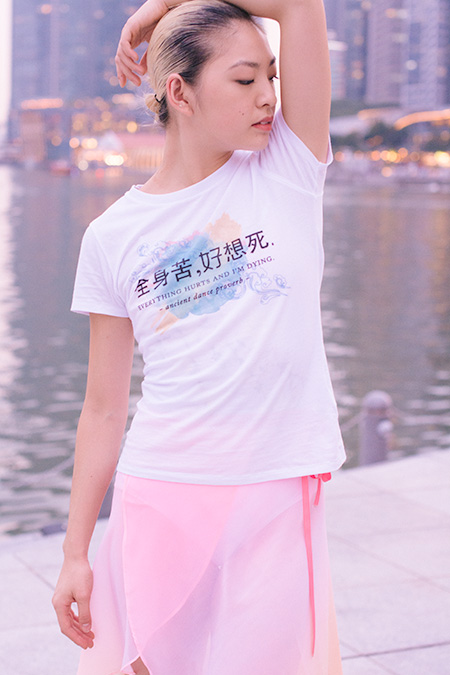 Patricia Zhou in our Ancient Dance Proverb tee.
Pic: Min, Cloud & Victory
Then LA Dance Project's ballet master and repetiteur, Sebastian Marcovici and Janie Taylor, came to visit Staatsballett. "I enjoyed working with them." Her interest piqued, she started chatting with them about LA Dance Project. Eventually, she decided to send Millepied some videos of her work. He liked what he saw and invited her to join the company. She accepted, packed her bags and headed to sunny LA.
It wasn't an easy decision. Patricia had adjusted to life in Berlin. She had made a home there for herself and her longtime boyfriend. He still lives in Berlin and between their work schedules and the time difference, finding time for each other has been tricky. On the encouragement of a friend, "he told me I was the right amount of derpy!" she started a weekly YouTube vlog to chronicle her last few months in Berlin and her new adventures in LA, and juggles video blogging and editing on top of dancing. She enjoys it, but admits that it can sometimes be stressful putting out new videos every week. "And it's awkward to film yourself sometimes!" she confesses, laughing. "But I'm just weird, I'm going to accept it!" She asks me if I minded being on her vlog. For her? Of course I don't mind. I do feel a little derpy, a little awkward at first, but I smile and roll with it.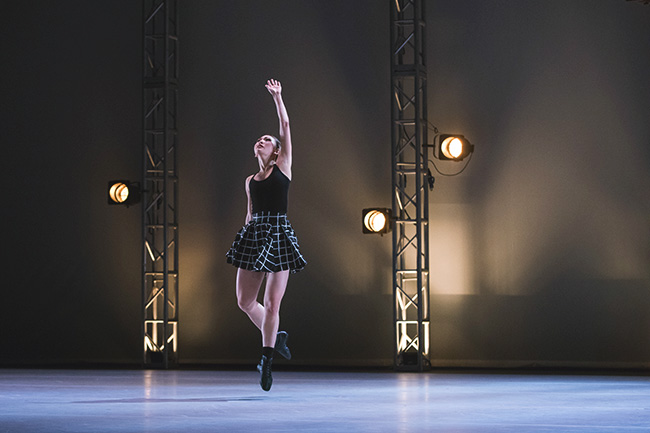 Dancing in Millepied's Hearts & Arrows with LA Dance Project
Pic: Esplanade — Theatres on the Bay
There are also the challenges of being a newcomer in the company and the demands of contemporary dance. I foolishly thought that some knocks to the knees notwithstanding, it would be more freeing dancing a contemporary repertory less trammeled by the rules and restrictions of classical ballet. Less pointework would be kinder on one's feet. But modern dance is a demanding master in other aspects. The programs change constantly on tour – LA Dance Project rotates between a heady cocktail of Graham, Forsythe, Millepied and Peck, among others – and as the new girl Patricia has to keep up with the choreography: which is why she was in the rehearsal studio on the company's day off, practicing an upcoming solo with fellow newcomer, Kaitlyn Gililand. They wonder when it will get easier, more familiar, when their bodies will adjust. "The dancers here have so much stamina," Patricia tells me, her eyes widening. "They can dance an hour long show, no sweat."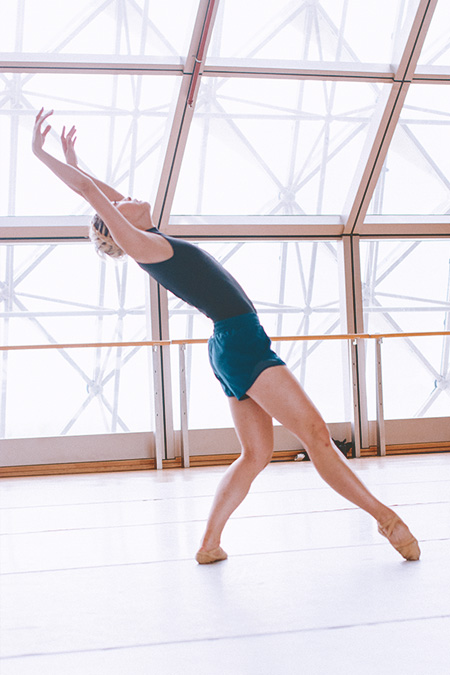 Practicing at the Esplanade rehearsal studio
Pic: Min, Cloud & Victory
I see what she means when I watch the show. In a small company like theirs, there's no room to slack off. Everyone is in multiple pieces, turning, kicking, lifting, jumping their way through complex footwork and switching between the styling of different choreographers – melancholic and passionate at one turn, fleet-footed, athletic and exuberant the next. At 37, former NYCB principal Janie Taylor pours herself into an arresting, 20 minute duet and makes it look easy. When they are on stage, the dancer's bodies are constantly in motion, the sheen of sweat slick on them. They each bring something of themselves to every piece, coming together to form a coherent whole. I naturally keep a keep eye on Patricia: whatever concerns she has about having to play catch-up in a new environment, to my eye she fits right in, turning in performances that are as crisp, rich and vibrant as the rest of her colleagues.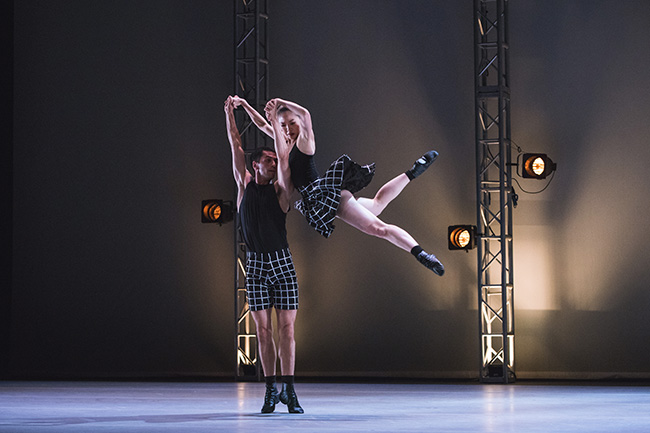 Dancing in Millepied's Hearts & Arrows with LA Dance Project
Pic: Esplanade — Theatres on the Bay
"When I was school people would say, 'oh we don't know if you'll be a great classical ballerina, but you'd be a great contemporary ballerina,'" She had mused to me earlier over coffee. "I kept fighting against that. Maybe their prophecies are coming true."
She hasn't left the world of classical ballet behind though. "I still dream of being a principal dancer." She cites San Francisco Ballet and the National Ballet of Canada as her dream companies. For Patricia, this move is a step towards that dream: versatility is key in the ballet world today and many classical companies are branching increasingly into more modern repertoire. Exposing herself to as many different experiences and styles can only be a good thing.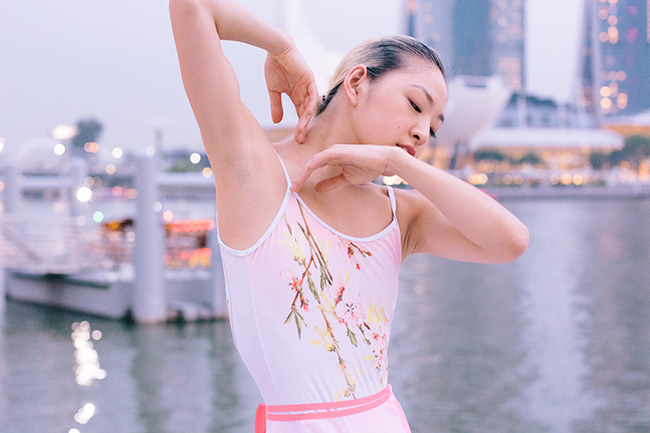 Patricia wearing her C&V Almond Blossom leotard and Degradé Sunset skirt
Pic: Min, Cloud & Victory
"I feel like I'm learning so much just from being in a different environment entirely, and dancing with contemporary dancers is so different. It's the way they learn stuff, and the way they teach the movements ― it's so different but it's a great learning experience." She says. She also makes time to put on the pointe shoes and work on her ballet technique, which she's found has improved since joining LA Dance Project: the benefit of being in a small company is that more time and care can be spent correcting each dancer. She's started to find her rhythm with the vlogs. As it turns out, they help balance out her naturally introverted nature – rather than stay at home watching Netflix, she goes out to fun events to film content for her videos. "No one wants to watch me stay and home and watch Netflix!" 
Her vlogs have found a surprising supporter as well – her new boss is enthused about her YouTube endeavours: Millepied gave her YouTube channel a shout-out on his instagram. Her burgeoning audience now has her thinking of loftier goals. "I want to be something like the Casey Neistat of ballet vlogging," she says, referencing one of YouTube's most well-known and successful personalities.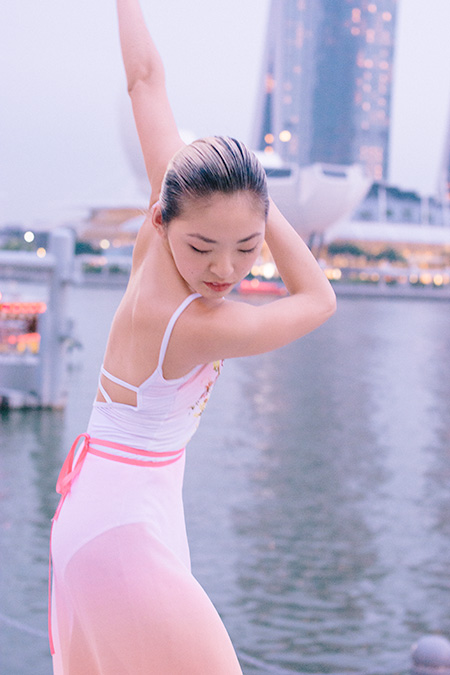 Patricia wearing her C&V Almond Blossom leotard and Degradé Sunset skirt
Pic: Min, Cloud & Victory
I'm struck by how matter-of-factly she says that. It can be hard for women to vocalize their ambitions without feeling the pressure of living up to them, failing, or worrying about seeming unlikable. But Patricia states it simply, easily giving voice to her aspirations and her plans to work towards her them without burden, without a grabbing urgency – for her, it is about the pursuit of excellence. "I feel like as an artist, it's important to experience new things. I don't just want to wait around." Change is opportunity to Patricia. She knows that in the trying, will have gained knowledge. Prima ballerina, star YouTuber, and who knows what else? The future is there for the taking. She smiles at me brightly: "I'm just going to go for it!" And why not. 
__________
Follow Patricia Zhou on:
Twitter: @Patricia_Zhou
Instagram: @Patricia_Zhou
YouTube: PatBallerina
WWW: Patricia's official website