Demelza Parish talks pointe shoes and awkward stage moments in our quickfire questions.  Read our full interview with Demelza here.
 QUICKFIRE QUESTIONS
Team Black Swan, Team White Swan, Team Dying Swan or Team Swanilda?
Team Swanilda. I reckon she's someone that I would be friends with.
What is your preferred pointe shoe brand?
I wear what I call 'Blobs' – a combo of Bob Martins and Bloch.
What is an exercise that you particularly like or find helpful?
Swimming is a good whole body workout which I do 3-4 times a week, time permitting.
What's a role or variation you would love to dance, and who would be your dream partner?
I'm pretty sure Manon or Juliet with Roberto Bolle or Federico Bonelli would be every ballerina's dream.

Demelza in Raymonda
What's been your favourite ballet/piece to dance, and your least favourite?
Fairies in The Dream is a favourite, as are Jewels and Nutcracker. Townspeople in Romeo and Juliet is not a favourite.
What's been your most memorable/embarassing stage mishap?
Falling over mid-Peasants dance in Giselle centre stage and hearing the whole audience gasp as I went down. Mega awks.
If you could only eat one food for the rest of your life, what would it be?
Probably eggs as you can do them in lots of different ways.
Hypothetically speaking, which Hogwarts House would you be in?
None. Never watched/read Harry Potter. Never want to.
If you could be any person for one day, who would it be?
Kate Middleton.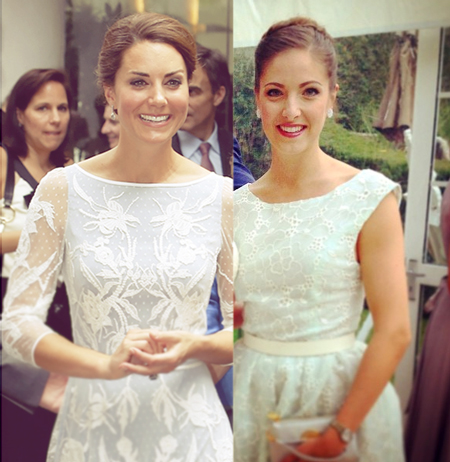 Kate vs Demelza.
——————-
Follow Demelza Parish on:
Instagram: @melziep
Demelza's biography on the Royal Ballet