We ask Emma Dumont about pointe shoes, her dream role and play a game of kiss, partner, kill with her.
Quickfire Questions
Team Black Swan, Team White Swan, Team Dying Swan or Team Swanilda?
Dying Swan.
What is your dream role, and who would be your dream partner?
My dream role is Odette/Odile and Danila Korsuntsev is my dream Prince Siegfried.
What's a ballet exercise you particularly like/find helpful?
Tendues. They set the base for everything else you do with your feet.
Preferred pointe shoe brand?
Grishko!! Or Russian Pointe.
What's on your playlist at the moment?
Pharrel Williams' Hunter.
Are you a Rory [Gilmore] or a Paris?
Paris.
Would you rather: walk for Dior & Valentino in one season or guest in an episode of an Aaron Sorkin show?
So hard. Dior and Valentino.
Completely hypothetically of course, who would you kiss, partner and kill: Vladimir Shklyarov, Mathieu Ganio and David Hallberg.
Partner Shklyarov, kiss Ganio and I'm sorry I guess I have to kill Hallberg. Just kidding I'd kiss him too.
Starbucks drink of choice?
Skinny Vanilla Latte Iced.
If you could be anyone for one day, who would it be?
Svetlana Zakharova.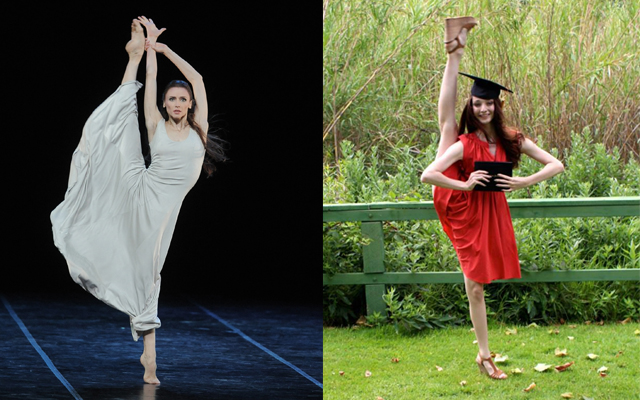 Close enough, Emma.
——————
Thank you, Emma!
Follow Emma Dumont on:
Facebook: Emma's Official Facebook Page
IMDB: Emma's IMDB Page
Instagram: @EmmaDumont0
Twitter: @EmmaDumont0