ABT's Isabella Boylston answers our burning questions regarding pointe shoes and cronuts.
QUICKFIRE QUESTIONS
Team Black Swan, Team White Swan, Team Dying Swan or Team Swanilda?
Team White Swan all the way!
Preferred pointe shoe brand?
I wear Bloch.
If you were a male ballet dancer, which female would you most like to partner and what variation would that be?
So many awesome dancers I would like to dance with.
Maybe Tiler Peck, because I wouldn't have to do anything. She'd do everything by herself. And I think one of the best pas de deux is Chaconne from Orpheus and Eurydice.
Favourite and least favourite roles/variations to dance?
My favourites are Swan Lake, and the ballerina in Bright Stream – that's probably my all-time favourites. Giselle as well.
And least favourite…where to begin! I would say Symphony in C 3rd Movement is one of the most physically difficult things to get through. I still enjoy dancing it, but it's definitely physically gruelling.
What's been your most embarrassing or funny stage mishap?
Definitely opening night of Sleeping Beauty!
It was a brand new ABT production choreographed by Gelsey Kirkland and Kevin, and I was one of the 4 'gossips'. The gossips find a spindle with long ribbons attached to it. We each had to take a ribbon and dance with it. At one point, we had to do these these weird hopping fouettes. I was as far down stage as you can get and with each fouette the ribbon kept getting wrapped more and more around my throat. I panicked and ripped it off. I ripped my giant hat off with it. And I had this like, 5-foot hat hat dangling off my head with one pin for the rest of the scene, which went on for another 10 minutes.
It was really traumatic because everyone in the dance world was there. Even though it probably wasn't a big deal, I kept thinking, oh no! I ruined Sleeping Beauty!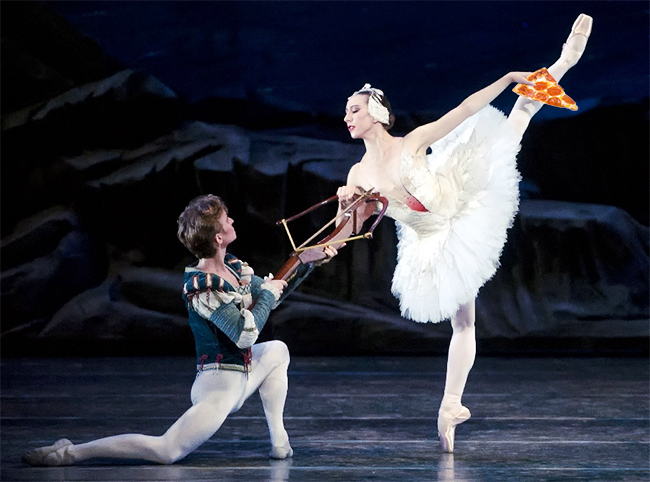 Isabella reaches for pizza: "no Siegfried, you cannot have the pizza."
What's one ballet exercise you particularly like or find helpful?
My favourite one is rond de jambs at the barre, because it feels the most dance-y. Grand allegro is essential for sure. You have to do it, even if you're tired.
Cronuts – yes or no?
Yes. Strongly yes! I go to ChickaLicious. They have the dough'Ssant., which is comparable to the cronut but you don't have to queue for it. It will blow your mind.
What are your 3 favourite movies of all time?
I love Hitchcock's Vertigo. Clueless is so good. And I just watched Blue is the Warmest Colour, that was really good.
3 favourite books?
It's always whatever book I last read! I love reading.
I just read the Name of the Wind, loved it.
I loved Hyperion too, and the Goldfinch, that was amazing.
If you could be anyone for one day, who would it be?
Honestly, I would just be myself. I think I have it good. Sometimes I have to pinch myself because I can't believe how good it is.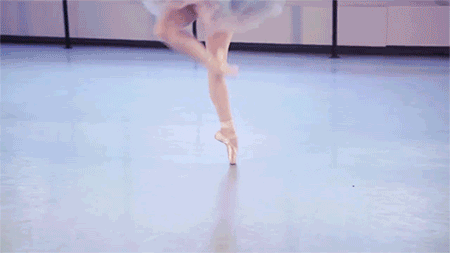 ——————
Follow Isabella Boylston on:
WWW: Isabella's official website
Facebook: @Isabella.Boylston
Instagram: @isabellab13
Twitter: @isabellaABT