Joy talks about her dance crush on Xander Parish, and marrying Natalia Osipova.
QUICKFIRE QUESTIONS
Team White Swan, team Black Swan, team Swanilda or team Dying Swan?
Probably team Black Swan.
Preferred Pointe Shoe Brand
I love Grishkos, but I'm wearing Gaynors at the moment because of my corns. My love still stays with Grishko, but I'm team Gaynor Minden.
What is your dream role, and who would be your dream partner?
Giselle and Romeo & Juliet, and I would love to dance with Xander Parish.
I'm really inspired by his story and I think we would look good on stage together. It's hard to pick one partner though, and my current partner is the best. But Xander I want to dance with because he's such an inspiration and I think is a lesson in patience and determination. And the fact that he's a strong Christian. Two thumbs up for Xander Parish. He's my dance crush.
One day we should photoshop a picture of you onstage, holding Xander with one hand and pizza in the other.
Ashton's Romeo & Juliet! Can you imagine the balcony scene – pizza anybody?
If you were a male dancer, which female would you like to a partner and what variation would you dance?
Natalia Osipova. If I were an eligible male as well, and I could marry Natalia Osipova – definitely. And we're doing Spartacus.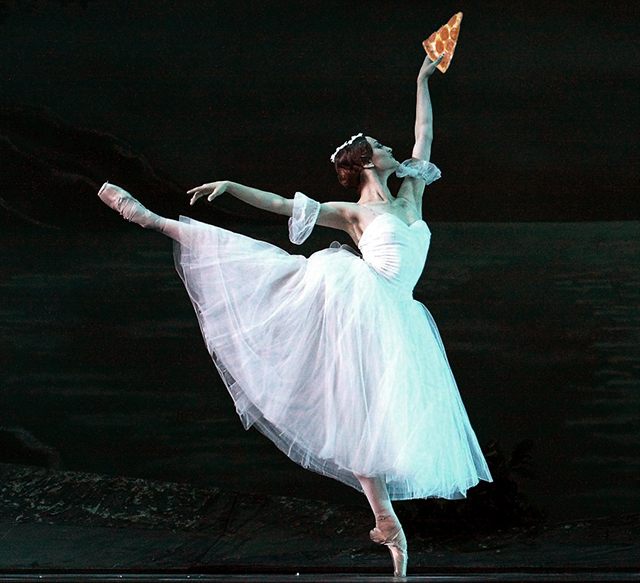 Reaching for Pizza: Joy Womack.
What ballet exercise do you like most or find particularly helpful
I like to do grand allegro. But the most help exercises for placement is tendues. Correct, slow tendues. It's the bread and butter.
First Russian phrase you learnt?
"бестолковая", which is like 'nim-headed girl' My teacher called me that in a loving way.
What are your favourite and least favourite variations?
My favourite would have to be Grand Pas Classique.
And my least favourite would have to be anything that's super quick, like in Swan Lake there's a pas de trios with the two princes who are friends with Siegfried, and it's so fast and just…not pretty. The whole dance you're like [makes a panicked face].
What American foods do you miss the most?
I miss Taro tea. A really good, sweet taro tea. And frozen yoghurt with all the flavours. And red velvet cake.
What are your favourite Russian foods?
The soups. And there's a baked cabbage dish that's really good. And syrniki, which tastes like little cheesecake things. So good!
——————-
Follow Joy Womack on:
WWW: Joy's Official Website
Facebook: @Joy-Womack
Instagram: @dancer33love
Twitter: @joywomack