The Mariinsky Ballet's Xander Parish answers our quickfire questions.
Prince Albrecht, Prince Desire or Prince Siegfried?
Siegfried.
White tights or black tights?
White tights.
Would you rather: Hull win the Champions League twice in a row, or win the Premier League once?
If we could win the Champions League twice I think winning the Premier League once wouldn't be such a problem!
You've been challenged to a dance-off by some drunk hip hop dancers. Who's in your crew, and what move are you pulling out for the win?
I'm not sure I'd win that one!
Your first onstage kiss – who, when and what was it for?
When I debuted as Romeo last October with Viktoria Tershkina. She was wonderful as Juliet and is a truly lovely person.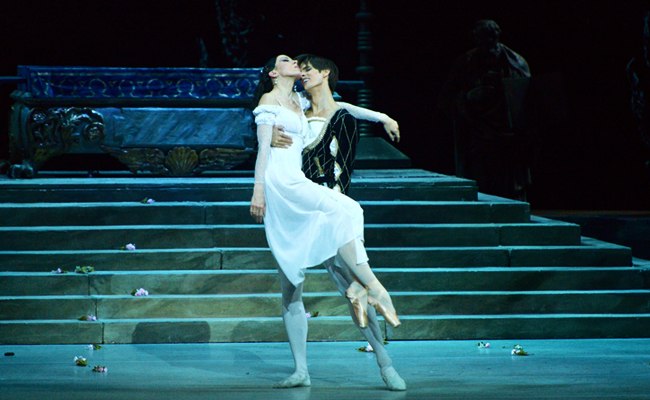 Xander and Viktoria in Romeo & Juliet. Credit: Valentin Baranovsky
What was your most embarrassing, or memorable, stage mishap?
Where to start! A few years ago here in St Petersburg, we did the Nutcracker main pas de deux which has 4 guys lifting around the principal girl. We finished, principals bowed, exited stage left. We 4 guys walked forward and bowed. I was on the far left and the guy next to me said something in Russian which I took to mean, let's go.
So off I walked into one of the stage left wings while the other 3 remained and the guy who'd spoken went and took the principal girl from the most downstage left wing for an extra bow. Oops.
What is one ballet exercise you like or find helpful?
Grand battement. Maybe it's the relief of having finished adage…
What's on your playlist at the moment?
It's very eclectic, from Frank Sinatra, Alt-J, Bryan Adams, to I am Arrows.
If you could be anyone for one day, who would it be?
If you can't make the most of your own life, you shouldn't be allowed to go and mess with someone else's for a day!! I'm happy to be me!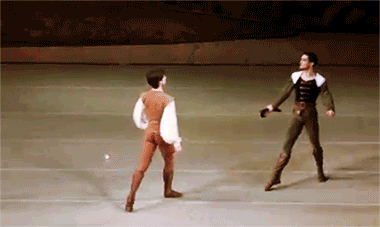 ——————
Thank you, Xander!
Follow Xander Parish on:
Twitter: @XanderParish
Instagram: @_Xander
Facebook: Xander Parish Fans
WWW: Xander's Official Website