After the premiere episode of Breaking Pointe on America's CW channel, everyone had an opinion on Allison DeBona. Most of these opinions weren't flattering. Breaking Pointe was a show that followed the dancers of Ballet West, under the banner of their leader/artistic director/big daddy Adam Sklute. And Allison DeBona, a Ballet West dancer and one of the show's main characters, was seen by many as, to put it mildly, not a particularly nice person. (The word 'bitch' was bandied about.) 
It didn't get better when the consequent episodes were aired, and it doesn't take any stretch of the imagination to guess that it was pretty rough on Allison. But as she herself says, she went about turning lemons into sweet, sweet lemonade – getting the villain edit in the reality show thrust a spotlight on her, and she embraced the opportunities that came with them. Along with teaching and performance opportunities, a litany of media interviews allowed glimpses into her personality beyond what was portrayed on the show. And, as the second season of Breaking Pointe affirmed, she was not so villainous after all.
In fact, she turned out to be rather a decent person. She is actively involved in non-profit, anti-slavery organisation Fahodie for Friends.  (We at C&V have personally been on the receiving end of Allison's kindness, when she organised to have one of our shirts signed by the Ballet West company for our cancer drive for Bolshoi teacher Vasily Vorokhobko). She also dispenses advice and nuggets of wisdom to aspiring professionals via her blog and youtube channels. It's fair to say that Allison has left the 'villain' label behind – it  helped too, that she wasn't really one in the first place.
C&V SESSIONS WITH ALLISON DEBONA
What did you have for breakfast?
This morning, I had cereal for breakfast.  But, I didn't dance today.  When I am dancing I like to have eggs and bacon!
What do you wish you had for breakfast instead, if anything?
I'm a Stuffed French Toast lover! I am just too lazy to actually make it for myself in the mornings!
You had an unconventional road to becoming a professional – you decided to take a break as a teen to enjoy being a big sister and because you weren't enjoying it. What led to an intended temporary break becoming a 3 year hiatus – what made you want to step back into the ballet studio again?
I never stopped loving to dance.  I just felt an urge to be a "normal" kid and go to football games on Friday nights instead of rehearsal.  When I decided to go back to ballet it was because I couldn't ignore my passion for classical ballet anymore.  I tried other types of dancing and nothing seemed to compare to the discipline it took to be a ballet dancer.
Why did you then decide to pursue a pre-professional path again, instead of maybe doing it as a hobby?
Nothing else I was doing kept my attention the way ballet did.  It takes such hard work physically and mentally and I loved the challenge. I also knew that because I took so much time off, if I were ever going to pursue a career in ballet I would have to be dancing all day long to catch up on the time I had lost.  That is why I started the "High School Program" at Pittsburgh Youth Ballet.  I went to school for my academics until 10am and then left to dance from 11am until 6pm.  I was so lucky to have the opportunity
Even if taking a hiatus from ballet put you at a disadvantage when you did decide to come back, it must have been great to try other activities, live a relatively more conventional youth so to speak. In what ways, if any, was it beneficial to you?
I am so grateful for having time with my friends and family as a child and for also going to college.  Sometimes I think about where I might be in my career if I hadn't taken so much time off, but it is rare.  I feel like I have had the best of both worlds.  I am 30 years old and feeling stronger than ever and I am not feeling burnt out.  I also know there is life outside the ballet studio and that gives me a different perspective while at work.
It must be hard to pursue a professional ballet career while having a life beyond it. How does one go about achieving this balance?
I don't believe it is hard at all, and I also believe it is 100% necessary to stay healthy mentally.  Our careers as professional dancers are never certain.  I could get injured tomorrow and have to end my career.  If I didn't have a life outside of the studio I would imagine that something like that would be absolutely devastating.
What I've learned from my experiences is that you can't put all your egg in one basket.  Since I've started professionally I have also been working on my 'second career' and what I will be doing after dancing.
It's easy to get obsessive over ballet but seeing beyond it will only help you.  I also believe that it makes you a better artist.  The more life experiences you have the better story teller you will be on stage.
By the time you were accepted into a professional company, you were slightly older than most of the other apprentices. It could be so easy to feel like you were at a disadvantage, that you've lost time – how did you cope with that? Did it help that you were more mature than the other dancers?
I was 24 when I started professionally. It was extremely hard to be the oldest Apprentice in the room.  I do believe, however, that my mental maturity has helped me climb the ranks faster.
I also was not as insecure as the youngest dancers and I think that helped me, too.  I wasn't afraid to put myself out there.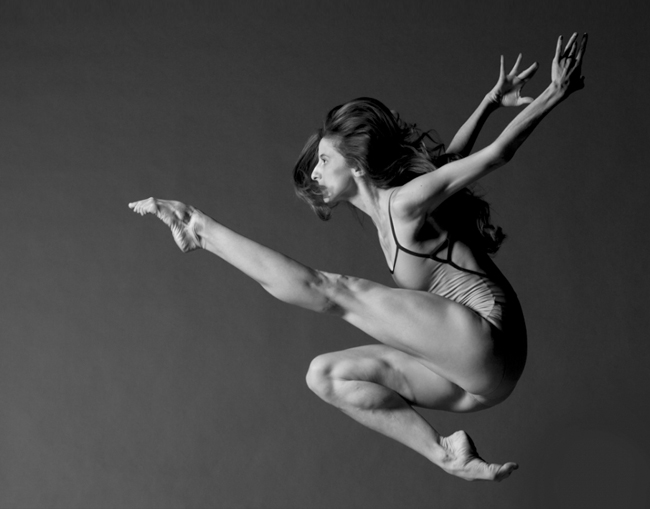 Photo by: Beau Pearson
Dancers face a lot of rejection – failed auditions, being passed over for a role, not having a contract renewed. How do you deal with rejection and not let it consume you?
At first I am always disappointed when I don't get a role I really want or rejected in any way, but I also feed from it.  Adam Sklute, my Director at Ballet West, always jokes with me about it.  I love proving people wrong.  Tell me I can't do something, I dare you!
Of course, there was Breaking Pointe. What were your reasons for volunteering to be on the show?
The main reason I signed on for Breaking Pointe was because I felt it would help gain recognition for Ballet West.  A lot of people didn't know who we were before Breaking Pointe.  Now, we are known in countries around the World. It did it's job.
It couldn't have been easy watching your story arc unfold in season 1. There was some amount of public vitriol towards you (as you were portrayed on the show). Did you have an inkling that that was the way the producers were going with your storyline before season 1 aired, or did it catch you off guard?
It definitely caught me off guard!
But, I played it to my advantage.  The villain in any show gets a lot of attention.  When it was negative, I tried to twist it into something positive.  My brother, Jared, helped me with that.  Next thing I knew, I was getting a ton of interview opportunities which was then a chance for people to get to know the real me.
The producers told me they made me the villain because they felt I could handle the backslash the best.  They were right, because I am still getting a lot of work from the show because of it.
In season 2, there was an about turn and you became one of the protagonists. Did you feel somewhat vindicated?
No, that was more the real me. I took it all with a grain of salt.  Like I said, I am not an insecure person.  People are always going to have something to say about you.  It doesn't bother me much.
You also had to watch your professional and personal lives play out for all of America to see. The ups-and-downs between you and Rex, as well as you and Jonathan. Was it difficult to watch? 
It was definitely hard to watch my personal life issues on T.V.  I actually couldn't sit down and watch Season 2.  I lived through it once, I didn't need to live through it again.
Was it tricky getting people who were not part of the Ballet West company or Breaking Pointe cast, such as Jonathan, be a part of the show?
Jonathan was reluctant but agreed to it because it was a part of my life.  A lot of people had a bad opinion of Jonathan after the show and I regret that.  He is a wonderful guy and the whole story was not portrayed.
 Breaking Pointe did a great job with capturing what goes on in a company – the rehearsals, hard work, injuries, pre-performance anxiety. But were you guys ever encouraged into certain social situations for the sake of the show? 
We are normal people like everyone else.  That's all I have to say about it.  We don't live at the studios.
Did you feel any pressure to portray ballet dancers in a positive way, or dispel stereotypes about dancers? 
Yes!! I'm tired of Ballet Dancers being portrayed as crazy people!
Was it tricky or distracting having to deal with cameras and a whole crew around you all the time?
During the time I thought it didn't affect me at all, but now looking back I realize it did.  I was absolutely exhausted. Working really long hours while rehearsing and filming.  I didn't mind having them around, however.  They never really got in my way.
Do you have a favourite episode or moment from the show?
Yeah, the infamous "Tempo Tantrum" episode.  So ridiculous!
Your time between seasons in Ballet West seem packed! Performances, teaching, workshops – are there any projects you're working on that you're especially excited about?
Yes!! Next summer Rex Tilton and I are producing a show in Salt Lake City that will benefit the non-profit Fahodie for Friends.  They help fight human trafficking! It is scheduled for June 19th 2015.
Also, we will be having our very own Summer Program in Cleveland, Ohio!  Details coming soon!
What are the most common pieces of advice you find yourself giving to your students?
Find something that makes you special.  Everyone one is a good dancer so you have to find something that makes you stand out in a room.
What do you feel would be the next level for you now – the next step for you to progress to as a dancer?
To let go of all insecurities and take as many chances as I can in the studio and on stage!
What keeps you in love with ballet?
I love playing characters on stage.  There is nothing better.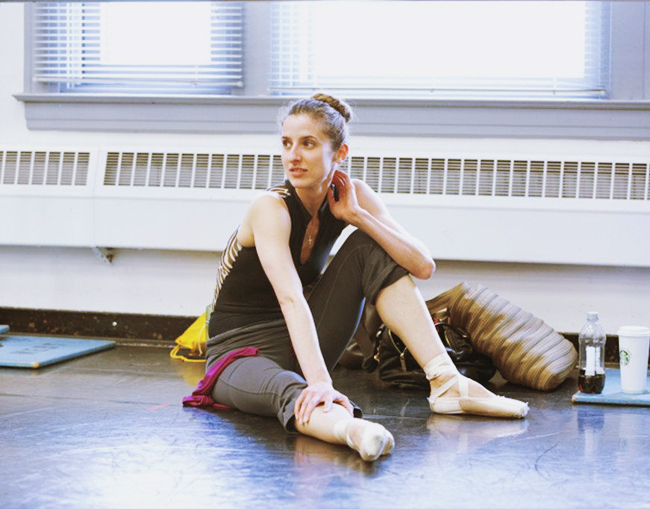 What do you think your strengths and weaknesses are as a dancer?
I'm stubborn and a perfectionist.  They are both a strength and weakness.
What do you like to do in your downtime?
I like spending time with my doggies.  Also, teaching and travelling!
What has been your proudest accomplishment to date?
Any time I dance for my parents.
What's one piece of advice you wish you could have given you your younger self?
Have no regrets.
 ———————-
Read Allison's answers to our quickfire questions here.
Follow Allison DeBona on:
WWW: Allison's blog, Art with Alli
Facebook: AllisonDeBona
Instagram: alliedebona
Twitter: @alliedebona