Tristan Dyer is a well-travelled man – from America to Australia to Canada, he's been there, danced that, training at schools all over the world. But where he is now, at London's famed Royal Ballet is where he feels at home. And he looks it too. Tristan graduated from the Royal Ballet School in 2009 and funnelled straight into the company where he was most recently promoted to soloist rank this year. Watching videos of him rehearsing for Liam Scarlett's new work, The Age of Anxiety, dancing alongside principals Laura Morea, Steven McRae and first soloist Bennet Gartside, it's fair to say that he more than holds his own. Dressed in fir-green tights, with a flip of dark hair and a face that's – in our estimation – 60% cheekbones, he whips sharply into the choreography with an easy grace.
The Age of Anxiety began life as a poem about New Yorkers written by an Englishman-turned-American (W.H Auden), before an American composer (Leonard Bernstein) was inspired to turn it into a symphony – which in turn inspired an English choreographer (the Royal's choreographer-in-residence Liam Scarlett) to create a piece around it. So it seems fitting, or almost inevitable, that Tristan, the American-born Londoner (and purportedly one of Scarlett's favourite dancers at the Royal) was cast in Anxiety's choreographic première.
In a predominantly American-accent flecked with bits from 'all over the place', Tristan talks keenly of the importance of moments in performance – of seeking them, finding them and giving yourself over to them. It's likely that his dancing will carry him through an abundance of such moments at the Royal.
C&V SESSIONS WITH TRISTAN DYER
 We always start with this question – what did you have for breakfast?
A coffee! Breakfast is not my speciality. Sometimes I'll get an almond croissant. But I always start the day with coffee – my first, first thing is coffee.
What did you wish you had for breakfast instead, if anything?
Probably 3 coffees! Preferably Starbucks.
Your attraction to ballet first came when you saw Nutcracker as a child. Even though it's been a long while, do you remember what about it appealed to you?
Nutcracker is such a magical ballet to begin with – just the world they go to. It's this whole magical kingdom. I just really loved that whole journey and watching it as a kid I really wanted to be involved in it.
It's a piece fairly dreaded by dancers come Christmastime.  Do you still have the same fondness of Nutcracker?
It's always going to be something really special to me. It's a great ballet, especially now I play the role of Drosselmeyer's nephew.  I never tire of dancing in this ballet, I love it as much now as I did when I was younger.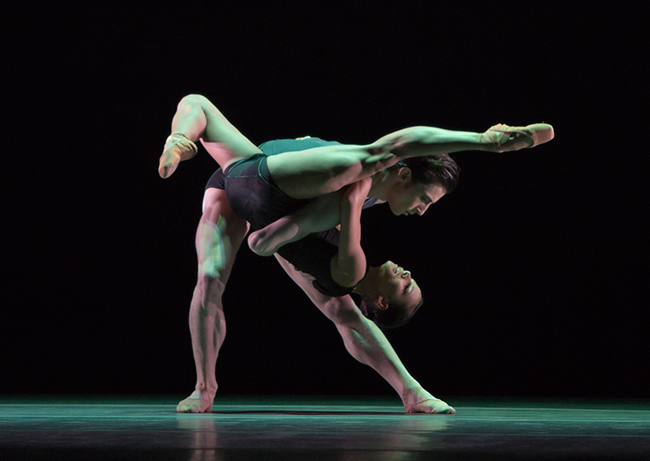 Francesca Hayward and Tristan  in Infra, The Royal Ballet
Photo: ROH/Andrej Uspenski, 2012
You grew up dancing in schools all over the world, from the National Ballet School in Canada to the Australian Ballet – what attracted you to the Royal Ballet and it's school?
I grew up all over the world because my dad moved for work. I really wanted to be somewhere where I could excel at ballet and get the best training which was either the School of American Ballet or The Royal Ballet School. The Royal Ballet School was always my first choice because of its history and reputation, and obviously its links to The Royal Ballet Company.
When I auditioned at The Royal Ballet School it turned out to be an open day and there were so many people watching the class – that was a little bit of a shock. Gailene Stock who was the Director of The Royal Ballet School at the time saw my audition and she invited me to start whenever I wanted.
Did you face any opposition dancing ballet as a young boy?
Yeah, you know, there are people always looking for excuses to bring you down.
Growing up in high school I didn't really enjoy talking about my ballet training and I didn't really want people to know I was doing it. There were definitely some hard times. But when we moved I started going vocationally to a ballet academy and from that point everything changed.
How did you decide to keep push on with it despite the rough times?
To dance ballet you have to enjoy it, love it, that may sound obvious but being passionate about it is very important but equally you have to want to do it for yourself. You have to be focused and dedicated and keep training and learning and from that commitment and hard work come great rewards.
Tristan rehearsing Age of Anxiety (video: ROH)
Do you still face any stigma even as an adult dancer living in a cultural hub such as London?
People don't always understand that ballet is a real job. They don't really appreciate what it is or what it entails or what we do exactly, When you meet people outside of the dance world you have to explain what you do, but that's fine and I've not come across any stigma or negativity to my career.
You've risen steadily through the ranks as a dancer in the Royal since you first joined the company in 2009 – what do you do to ensure you constantly keep progressing to become a better dancer?
For me it's about always being present and giving your best and using every opportunity you have. I think I'm still discovering what kind of dancer I really am and finding my own voice, and it's about not being afraid of that and dancing the way I want to dance and hopefully that will shine through. I enjoy the challenge and I enjoy being pushed.
Did your promotion last year come as a surprise to you, or did you have some inkling that it would happen?
I had my fingers crossed. I was hoping for it. I knew I had done the work and I was hoping I had done enough to prove myself.
You're of course involved in the premiere of Liam Scarlett's new piece, Age of Anxiety.  Tell us a bit more about the character you play.
I play a guy named Malin. He's from the Canadian air force. He starts off as quite a reserved person and throughout the ballet you get glimpses of his personality shining through and towards the end of the ballet he comes into his own and has this moment of freedom, of pure expression when he just lets go. You can see his character build from an awkward shy person to being so happy and so alive and free.
I wasn't familiar with the work beforehand so when we started the process Liam Scarlett talked us through the poem, played the music and showed us what the sets would be. He explained each of our characters and their backstory.
With this ballet, was the creation very organic, or does Liam come in with very specific choreography and ideas for you to interpret?
With Liam his choreography can range from something really classical to something where you can indulge and explore different abstract moments. With The Age of Anxiety it was somewhere in-between. The ballet is a period piece, set in the 1940's and Liam worked with me on finding my character and expressing this through the movement. If there's a step that's not working we'd try and change that to something better. As a former dancer Liam really understands what it is to be a dancer and I think this shines through in his work.
Tristan in rehearsal for The Age of Anxiety
Photo: ROH/Bill Cooper 2014.
 New works seem especially exciting and challenging in a sense that you have no previous frame of reference to build upon – but is that very freeing to you as well?
I really like going into a rehearsal studio and making new work and creating something from scratch, there's something really raw and fresh about it. Federico Bonelli also dances the role of Malin but we haven't had a chance to see each other's portrayals and compare notes.
You've got developed quite a diverse repertoire during your time with the Royal Ballet, from the classics to the modern ballets, including being involved in the creation of several new works – Raven Girl, Carbon Life. Do you find more enjoyment in dancing the newer pieces or the traditional ones?
I really like both and I enjoy the variety. I love all of The Royal Ballet's repertoire, I love the different styles and opportunities that comes from this great company. The different works both classics and the newer works are so inspiring and I really like to have a grasp of everything, all the different styles. I really like Frederick Ashton's work and Wayne McGregor's work, I love the contrast in Chroma and Infra. I could never say I prefer one over the other.
What's the allure of dancing modern versus classical pieces?
The modern pieces really allow you to let go. When I was in school and I first worked with Wayne McGregor he did a piece for my class. Working with Wayne at such a young age was really different especially as I had been brought up with a really strict ballet technique. But he came in and it was just a breath of fresh air.
Have you found who you are as a dancer?
I think I'm still looking. Every role is different and the way I approach it now versus when I was a few years younger is different – now there's more wisdom. I think you should be more relaxed with how you approach things and find your way, build your confidence.  The way I've developed in the past few years have been really crucial in finding who I am as a dancer.
Ballet dancers are notorious perfectionists – but have there ever been times after a performance when you've pulled off your tights and slippers and thought, "right, I'm really happy with how that went today?" 
I'm very critical of myself. But I think you have to let that go at times. I mean there are off days, and if something drastic happens during a show then that can stay with me for a while. But when I'm onstage and really enjoying it and you're in the moment, I just go with it. You need to try and look at the positive.
You have to think, what's the worst that could happen? What we do is something we should enjoy .
Tristan in Romeo and Juliet, The Royal Ballet
Photo: ROH/Johan Persson, 2013
 What fulfills you as a dancer?
Having those moments on stage where you are in the zone and performing to your best.
What's been your proudest moment in your career so far?
I would say dancing as the nephew in The Nutcracker with my parents in the audience. And recently, dancing Symphonic Variations by Frederick Ashton, dancing in that ballet was like a dream come true. After the show I was like, I really did that! I was very proud of my performance; it was a dream come true.
What is one piece of advice you wish someone would have given you when you were younger?
Probably to just relax and enjoy! Especially at times in school when it can get a little intense, it can be hard when you're in school and you're learning new techniques. In a way you have to do it for yourself. You just always have to remember – what's the worst that could happen? And go for it; be free, don't hold back.
How do you balance that crucial performance aspect of letting go with the technical demands of dance?
I think it helps to not think ahead, and instead try to be in the moment. Don't start thinking too far ahead at what's coming up or the next ballet, instead focus on what you're doing here and now. I think that allows you to perform better and enjoy yourself.
What sort of dancer would you like to be remembered as?
Versatile, with a strong technique, a dancer with a beautiful range and facility, but most of all someone who took every opportunity and made it my own.
——————-
Read Tristan's answers to our quickfire questions.
Text, header graphic, animation by Min, Cloud & Victory.
Find out more about Tristan Dyer:
Tristan's biography on the Royal Ballet.
The Royal Ballet's The Age of Anxiety (part of the Royal Ballet's Ceremony of Innocence/The Age of Anxiety/Aeternum mixed bill)