Jeanette Kakareka answers our quickfire questions.
Team Black Swan, Team White Swan, Team Swanilda or Team Dying Swan?
Definitely White Swan and then Dying Swan for sure. I relate to that much better!
Preferred pointe shoe brand.
Freeds
If you could dance any male role, what would it be and who would partner you?
Lensky from Onegin! And I would want Crystal Costa as my Olga. I think she would be really good at it.
What's your most memorable stage mishap?
I hope he doesn't mind – but when my friend got injured in the middle of his variation and the whole ENB company had to think really fast on their feet and make something up and have somebody else start dancing. It was really cool to see everyone work together and think really fast to keep the show going.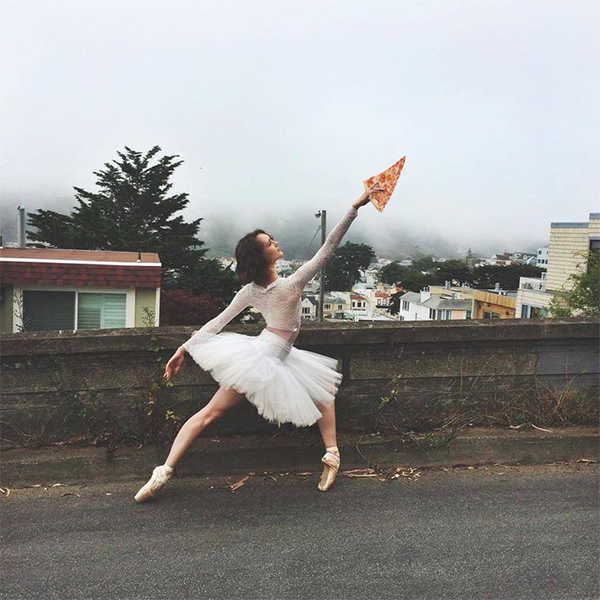 Reaching for pizza: Jeanette Kakareka.
Original photo: Oliver Endahl
What is one exercise, ballet or otherwise, you like/find particularly helpful?
Fondus.
As a Survivor fan, name your top 3 favourite survivors.
Tom and Stephanie from Survivor Pulau. And Malcom Freberg.
If you were ever challenged to a dance off, who would you choose to be in your crew?
I want to have Maria Kochetkova! I will also take Lucia Lacarra and Friedemann Vogel. And I want Marianela Nunez in my crew.
If you could only eat one food for the rest of your life, what would it be?
Sushi – no wait – Japanese curry! That's what I want for the rest of my life. That's my final answer.
Of you could be anyone for one day, who would it be?
I want to be Jeff Probst for one day! I could say all the really mean things during challenges to scare the Survivors. 'Oooh, she's really falling behind!" "They need to push harder!" "He has not completed any of his puzzle!''
——————-
Read our interview with Jeanette.
Follow Jeanette on:
Facebook: officialjeanettekakareka
Instagram: @jeanettekakareka
Text by Min, Cloud & Victory.