Alex Wong seems be able to do absolutely anything he sets his mind to. The former principal soloist of the Miami City Ballet left the company while his star was on the rise in the classical dance world in favour of a spot on hit T.V show So You Think You Can Dance. It was a risky proposition, by any account – leaving a steady job and a potential promotion for the sink-or-swim nature of reality TV. But Alex proved more than up to the challenging, turning out a series of jaw-dropping performances in a wide range of styles from Broadway to hip-hop. Sidelined by a Achilles injury, he was forced to step out of the show far beyond his time was done. A second injury prevented him from returning as an All-Star but many considered him one of the show's best dancers, regardless of whether he took home the prize.
Alex has also shown himself to be talented in singing and acting – he's released a single on iTunes and been in commercials, on silver screen and in short films.  He deftly combined his talents across all fields when he joined the cast of Newsies, the Tony-winning, hit Broadway adaptation of the Disney movie, as well as in NBC's Peter Pan live musical that was broadcast across America. He's also part of the cast of the upcoming ballet-based drama series Flesh & Bones, which is slated to air in America this November.
One starts to wonder if there's anything Alex can't do. Fly, maybe? But a look at his performance of Le Corsaire fom 2004, with it's gravity-defying bravura jumps, will show you that he's been able to do that for quite a while now.
C&V SESSIONS WITH ALEX WONG
We always start with this question – what did you have for breakfast?
I had leftover cold pizza. Haha!
 What do you wish you had for breakfast instead, if anything?
Nothing! I was pretty satisfied with breakfast this morning.
You were accomplished in a number of dance styles when you were younger – jazz, tap and ballet. Why did you decide to move in the direction of classical dance? 
One of the main reasons I decided to pursue classical dance was because as I was growing up, I didn't see any Asians in the mainstream media. I definitely didn't think it was realistic to pursue commercial work. I didn't feel I would be cast in anything as I was Asian.
I felt that the classical ballet world was more colorblind and at that time I was also afraid to freelance. Being in a company gave me a sense of stability.
I also fell in love with classical ballet. It's the only dance form where there is actually an idea of perfection, but it is never attainable.
You had a lot going for you as a ballet dancer: you were tapped as one of ballet's rising stars, Canada's first Prix winner, principal soloist at Miami City – many dancers would have been content with their career going in that trajectory – what was your motivation for taking on a new challenge in SYTYCD?
It was exactly that. Content. I had done a lot of the roles that I had already wanted to do, but I had other interests. There was no use being content. I missed doing other forms of dance and as the years went on I started seeing more Asians in the media. I felt it was my time to explore.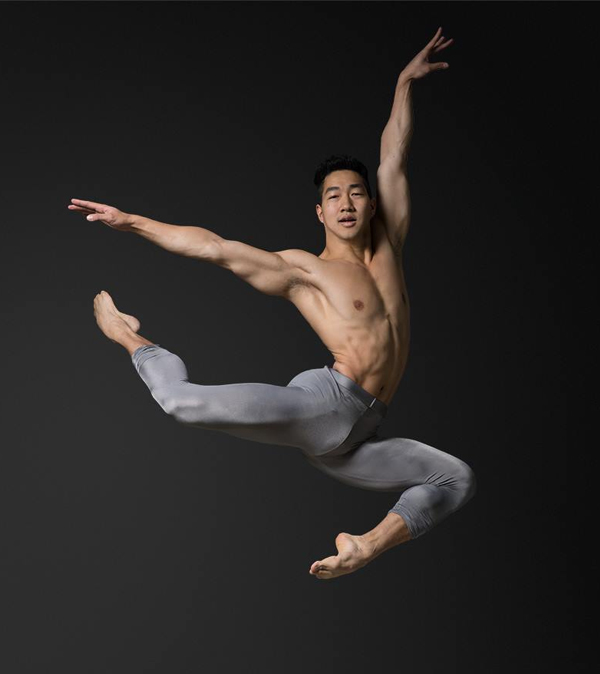 Photo:  Brian Jamie
Your hip-hop number with Twitch is one of the standout dances from the series – you defied the commonly-held belief that ballet dancers can't do hip-hop. To be fair, much of hip-hop seems like the antithesis of what you're taught to do as a classical dancer, but you seem to be able to adapt to different styles fairly easily. Is that a fair assessment to make? 
I don't think it's necessarily easy for me, but adoption of different styles has always been one of my strong points. It's sort of all about mimicking when it comes to that. It takes some time but it's just about being precise. In dance styles I'm unfamiliar with, I need someone that knows it well where I can copy exactly how it's suppose to "look" in order for me to do it.
What comes easier to you – performance or technique?
I think technique definitely comes easier for me. Although performance comes out naturally, technique is always something I've been able to fall back on.
You are considered by many to be one of the best dancers on SYTYCD, but some unfortunate injuries meant you had to pull out of both your season and when you were first slated to appear as an All-Star in 2011. How did you deal with the frustration of having to pull out of the competition, and being unable to dance for prolonged periods of time?
That was very tough.
When I had to pull out of the competition I was devastated. It was something I had worked so hard for and had finally achieved. I had auditioned in season 5 and made it to the top 20, only to not able to do the season because I wasn't allowed out of my contract. So, the following year I decided not to resign my contract and just take a risk. I felt like my world had slipped right out of my hands when I got injured. The thing that really kept me going was the quote "everything happens for a reason", and I truly believe it does. I had a lot of physical therapy and sort of pretended that I wasn't a dancer. I had incredible support from friends, family and fans and it really helped me keep going. It was almost a 1 year recovery.
The second injury was even harder for me, and I would say it was the hardest time in my life to this date. I was dealing with so many things in my life at the moment and nothing seemed to be going right. However, as it was my second injury, my body just seemed to take it better. I knew I needed to be proactive and days out of surgery I was already flying around and headlining conventions. I went to audition for American Idol and made it to the Hollywood round semi finals, starred in a short film and released a single on iTunes. And then Newsies sort of fell in my lap. It turned out to be a very rewarding "injured time".
The competition and TV coverage opened up a lot of different opportunities for you. What are some of your favourite projects to date, and what other things would you like to tackle in the future?
I really enjoy almost all the work I do, and one of the things I enjoy most is the fact that it's always different. Sometimes I'm traveling out of the country, sometimes I'm tapping, sometimes I'm shooting a TV show or a commercial it's always different and I find that very exciting and fulfilling.
One of my favourite projects was actually a Trident commercial I shot with the guy from Reno 911. It was so fun and one of those jobs that I just didn't want to end. If you want, you can check it out on phonekeysgum.com – it was made into a ridiculous comedic short film.
I'd definitely like to start tackling some more choreography and continued TV work. Perhaps more acting.
Another amazing job I've had was choreographing and headlining the yearly Buick car launch in China. That was very rewarding because I was able to hire about 10 of my friends and bring them to China with me.
 You were a member of the original Broadway cast of Newsies, which became a huge and much beloved hit. It must've been an amazing experience to be part of such a successful show with such a dynamic cast and people applauding your hard work 8 times a week.
Newsies was an absolutely amazing experience and it was one of the things that never would have happened had I not gotten injured. Looking back I wouldn't trade my injuries for anything. I'd let it happen exactly the way it happened because I wouldn't trade these memories and experiences for anything. The cast of Newsies really got along so well and I met the most amazing cast I have ever had the pleasure to work with. We just wanted the show to be successful, the little show that no one believed in.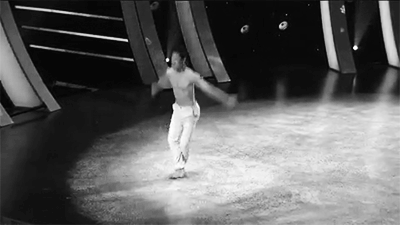 Alex on So You Think You Can Dance
 What was your personal favourite moment from the show? 
I think my favourite moment had to have been opening night when I realized a lifelong dream of mine, my broadway debut.
How did you cope with doing 8 shows a week?
I would make sure I went in a few hours early to warm up every day. Doing the same choreography 8 shows a week, it's easy for your mind to think "oh I got it" and not warm up properly and that is such an easy way to get injured. I had make sure I was putting a good effort into warming up really well for such a physically demanding show.
In terms of keeping the material fresh, some of the things I honestly never got sick of. I think I could do "King of New York" for maybe 10,000 more performances and not get sick of it. I think one of the things that made Newsies so special was the cast. It was so fun to perform with this incredible cast every night and it's fun to pay attention to the little things that change, sometimes the lines will be said slightly differently and that keeps it fresh. I also remember one time I was ad libbing in Chinese and my other cast mates almost lost it on stage.
You also got to sing in the show. What's the secret to being able to sing and dance well at the same time?
The secret is to not do it at the same time! Just kidding, but only sort of! It's about practicing and getting your cardio to a point where you aren't out of breath.
You were reunited with some of your Newsies cast members on Peter Pan Live. What was that experience like?
It was amazing and so fun to see my friends again. Filming Peter Pan was very different but oddly enough it felt very at home for me.
What were the challenges of having to film a live musical?
Live TV is something I am very familiar with, as are musicals. So when they combined, it felt right at home. It actually felt pretty normal to me. The only thing was there was no live audience, so at times that felt kind of awkward.
You're going to be in the upcoming dance-centric tv show, Flesh & Bone. Can you tell us anything about it, and what character you play?
The TV show is crazy. A lot of things happen. It's kind of like Black Swan ish but minus all the hallucinations that Natalie Portman had and replace that with real life craziness. I'm excited to see it myself.
I play the role of "Kim" in the TV series. So Asian right? Haha!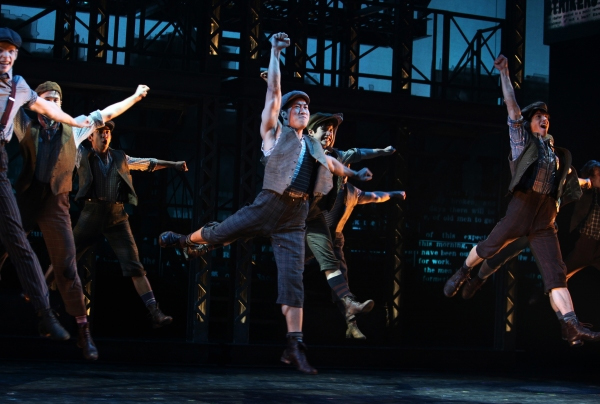 Alex with the cast of Newsies.
Photo: Walter McBride
What do you think are your strengths and weakneses as a dancer?
My strengths are definitely technique and adaptability.
My weakness is confidence. A lot of the times I don't think I am good enough.
What's been your proudest moment in your career so far?
I've been proud of a lot of things. I'm really not sure if I can pinpoint one, but I will say I'm proudest of the fact that I "made it" as a leading ballet dancer and I "made it" as a commercial dancer and I "made it" on Broadway. I kind of can't believe that I actually made a successful career from dance. It's been amazing to get recognition for what I love to do.
What is one piece of advice you wish someone would have given you when you were younger?
That dance styles don't really conflict. People told me, "don't take too much tap, it's bad for your ballet" or vice versa with other dance forms. That was so stupid.
Do whatever you want, your body will figure it out.
What sort of dancer would you like to be remembered as?
A really good one!
——————-
Read our quickfire questions with Alex!
 Follow Alex Wong on:
Instagram: @AlexdWong
Twitter: @AlexdWong
Facebook: AlexWongDance
Alex's Official Website
Text, header graphic by Min, Cloud & Victory.