A peek at Chun Wai Chan's instagram makes it evident why he's a social media star on the rise – whether it's videos of him making pirouette combination or a series of pas de ciseux look like a stroll in the park, or demonstrating his flexibility and arched feet, or even just standing still, shirtless and with his abs on full display. It's an impressive showcase of a male dancer's #balletgoals. But Chun Wai doesn't just do it for the 'gram. Beyond the aesthetics, he's got the substance to back it up – clean, beautiful technique and the performance qualities that led to his promotion to principal dancer with Houston Ballet.
Chun is affable and unaffected – the sort of person you'd want to befriend – but behind it is a killer work ethic and determination to succeed. Chun and his colleague Harper Watters have been part of a social media movement that's drawn back the curtain on what male ballet and shown that it is equal parts incredible and approachable. But what social media doesn't always capture is the drive of people like them, who work hard everyday to make it all look effortless.
C&V SESSIONS WITH CHUN WAI CHAN
What did you have for breakfast?
Usually, I will have some fresh fruits and make a smoothie with it, some vegetables and yoghurt, all kinds of stuff. I usually do more sweet, more towards the sweet side for my breakfast.
 Because in China whenever I make breakfast, it's cake, or a pancake, or paus. I'm used to a sweet start for breakfast.
Also, I go to Whole Foods a lot. So whenever I go there, I get a cup of coffee and a medium bowl of oatmeal, with fruits.
What was it like growing up in China and dancing as a small kid? How did you get into ballet? Because I read that your parents wanted you to be an Olympic swimmer.
Yes. Yeah, that's true. They saw the fortune teller and asked "What's gonna be good for him?" and they said, "Hmm, it will be good for him if he does something related to sport."
So they wanted me to join the swimming team and I just hated it. When I really got into dance, it was from my sister's dance class. It was the end-of-semester class, and I would go and watch with my father. It was very interesting.
I actually started to memorise stuff, and I was just amazed at how ballet is at the studio with a bunch of barres. We don't have to sit there and study–that's very boring for me.
My parents were also too busy during the weekends so my sister had to take care of me and I'd go to the studio with her, so I just went along with it.

Pic by Taylor-Ferne Morris
Then how did it become more serious for you?
It became serious after I moved to Guangzhou when I was 12, after my first class. My teacher asked me to show a combination – how I do a tendu. I did it and I was like "shit, that's a bad example!" And he was like, "how Chun Wai did it was correct. You all should learn from him."
I was actually missing my home and thinking about my family and feeling homesick all this time during the class. But my teacher reminded me, "What if I work hard?" So I got very serious.  Because I was by myself, asking myself whether I want to treasure it and use my talent.
I know you were very young at this time, but why did you move all the way to Guangzhou to study ballet? Because your family did not live in Guangzhou. Why did you decide to make such a big decision at such a young age?
It's funny. When I was in elementary school, I always skipped studying, and the teacher came beside me and said "Chun Wai, you have to focus on your scores – you just keep dancing. And that time I thought, "maybe I belong on the dance floor."
And I wanted to experience taking care of myself. Because I come from a very big family, which can be crazy and messy! My father told my first teacher, "If Chun Wai can study ballet in the following countries, it will be easier than Chinese cultural dance." Because Ballet is a Western cultural dance. And I was like, "I wanna go."
And that's the point where I wanted to give myself a chance. But my grandparents disagreed. Because I was too young.  They didn't think I could take care of myself. My parents are very 孝順 (filial). So they said, "since your grandparents don't agree, you are not going."
And I went to my room and I wrote this long letter to my parents saying: "my decision is final and I will take responsibility. You don't have to worry if it doesn't turn out well."
So when you went there and did you feel it was a lot of responsibility? Because it was your decision and you had to show your parents that it was the right decision.
Yes! I didn't complain. I made the decision and decided that no matter what I was gonna stick with it, for at least 6 weeks.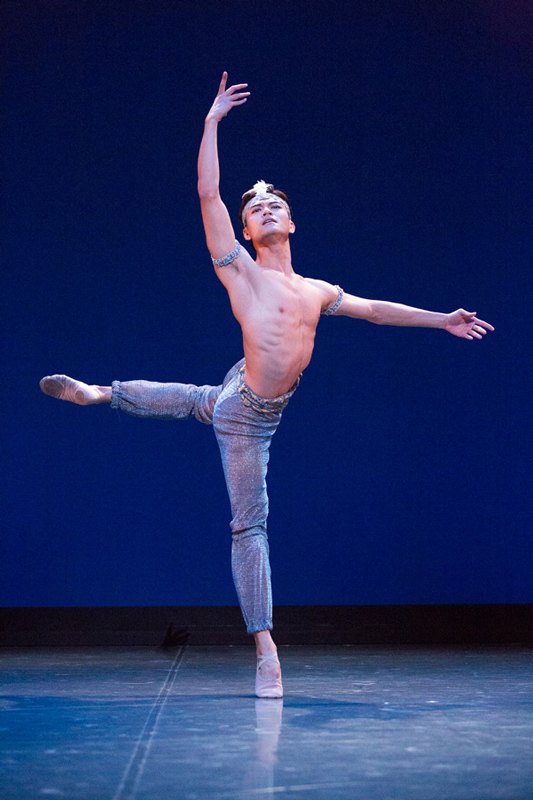 Chun Wai as Ali in Le Corsaire.
Pic by Joe McKinney
And what was the training like? Was it difficult?
It was really difficult, but I found the challenging part fun. I am the type of person who is just crazy about what I love doing.
Every class, my teacher would just train us and it was so painful in every class, everyday. I couldn't even walk in the morning. I had to slowly climb out of bed to go brush my teeth. We had to wake up at 6 in the morning to run so many circles in the stadium. But I really liked practising, even in bed I still practiced. I was eager to learn and see how much I could improve in a day.
It was really challenging but I was hoping that the next day that I would be able to do better.
Then you started going for competitions, including to the Prix de Lausanne. What was that like for you?
Prix de Lausanne? It was a nightmare.
Really?
Yeah, it was a turning point in my life. But the experience was really tough.
I had a stress fracture in my instep before I went into the finals. When I checked the finalist list and saw my name was on it, I wasn't happy because I broke my foot so I prefered to not to dance in the finals.
It was hurting. But since I was in the finals, I thought, "I'm gonna push it, no matter what." I pushed through. It was so much pain. Before I went on stage, I was crying so much. And they were like "if you can't do it, just don't do it. It's okay."
But I insisted on doing it.
I still got a lot of good result and a total of 9 company schools invited me to their school with scholarship.
So why did you choose the Houston Ballet II scholarship?
I get this question a lot! That year, 2 of the students from Houston Ballet won prizes at Prix. So I was like, "this must be such a good school, so I need to learn from this school."
And I had also seen a movie called "Mao's Last Dancer".
Ah, right! Li Cunxin was from Houston Ballet right? [ed note: Mao's Last Dancer is a movie based on Chinese ballet dancer Li Cunxin's life.]
Yes. So I was like, I wanna be him. So that was the motivation.
And how was that like? You know, you had to move out from your house from Guangzhou, but now you've moved to a completely different country. America is very different from China. How was it like adjusting?
In elementary school in China, I had already studied English. And I was like, "finally, I can use it!"
But all the English I had learnt was like, 'a pencil' or 'a ruler'. So I couldn't make English sentences. When someone asked me a question I had to process what was the question meant and how I would reply in Chinese first, and then translate  it to English in my head. So it takes a long time for me. For 3 years it was really hard for me to communicate with people.
Culture-wise, everyone is so friendly here. I just love it. And the environment is really new and the air is so fresh. I wasn't as homesick as when I went to Guangzhou in my first week.  I enjoyed this changing process.
And what about the training? Because, I'm not sure what you learnt in Guangzhou, but Houston Ballet is classical and also very contemporary. Was it something that you were very used to?
No, not at all. Oh the training here… I couldn't even lift the skinniest girl in the class at first! It was only after a few months of doing 100 push ups everyday that I could pick her up. And as for contemporary dance, in China we learnt how to move our body. But they never taught us how manly we needed to be on stage as a guy.
In Guangzhou, it was mostly Chinese dance – everything is very soft. So in Houston it was hard to be like 'push on the leg to feel the power.'
These 2 things, the power on stage – they changed me a lot. My skills both off and on stage improved when performing – there was a lot of performing. We had to do quick changes, we were on during the whole show or had shows that were back to back and we had to do quick changes then. And doing a month of touring in the US. And that really upped my skills on stage.
I learn a lot off stage, but also about things like performing –  that's a way of training.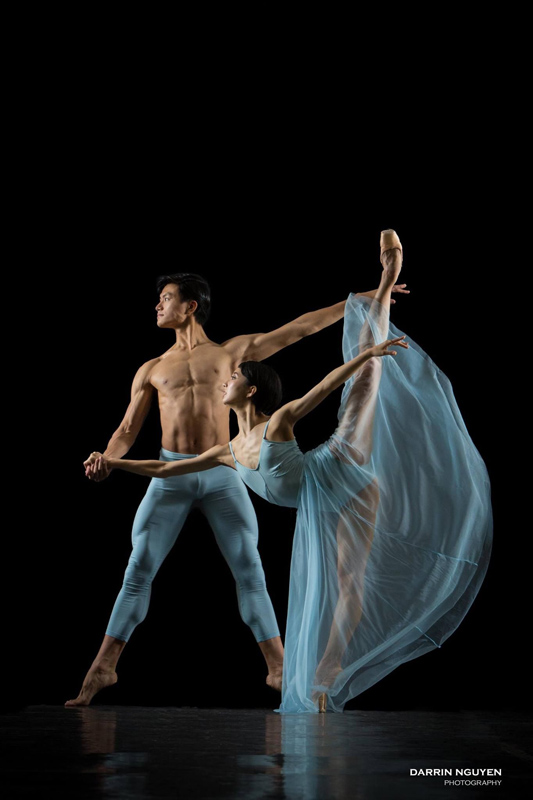 Pic by Darren Nguyen
After that you joined the main company and you rose quite quickly through the ranks. Did you sense that they liked you or was it just a lot of hard work for you?
I actually… it's hard to say but I do feel, you know, like, it is the right company for me.
And on my part, I believed in myself, and it's just the positivity.
Maybe they didn't like me at all. But in my head, they liked me.
Most of the dancers in the company, they do well at turns and jumps, and their contemporary technique is also so good. And I'm not this kind of dancer. I'm more of an adagio… more Russian side, more classical side type dancer. And I didn't know if I fit in.
A lot of people were like, "Chun Wai, maybe this is not the company for you."
But really, to me, all I thought that I just have to keep improving, and I could use this shortage to my advantage to get me to the roles that I want.
That's interesting. Is being positive just something very natural to you? Because in ballet, you're always trying to reach a higher standard. There's always something that you can fix. For a lot of dancers, they can be very hard on themselves, they always think that 'Oh, I'm not good enough.' Is that something that you have to deal with as well?
Yeah, being positive is very natural for me. People are like, "Aren't you tired sometimes?" And yeah I am, but I'm prefer to be positive.
It's funny that you asked me this question. I have been hard on myself. Just the other day I had a performance, and one of the turns didn't work well. I was down on myself, thinking "oh, the whole show was ruined just by that turn."
But, you know, a lot of times shows are like that. The hard thing about ballet is trying to be perfect. It's when you're doing not perfect and you still go on stage, still being positive –  that's the hard part.
Because the steps are really hard, and we have to change our mentality in order to be in the best condition when we are on stage. If we don't check ourselves on stage and stay positive, it's hard to perform the steps well.
That's true.
And I do really watch myself in the video and then, everyone's different, but for me, watching myself gives me energy, gives me positivity. Like 'Oh, I didn't look that bad!"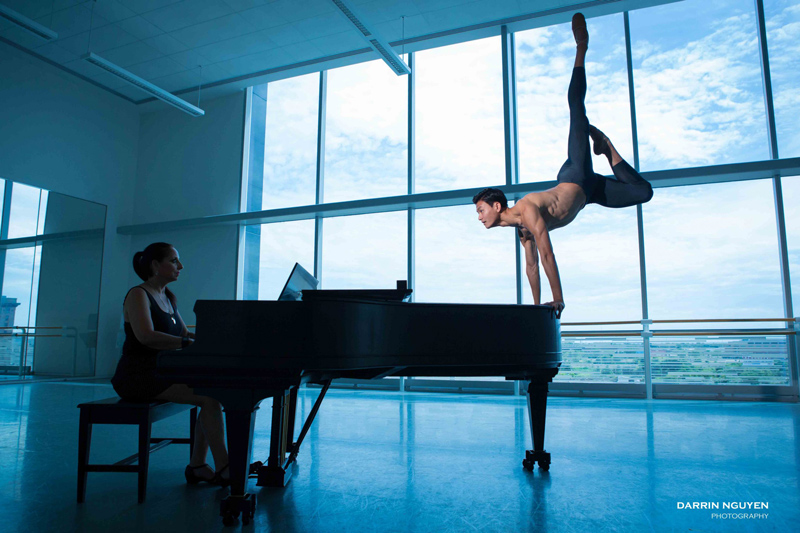 Pic by Darren Nguyen
That's a good way of looking at it. Tell me what was it like when you were promoted to principal. You were promoted on stage.
I was, yeah. It was very shocking for me. And that was the first show for me in that particular theatre, and it wasn't my best show. And in the show before that I did very well – I don't think my director watched that show so I thought that there's no point to have any hope of a promotion.
Then he came from out from the side of the stage, and I was very surprised. And in my head it was like… that moment, it was very different from what I had imagined in my head.
I've been in the company for a few years, and I had seen some people being promoted to principal dancer.
And I imagined to myself, 'What am I gonna do when I get promoted?'
But it was completely different when I actually got promoted! I didn't do anything of the things I imagined I would do when I got promoted!
But I'm thankful. This has not just been my dream – I've been carrying my family's dream. I've been telling myself "Oh, I'm going back to China." But then every time I sign a new contract, I tell them, "Sorry family, sorry parents, I've already signed the contract to stay here." Because I trusted myself to come here, I chose to get myself here. And it was worth it.
So how did you find that trust within yourself to believe that you will succeed? There's different ways, different measures of success. But how do you trust yourself to succeed in the way that you want?
That's a very good question. I do see success for myself as becoming a principal, but that's not the only way to be successful.
To be successful is to be working through the process, be patient, and just work for yourself. That's why I practise during the weekends, and I go to the gym.
In my head, I always thought, 'I want to be a principal, but it doesn't have to be in Houston Ballet. If Houston Ballet doesn't see my talent, and doesn't promote me, I will go to another company. It might be bigger, it might be smaller, it might be the same size.'
But that's the hope I keep for myself. Be positive! You know, just work for yourself.
And then the company and staff saw how hard I worked, and saw that, "Okay, Chun Wai's improving". So they liked me. When I was on stage, they saw the result of my hard work. So that was good. When you are positive, things will happen in a good way.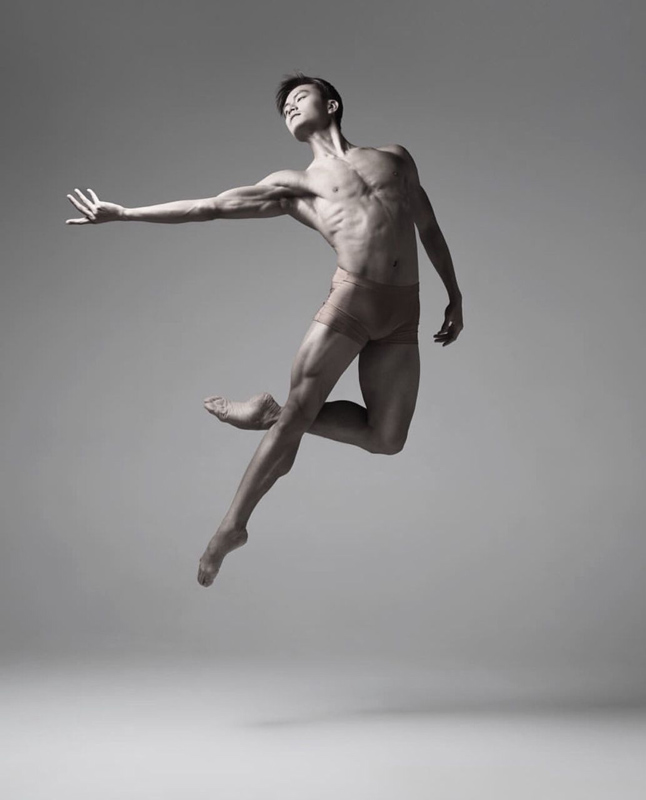 Pic by Taylor-Ferne Morris
How do you motivate yourself? You've mean dancing for so long and it's not always easy. In any job, not every day is enjoyable, so how do you find motivation?
My motivation comes from thinking about how short is our career – I might change career in maybe tomorrow, what if I get injured. If I make a mistake in a show, or if it was not my best show, I still other have shows coming up to enjoy while I can.
And I was always pushed to go back to China for my family, so everyday in Houston is like my last day here. So that's my motivation. I'm enjoying this every second, while I can.
Speaking of that, would you like to go back to China eventually and be a dancer there? Or are you happy to just go wherever or stay in Houston, wherever that has opportunities?
I think my answer would be to either stay in Houston or to go back to China.
Right.
So it's either/or…or maybe both.
Or both! Yes, you can be guest Principal in China, or guest Principal in Houston. Best of both worlds. I mean, ballet is very popular in China – is that right? Because I know a lot of companies tour there a lot.
It is getting more and more popular, I would say that. It wasn't as popular back in my time because people, you know, were still starving.
Yeah.
Right now they are all better off. Now they have enough time and money to enjoy and experience ballet class. It's getting better now.
So besides following your Instagram, you also have a lot of Chinese people following you on 美片, is it? That's what it's called?
美拍.
美拍 (MeiPai)… So do you feel… maybe not pressure but a responsibility to represent yourself well because you're a Chinese dancer in America? Do you feel pressure because there are so many people in China watching you and wanting you to do well?
Not really. I mean I will never like pressure on me. Not from China, not from my family, not from anyone. No, I – if there is pressure, I will turn it into motivation.
But the thing is, I just post on 美拍 so people will see like what am I doing, how am I doing in America, for dancers would like to come out of country to dance. That was my motivation to post stuff.
To show people, "Oh you know, there are dance studios in Houston, there are so many dancers in Houston." That was my motivation. It wasn't like "Oh I have to post."
So you know you have 美拍, your Instagram, and your YouTube channel, and then you know you dance and do cross training to maintain your dancing. How do you find time to do everything?
We can always find time for whatever we wanna do. I haven't done so much of these things recently because of my schedule, but once we are in the rehearsal process, I will have more free time to do it.
Right, and so how did you get started with the YouTube Channel, and making all your ballet tutorials?
Yeah. I will squeeze 2 hours in at the end of the day and drag a partner or drag a friend and we just start filming a video. And it's hard to make a perfect video, so you know, I push myself to edit it, push myself to talk in front of the camera, and then I'm done. I just push myself; it's hard to be perfect. But it's better to let it go! There's a lot of fun stuff here.
It's funny, the inspiration was my brother in-law, I was actually telling him how to stretch.
Oh, so that's where the flexibility video came from?
Yes. So I was like 'Okay, it's hard to tell you how to stretch, why don't I just do a video for you?' And at the same time I could post it online. So that was the first video I posted – with an English version and Chinese version.
And I kept doing it afterwards because it got such great response and people were all loving it. I was very happy to see that there were some comments from people who said they found some good results from watching and trying it.
I read that besides dancing, you also wanted to try things like modelling and acting if you have time. How's that going? How's that working out for you?
I don't have time for that yet. I could maybe! But for now, one of things that I need to tell myself, is to take my time, and don't try to do everything at the same time. For now, just dance.
Just dance. And share your dancing on social media.
Yeah!
Earlier on, you mentioned dancing Swan Lake. How do you go about preparing for a role like that? Not just in terms of dancing, but you know, being the character…
It took me a long time. I watch other people do it, to watch videos and although I have done it before, I do feel there's a difference. But a lot of steps that I'm performing, I have been practising from almost 10 years ago.
So is it something you find very comfortable to do or is it still very challenging?
Always challenging. There's a lot and it's hard to do every single step beautifully. It's very challenging, like I have done every runs both in studio and on stage… but it's hard to get everything well done.
Chun Wai as Siegfried in Stanton Welch's Swan Lake.
Pic by Amitava Sarkar
Then, in that case, how do you make peace? Like when you talked about how you had problem with that turn, how do you make peace with the performance?
I turn all my energy to telling a story. Tell the story. Steps come second.
Yeah, I think that's the most important thing when people come to watch the show. They're not looking at how turned out you are or anything, they're looking… 他们要感觉. They want to feel something.
对了. That's right.
So what advice would you give yourself like when you were younger? What advice would you give the younger Chun Wai?
It depends on what age.
Well, how about an age where there was a very big turning point for you? And what advice?
Okay! If it's turning point, it would be at Prix de Lausanne, and the advice would be the advice that I'm still giving myself – to take care of your body. Without our bodies we cannot do anything.
You talked about dancing through injury and Prix. I read that during one of your first soloist roles in Houston you had a really swollen knee, but somebody was injured and you had to step in to dance in Serenade.
Oh yes! That was when I was a demi-soloist. I had an infection but I did Cacti, a contemporary piece. One of the dancers, he chose not to dance Cacti, and at the same time he got taken out from Serenade. I was second cast, and I my knee was very infected and swollen. I had a fever… It was hard. Before going up on stage, I had such a headache I couldn't even stand up to warm up. But my whole body was already warm, so it didn't matter. I performed, I made it through. And then I got promoted to soloist.
So for you, how do you know when to push through the illness or injury and when to like stop and take care of yourself?
It's such a good question. At that time, I was actually thinking: What if I die on stage? But with things like fever and this stuff, I can push it and think about it a little bit later.
But I know I should not do it often, and I do not encourage anyone to do that. At the same time I do know myself, and I knew I could push it – but it was hard. But I really took care during rehearsal time, so that in the performance I had enough power and I had enough will to do it.
During daily rehearsals I worked hard, but at the same I worked smart. So I had enough energy, even though I was injured, to push through the performance.
Right.
The performance is the time, from the start, for the the audience to see if you're amazing or not.
_ _ _ _ _
Quickfire questions
What's you dream role to dance?
Giselle. And Siegfried in Swan Lake – which I'm doing right now!
If you could dance any female part, what role would it be and which male dancer would partner you?
I would do Giselle. And I think I want Roberto Bolle.
My favourite male dancer is actually Friedemann Vogel. But just as a partner, I think Roberto would be stronger.
What's an exercise that you find helpful for ballet?
Planks, or any exercise for abs. It's very good, because that's the central part of your body and without it you can't do any steps.
What's your favourite pizza topping?
Pineapple.
You've been challenged to a dance off, name 3 people who would be in your dance crew and why.
I would want… Harper Watters, Aaron Robison and …oh my God, it's so hard. Oh… Friedemann!
And, who would play you in a movie about your life?
I think I'll choose to play myself. Haha, why not?
_ _ _ _ _
Follow Chun Wai on:
Instagram: @chunner
Youtube: Chun Wai Chan
Twitter: @chunwaichan
Header pic originally by Taylor-Ferne Morris