We'd put money on Demelza Parish being made from bottled sunshine. Delightfully ebullient, she's a package of charm backed by substance – and she dances too. From childhood Swan Queen dreams, she worked her way into the famous halls of White Lodge, the Royal Ballet's Lower School and at 17, was awarded a contract to dance at the Royal Ballet. Since then, she's become a stalwart of the Royal's corps de ballet, dancing countless Swan Lakes, Manons and Giselles, a Flower one moment in the Nutcracker and a Snowflake the next.
Literally meaning the body of the ballet, the corps fill a ballet with expanse and depth, the vital organs that breathe and undulate to allow the principals to shine. Being in the corps is probably the truest test of one's love for classical ballet – it can be as frustrating as it is fulfilling, living the dream of dancing for a living coupled with little room for individuality and even less personal glory.
But as much as they are the support system of a ballet, the corps, as Demelza attests, support each other. She is lucky for it, she says. And it is this ability to look toward what is good and focus on the haves, not the have-nots, that has seen her through a decade of dancing in one of the top ballet companies in the world.
Whatever challenge may be thrown her way, we reckon Demelza will take it on swathed in sunshine and pink tulle, and conquer.
C&V SESSIONS WITH DEMELZA PARISH
What did you have for breakfast?
Most work mornings I'll either have wholemeal toast or porridge and I always have blueberries.
What do you wish you had for breakfast instead, if anything?
Oh scrambled eggs and smoked salmon is the breakfast dream.
Tell us what your earliest memory of ballet is – do you remember how you got into dance?
My earliest memory is going to ballet classes on a Saturday morning, knobby bun in check, in a town hall in Hull. I think I just started it as a hobby like millions of little girls do and it just escalated from there.
You've been in the Royal Ballet for a long time. What was it like for you in the beginning, just coming in fresh from student to professional?
Well it's actually my 10th season this year – scary how time flies. I found it quite a hard transition going from school to a big company like the Royal Ballet. All of a sudden you are a very small fish in a very large pond, and you can easily feel a bit lost and overwhelmed by such a big change. Looking back I can see that it took me quite a while to really feel settled.
Of course, in the great tradition of British ballet dancers, you trained at the Royal Ballet School. As we understand, your audition wasn't successful the first time – but happily you succeeded the next year. What was that like for you – to face rejection at such a young age? What made you decide to keep going and try again?
It was hard especially as my brother Xander had got in the 1st year and was already there, but I think that just powered me on to think, "well if he can go, then so can I".
It gave me more determination to try for a place the next year and join him there.
In what ways do you feel that White Lodge prepared you especially well for a professional life, and were that any aspects that came as a surprise to you?
It forces you to become independent from a very young age. Being away from home you have to do things for yourself and look after yourself. It also brings out a resilience in you and a focus that I know I probably wouldn't have developed if I hadn't gone to White Lodge. I was pretty timid when I went there but it certainly toughened me up!
I don't think anything can prepare a child for boarding school; homesickness definitely came as a surprise to me. I found it hard being away from home but I knew even from such a young age that White Lodge was where I needed to be if I was to stand any chance of becoming a ballerina.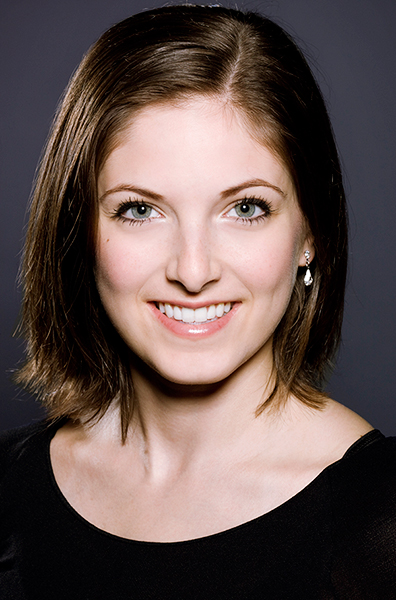 Demelza Parish
Pic: Royal Opera House

Dancing with the Royal Ballet means you are part of a select group of the finest classical dancers in the country, maybe even the world. Yet as a corps member, you are at the foundational level of the company hierarchy. It's a strange dichotomy – how do you stay positive and motivated?
Yes this is true!
Without the corps de ballet you actually wouldn't be able to do the majority of ballets. We are the backbone of the company. I think this is often forgotten.
Being in the corps means that you are on every night, and that level of performing keeps you motivated as you are trying to dance and perform the best you can every show.
I'm also massively blessed to have such wonderful friends in the company which helps greatly. We all support, motivate and cheer each other on, especially us corps de ballet girls, we are like a gang or a very big clique. We work hard but have a lot of fun off stage together too.
What keeps you in love with dance? What about it do you find fulfilling?
I don't know, it must be cupid.
It's fulfilling because it's what I always wanted to do right from being a tot in a tutu. So to actually have achieved it, that in itself is fulfilling, as it's a fulfilled dream.
What's a typical day like for you?
Well everyday at the RB is different which keeps you on your toes – literally!
The basic outline though is class 10:30-11:45, rehearsals 12-6:30 (if there's no show) or 5:30 if there is a show, and then curtain up 7:30-10:30.
10:30am-10:30pm is a long day; I sleep very well at night!
There are so many things to be aware of when you're part of the corps on-stage. You might have to hold a pose for an interminably long amount of time while gazing mysteriously into the distance – we're looking at you, Swan Lake – while still aware of the music and your surroundings so you know when to start dancing again. All the while perfectly in formation with your fellow corps members of course. 
What are the most important things to bear in mind when you are part of the ensemble? How do you keep focused when there are so many things going on during a performance?
Well those Swan Lake stands feel anything but mysterious, they are dreaded by the Corps. Unless you've actually done them you will not understand the muscle cramps, toe joint spasms and neck cricks that many dancers have endured whilst trying to look as serene and beautiful as possible!
When you are in the corps, though the most important thing to remember is that whilst you want to dance your very best, you are trying to not stand out, which is a weird concept as this is opposite to what you would normally do.
But ultimately you are trying to move and breathe as one, and if everyone was doing there own thing in order to stand out then it would be a mess. Staying in line is the classic corps requirement which is actually harder than it sounds, but there is nothing more amazing than a corps de ballet with pencil straight lines.
The corps is like a ballet army and has to be precise, disciplined and well trained.
Your equally talented brother, Xander, spoke of being frustrated being in the back of the corps waving a spear. But of course, each situation differs depending on the individual – how did his situation differ from yours?
It's easy to become frustrated in the Corps; this is a common experience. The difference for Xander and I is that the girls in the Corps do get to dance … A LOT! We do Swans, Snowflakes, Willis, Fairies, Nymphs, Stars, Harlots … you name it we do it!
For the guys in the Corps, especially at the start, it's different. They don't have all those things to dance and so they have to do mostly spear holding and walk on roles, so you can see why it could potentially be harder – or more boring! –  for corps boys.
We read that he started dancing because he saw you performing, and now he's a soloist in the Mariinsky – do you get to hold that over him for loads of favours?
No … but I will now!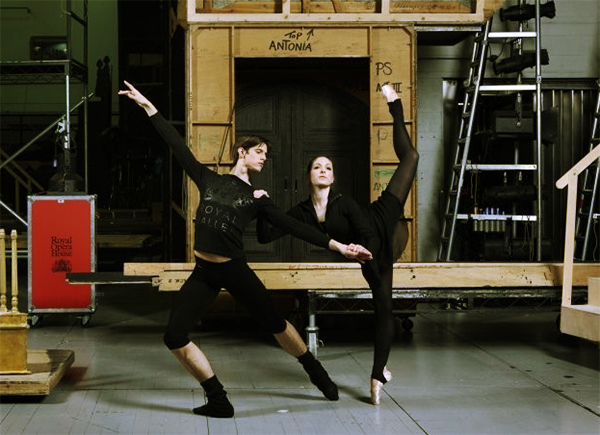 Demelza with her brother, Xander.
Which side of the family carries the ballet genes – mum's or dad's?
My mum's side. Her Aunty had a dance school.
The dance school you attended as a child, Skelton Hooper, has produced a number of successful dancers, including yourself and Xander, your colleague Elizabeth Harrod and Birmingham Royal Ballet principals Joseph Caley and Natasha Oughtred. This is of course a great testament to principal Vanessa Hooper, but tell us – is there something in the water in Hull?
Possibly, but I think its more likely to be chance. We will have to see if any more successful dancers are produced in Hull! It is lovely to have a group of friends who I've grown up with though, and have all succeeded in this profession.
All girls dream of wearing tutus and beautiful costumes – do you still love wearing them or are you too used them now, having no doubt peeled a smorgasbord of sweat-soaked costumes off yourself? 
Yes some costumes are quite old and have had one too many sweaty dancers wearing them over the years! Also some costumes can actually be really hard to move and dance in; it can take quite a few rehearsals to adjust to wearing them. Mostly though I still love wearing all the different costumes; it never gets old.
I love anything in a tutu to be honest.
What has been your favourite costume to date? 
The dryad's tutus in Don Quixote are amazing; they are pink and sparkly, pure prettiness, some people's nightmare but my heaven. Other favourites are the fairy costumes for The Dream, and the Diamonds and Emeralds costumes from Jewels.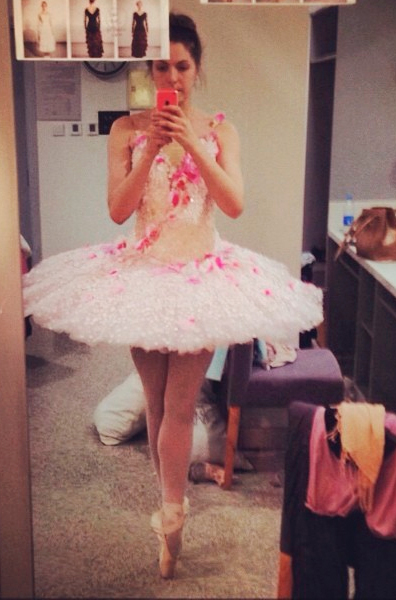 Demelza in her dryad costume.
Which do you find more satisfying – the process or the performance?
Oh without a doubt the performance. Rehearsals can be hard and repetitive. Shows are the fun bit.
What do you feel are your strengths and weaknesses as a dancer?
I wouldn't like to say; I just do my best.
What's one piece of advice you wish someone had given you when you were younger?
I wish someone had told me to start doing fouettes everyday right away from being a young girl at White Lodge as we didn't start doing them until we were at the Upper School when in reality it's becoming a little late.
What moment have you been most proud of so far in your career?
The surprise of getting my contract with Royal Ballet when I was 17 years old! It was a memory to treasure!
Miss [Gailene] Stock called me into her office to tell me and then called my brother Xander so that I could tell him as he had also been given a contract with the Royal Ballet a couple of months before. He picked me up swung me around the office!
——————-
Read Demelza's answers to our quickfire questions here.
Follow Demelza Parish on:
Instagram: @melziep
Demelza's biography on the Royal Ballet site