Keenan Kampa is the coolest. Watch a video of her dancing onstage, and she radiates the loveliness of a classically-trained dancer. All effort and hard work is hidden beneath a veneer of calmness and grace honed from years of ballet training, and refined in the notoriously exacting Vaganova Academy in Russia.
Offstage, she exudes another sort of coolness – an effortless, off-the-moment chicness of someone who marches to the beat of her own drum. One only need to look at her breadth of work to see the Kampa coolness factor at play – ad campaigns with GStar Raw (cool), features in the likes of Nylon, Refinery29 and Vogue (very cool), her work with the LeJeune foundation for intellectually-disabled peoples (super cool) and her instagram account, where snippets of her life are interspersed with impressively-rendered drawings and photos cheekily doctored up with emoticons (ice, ice baby levels of cool).
After a tenure with the Boston Ballet, Keenan made waves when she became the first American to join the Mariinsky Ballet. Now, she may well be poised to capture the attention of the world beyond ballet as she kicks off her film career with a lead role in the upcoming dance film, High Strung. It's probably fair to say that it's a move that has surprised many ballet fans – the Mariinsky is regarded as one of the finest ballet companies in the world, one that many dancers can only dream of working for. But it takes a certain kind of courage to be able to admit to yourself that one dream may not be working out as you hoped it would, and to have the faith in yourself to chase a new and unfamiliar dream, as Keenan has done.
Why? Because she's cool like that.
C&V SESSIONS WITH KEENAN KAMPA
How did you get your start in dance?
When I was 4, my mum opened up a phone book and found a local ballet studio and put my sisters in ballet class. I came along and waddled out of my stroller to join the class. We ended doing it as sisters, it was fun. I stayed at that school until I graduated from high school.
When did it start becoming a serious thing for you?
When I got into high school, and I stopped doing all these other activities I loved like basketball and swim team, and really put my heart and soul into ballet.
You managed to swim, play basketball and do ballet at the same time?
And for a while I considered doing track! Ballet was the perfect combination of everything – athleticism plus art plus acting plus gorgeous music. And friends!
I have a really intense personality. Like, really intense! Sometimes it's scary – if I'm doing something, only that thing matters and nothing else. That's kinda what happened with ballet. It was all or nothing.
I was home-schooled, so I would go for ballet class at 1 in the afternoon, and there was so much to work on that soon it was 11 at night and time to go home.
Were your parents supportive of your decision to become a professional dancer?
My parents didn't know a lot about ballet. They still don't know alot about it! When I made the decision to pursue ballet, I wasn't looking at it becoming my job in the future. I just wanted to become really good at it. So the question of whether I would go professional or go to college wasn't one that came up until senior year.
My parents have been very supportive of me and my sisters, but there was definitely concern, especially on my mum's part. As she got to know more about ballet she was worried about the negative people, the body issues, being away from home, the hard lifestyle… but they always want to let me do my thing.
When the invitation came to go to Russia, it was not even a discussion. I remember calling my mum, she was like, 'I guess you're going to Russia." and I was like, 'I guess I am." and that was it.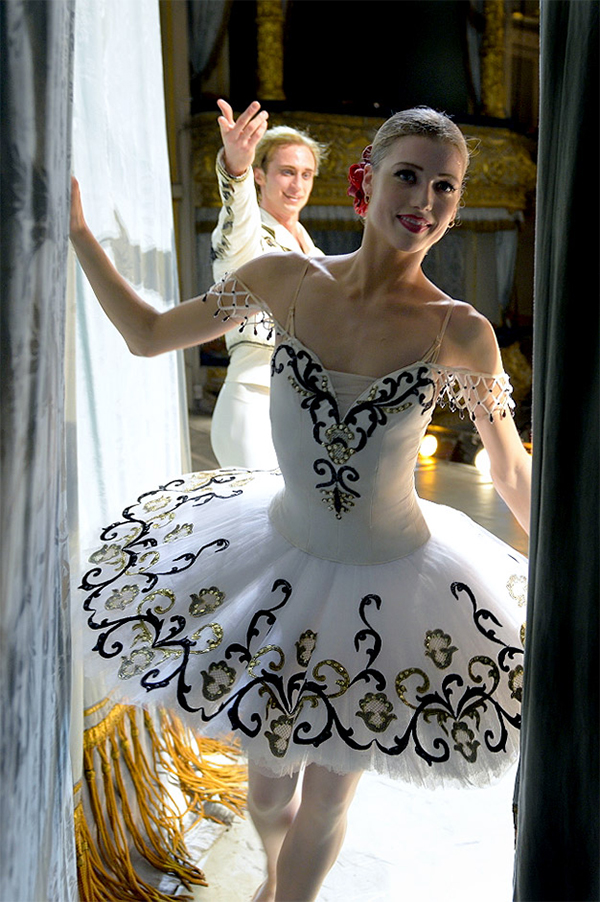 Keenan Kampa, after a performance of Don Quixote with Andrei Yermakov
Pic: Kommersant
You received the invitation to train at Vaganova after a teacher saw you take a class in the States.
The Kennedy Center in DC has auditions in October for local ballet students to take classes with ballet masters and dancers from companies. I had been doing this for all 4 years of high school. The ballet master teaching was also a professor at the Vaganova school.
After the class, he asked me right then and there. I was shocked. I still look back at that class and wonder, 'what did I do?'
The next day I came back to meet the director and watch the show from the wings.
I was actually preparing for the Prix de Lausanne. I was supposed to leave in 2 weeks. At the Prix I got an offer to go to La Scala. But even La Scala, I was like, no – Russia is where I need to be. Because I didn't even know it was possible for foreigners to go there.
I had grown up idolising all the Russian dancers. To me, that was ballet.
Was Vaganova the style you were trained in when you were at the States?
Yes. My ballet teacher is Hungarian. She describes her approach as 'Vaganova turned upside down'. She has the same premise but presents it in a different way. I learnt how to do pirouettes in a garbage can, and how to jump through a bungee cord.
What was the training at the Vaganova like? I read that the first year especially was very difficult for you.
Yeah. It was hard.
There is the obvious issue of a language barrier, but what else about it did you find difficult?
Thinking back on it, everything was difficult.
Everything was uncomfortable to the point where I felt numb as a person. There was too much that was unfamiliar and too much I didn't know how to handle.
The only way I got through it was kind of by disconnecting myself. I used to call it robot mode. I would be into situations where it was like, too much too much too much. I had a teacher yelling at me – I just heard noise, I didn't hear words. I didn't know where I was going to class.  I wasn't used to working this hard or this much. Food was different. You're suddenly your own parent and you have no one watching out for you. You're alone, it's cold, girls at the school didn't know you and are not nice, guys make fun of you. So I would kind of disconnect myself  emotionally.
So that was hard – mental games and learning to deal with that. That was difficult.
It never got easier, it just got more familiar. There were always new challenges that came. Once you learnt the language, more was expected of you to understand. It was a constant cycle of uncomfortable things. But also great – you need that as a person.
Was it a love-hate thing for you by the end?
It was totally bittersweet by the end. You have such pride in what you've done there as a person, the relationships you built and the respect you've earnt. It was hard to leave it.
I really did love everyone at the school. You respect and love them just as much as you hope they do you.
So after a while you managed to get students and teachers to warm up to you.
After a while! Some of the teachers warmed up sooner. Students took a long time to get to. My first friends were the younger students who are now graduating. They were like my buddies. Even my classmates took a while.
You can't blame them too. They've been there since they were 11 or 12 and watched their classmates get kicked out. And suddenly this American girl waltzes in at 17 and it's like, I'm going to be new your classmate now even though you watched 15 other friends go. I understood why.
I've heard the dropout rate is very high.
Dropout rate is high, but also, they cut so many people in the exams. In the lower levels they have 2 exams a year and they make cuts at both those exams.
Were you always in danger of being cut at exams as well?
What they do for foreigners is say, 'okay, you can't come back the next year.' When I went over I thought I would be there for one year. And then they invited me back the next year and the year after.
But yeah, you just never know.
Keenan Kampa , wearing our Odette Ain't Right tee, with Ian Westwood
Pic: Erin Baiano for Dance Spirit magazine
I read an interview with the Economist that said you were afraid of eating meat in Russia.
I got really sick a couple of times when I was eating dairy products there. I had been vegetarian before I went to Russia, and I didn't want to eat meat there because it didn't look good to me and I didn't know what was in it.
But I went vegan because I couldn't do the dairy there. They don't refrigerate it, and the bacteria those kids grew up with, I'm not used to.
How did that experience build you up instead of breaking you down?
I'm so hard on myself – I'm definitely my biggest critic – I have to keep perspective all the time and remind myself how lucky I am.
But when you learn that kind of discipline and are able to jump those hurdles, there's a certain confidence you build as a person deep within, and it's a confidence you'll keep for life. Knowing that you could get through that and are capable. Not that, 'oh I'm so wonderful, I'm the best dancer in the world.'
No, just little victories that you've overcome are enough to keep you calm. I know that when put in those situations, I can get through it.
And knowing I had my family back at home. I wanted to make them proud.
And I really love being uncomfortable. It is kind of thrilling to constantly see what you're capable of and not being comfortable.
Needing to be challenged all the time.
Yes! That's what was bothering me about ballet. I felt I need new things to challenge me, not the same things I've been beating myself at.
After graduation you danced with the Boston Ballet. How did you find your way to the Mariinsky from there?
When I was getting ready to graduate, I went to audition for Mariinsky. After the audition, there were a few of us they couldn't give a yes or no to. But that was the day I had to give my decision to Boston Ballet. So I ended up going to Boston; never found out whether I got into Mariinsky. I figured if Mariinsky really wanted me they would have said yes instead of leaving me hanging.
A year later I was back in Russian rehearsing with my old partner from school – we were going to dance together in a gala in Indianapolis. I had been off for 2 weeks, hadn't really done that much ballet. And on the last day ballet master Gennudy Selyutsky came in and sat down and watched the rehearsal. Before I knew it he called the director in and they sat there. They didn't say much – 'hey Keenan, show me this, and that, and show me your extension', and before I knew it, it had turned into an audition. They left and I was so beat and wondering what just happened.
The director called me into his office, and said they were ready to have me and offered for me to come in right then and there. I told them I had already signed with Boston for the next year and he understood. I finished the season with Boston and went back over to the Mariinsky.
Tell me about your time at the Mariinsky. Were things easier for you than at Vaganova since they did want you there?
It was very difficult for me. There were days when I felt like I was on cloud nine and there were days where I felt so depressed.
It was very different from the school. In Vaganova you know what's coming – or you learn to know what's coming – you know you have technique class, then duet and modern – there's a whole schedule. In the theater your schedule changes everyday, and there's a lot more pressure on you because you're getting paid.
And because of the way the payment is there, where you get paid based on how much you dance, it's so much more competitive with everyone in the theater.
Apart from Xander [Parish], I found it hard to make relationships with people that wasn't on this superficial level. I had a couple of other friends as well, like Nadya Gonchar, Andrei Yermakov, but other than that, it's not a social environment.
I had a coach who was really great. I was very lucky to have her, but I ended up killing myself trying to please everyone whom I worked with. My biggest problem there was that I couldn't say no, I never missed a day and I ended up taking on too much.
Was the  reasoning behind that to not put yourself in a position where you could potentially jeopardize your career?
Yeah. I want to do my job well and I didn't want them to have any reason to think I wasn't doing my job well.
I think it's the same reason why so many dancers hide the fact that they have injuries from their superiors. When you're scared for your reputation, your casting, there's so much you put up with.
Was that the kind of feeling most dancers had there – this level of insecurity?
I think so. I mean there are some dancers who are really cocky, but there are some dancers – you really see their personal struggles every day. Like Oksana Skorik, she's so beautiful and she gets so much criticism from people. But there's not a hint of cockiness or arrogance about her.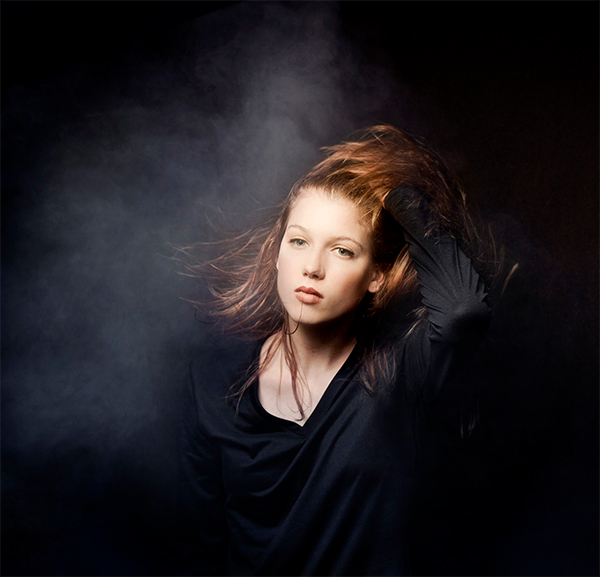 Pic: M. Sharkey
Right. She seems to get a lot of criticism online about her dancing, but at the same time, when a director puts you up for a role, you're not going to say no. 
Exactly. It's not her fault. You don't go to the director and say, 'hey cast me in this.' It just shows up on the casting board. He might ask you if you think you're okay to learn a role but that's it. And if a director has faith in you to dance a role, I think you can have faith in yourself to dance it.
But there's so much pressure. There's this group of people who go to watch shows at the theater and videotape your worst performances and have people waiting at the stagedoor sometimes to say mean things. I used to get these weird anonymous messages on VKontakte telling me, 'get out of our theater, you suck, I saw you at the grocery store and why did you look so sad there…'
That was the hardest thing for me at Mariinsky, the criticism. I mean, I act like I'm tough and I'm not bothered by it but it really hurt me. It hurt me as a dancer because you go on stage and instead of being able to enjoy the performance and focus on what your teacher told you, you're focusing on all the mean things people say. So performing becoming something I dreaded. I loved class, it was my time – I could be fearless and not care if I made mistakes, but the second you go on stage there's such judgement. To the point where it's crippling and you just want to disappear.
I always wondered whether dancers like you were aware of the comments people make on YouTube videos of your performances that people film and uploaded.
You're so aware of it. People don't understand that. When I was in hip surgery last year, there was an American boy who posted about a fall I had onstage and wrote this whole article about how I was such a joke and so bad. I found him on facebook and said, 'hey man, I don't know why you posted that. Did I do anything to you?'
I dance because I love to dance and not because I think everyone should watch me dance. When I step on stage, I do so not because I think I'm the best, but because I want to give what I have to give.
People make this false assumption that there's this given arrogance with performers. No! We all know more than everyone what we aren't. I can feel in my body what my weaknesses are.
And people – we as the audience – do judge dancers  based on one performance. You give a performance that isn't so great and there are people who start saying you don't deserve to be in the company.
By the time I left the theater I decided I didn't want to perform for people like that. It makes me sad and upset. I can have the same joy from dancing in the studio and class on a daily basis. I didn't want to waste my time, and I didn't want to waste their time. I would see these comments and go to work and think, 'ugh, I have to look at myself in the mirror?'
It was just really hard, and you go home and there's no one who can give you a hug. I mean, I kept a bird in my apartment and that was it.
Did you get a sense they had a direction for you, a vision of where and what kind of dancer they wanted you to be?
My coach definitely did. I liked my coach – she coached Katya Kondaurova as well.
Stylistically, there's a very specific dancer they wanted you to be. And I wanted to be that to. But after trying so hard to just focus on that style, with those lines – it just gets exhausting.
What were some of the roles you had a chance to dance while you were there?
Kitri, and Myrtha – which was great, I  loved Myrtha. I danced Zulma and Moyna in Giselle, the Sylph, the wedding variation in Don Q, the Dryad Queen, Snow duet, Snow quartet, Symphony in C, Polyhymnia in Apollo…
So you had quite a few opportunities to dance.
Yeah.
Was the worry then about the type of roles you were getting?
It was just that I did see a lot of dancers who didn't get anything. I got a lot of opportunities to dance, and it almost felt like it wasn't fair. There are a lot of dancers in the company who are really beautiful, and there are dancers who are just reliable. So many dancers who are beautiful can take a lot of time to get certain things. There were a few of us who they would just say, "go in for this role, go in for this role."
So I would get put in a lot of stuff and there was a lot of dancing for me. But I felt like after seeing my friends and other people…that ends. It's almost like if they get one bad taste, they kick you to the side.
If you turn in one bad performance, they were done with you?
Often I think that was the case. Not with everyone, but with a lot of people.
And that was a legitimate fear for you.
There was one girl that graduated from the school the year I got there. She's a beautiful dancer. I heard she had worked with my coached when she got to Mariinsky. She was prepared for Lilac Fairy. She performed it on stage but she didn't do well, and after that she didn't have my coach any more and she was just in the corps.
Knowing about this girl and what happened to her, just from one poor performance and one bad experience…yeah.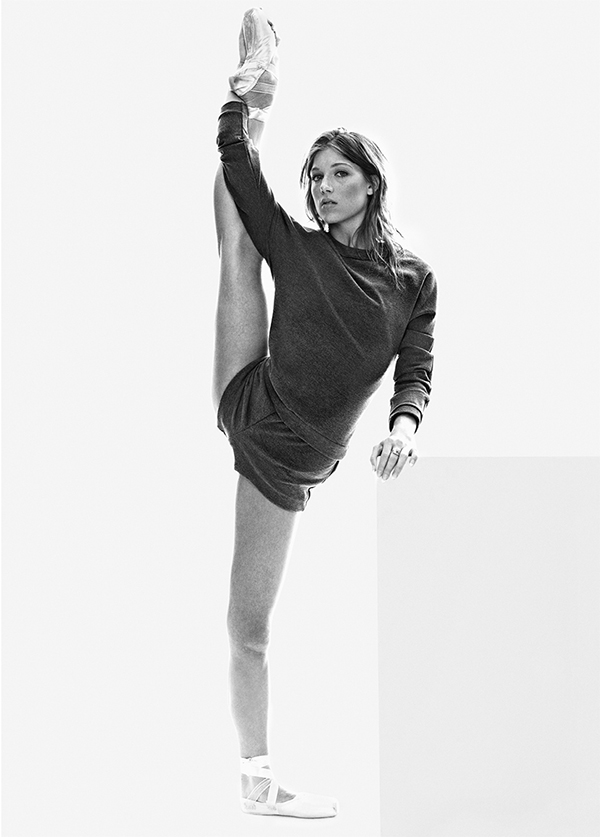 Pic: Stephan Alessi
Why did you decide to come back to America?
I missed the deaths of 3 of my grandparents while I was in Russia. And my grandfather on my mum's side is one of my best friends. I got a call that he was in the hospital and only had a few days to live. I was having heart issues as well and high blood pressure, so I asked the theater if I could go home to see my grandfather and get my heart checked out.
So I left thinking I was going to be back in a week. When I was getting my heart checked out my mum suggested I get everything checked out while I was here. And my hip was hurting me, so I went and got an arthogram. The doctor was like, 'you need to get surgery, because if you don't you won't be able to walk in several years.'
I had to wait a while to get surgery – to get the surgeon I wanted, and to get approval from the theater. After I had the surgery, there was a feature on the Olympics that I was in. A director in LA saw me and contacted me and asked me whether I thought about acting, and asked me to read for a movie because they needed a ballerina for the lead role. I was like, 'that's cool, but I can't walk!'
And he said to come and read and they would see how my rehab went. I was told my rehab was going to take 8 months so I thought it wasn't going to happen. But I worked really hard at rehab, I did 3 sessions a day in Colorado and then came home did more rehab. And I ended up doing the film while I was rehabbing, which worked out because there wasn't that much to do – with filming it was like, stop, start, stop, start.
That experience for me was so much fun and such a positive, nice, interesting experience. You're taken care of, you're getting paid, people are nice to you. After that I found myself thinking, 'what am I doing by myself in Russia? I love this art form but people don't like me dancing there. I don't like me dancing there. I don't see my family, I don't have any friends.'
I'm a firm believer in things happening for a reason. I saw this as a gift – to get to do this movie. I had hip surgery. If I was supposed to be dancing I wouldn't have hip surgery, I would be dancing. Thankfully my hip feels good now and I can do class every day.
After the film, there was some positive reaction from some people. So I kept meeting with people, and finally I decided that this is the route I'm supposed to be on right now.
I keep up with ballet still, so that if I want to join a company I can do it, but this has been a good healing period for me. It's been emotionally, physically and mentally healing. My heart's good now, the hip feels good, and I feel like I'm slowly falling back in love with ballet. Going back to my roots as a kid – why I love it in class.
And now I work with a group in France too, for kids with Down's Syndrome. I wouldn't get to do that if I was in Russia.
Is it fair to say that you feel there are more opportunities for you now, in terms of pursuing what you feel strongly about and how you feel you should be dancing?
Yeah. Ballet dancers are some of the most disciplined, talented, brilliant artists and they're underpaid, have the worst self image and work way more than they should, but they don't realise it. Because they feel they need to be in this system, and I think it is kind of crazy how much opportunity there is out there to earn money and bring art to other people. It's a shame because the world never gets to see some of the talent that's out there.
You're teaching in LA as well?
Yeah. I think teaching is really hard! But it's rewarding and interesting. I mostly do privates. I like doing one-on-one things with people. But if there's a masterclass I like doing that. I just don't think I would be a teacher at a school.
Is  there one area your particularly focused on, or are you keeping your options open between the dancing, teaching and acting?
The focus is film. It's scary to move to LA and work as a freelance artist, not knowing when you're going to be making money, but I think I have peace about it. I think it's where I'm supposed to be. Everything has lined up so far.
I've been doing acting classes and workshops. It's a whole other system that I have to learn. It's cool to relive the … well not struggle, the struggle will never be the same as Russia – more like the learning experience that is so much fun and such a thrill.
I have a really good manager and there are some potential projects I might be involved in. I wanna see how far I can get with acting – not just in dance-based films, but all kinds.
And are you happy?
I'm so happy now. Yeah. It's like a weight has been lifted off me.
——————-
Keenan answers some of our fun quickfire questions here.
Follow Keenan  on:
Facebook: keenan-kampa
Instagram: @bkeenie
Twitter: @neenakampa
WWW: keenan-kampa.net

To contact Keenan about lessons in LA, e-mail balletwithkeenan@gmail.com

Header graphic, text by Min, Cloud & Victory.
Header pic originally by: Irakly Shanidze