Masha is a student training at the famed Vaganova Ballet Academy in St Petersburg, a place many an aspiring dancer speaks of with undertones of reverence. To a lot of people, the Vaganova Academy may seem like a faraway place buried in the vastness of Russia, one that people know of only through photos or online videos of their prodigious students with their impossible technique and impeccably turned-out feet. But Masha is assuredly as much a 17-year-old as any other.
At our first meeting, she texts me anxiously while waiting, and rushes over to greet me like an old friend when we finally spot each other across a small garden in St Peterburg's bustling shopping district. She chats freely about her life and family and school, her goals and worries.  She's someone still finding herself, but who possesses self-assurance that comes with having the world at your feet and not quite realising it yet.
Though she is a typical young person in many aspects, what strikes me most about Masha is her determination. She has a fierce drive to succeed at what she sets her mind to. It's a quality that few people, young or old, have in quite so much abundance, and it's tempered by the fact that she's charmingly guileless about it, and very astute. She is already looking ahead beyond the walls of her academy and the borders of her country, to wherever in the world she can best fulfil her potential as a dancer. To be able to train at Vaganova requires no small amount of talent, and Masha has that. But  whatever success that will come to her will not be due to how much she can turn out her feet or how high she can kick a leg – it will come because she's willing to seek it out.
C&V SESSIONS WITH MARY PUART
What did you have for breakfast?
I have some problems with my stomach and this is a good motivation for eating healthy food. I try to eat different things for breakfast. For example, today it was buckwheat with baked apple.
What do you wish you had for breakfast instead, if anything?
Of course I would like to eat sweets, chocolate and cakes!
You are training at Vaganova Academy, one of the most prestigious and difficult ballet academies in the world. How old were you when you started training there? 
I was 11 years old when I started training. I came to Academy because I really wanted to become a dancer from childhood.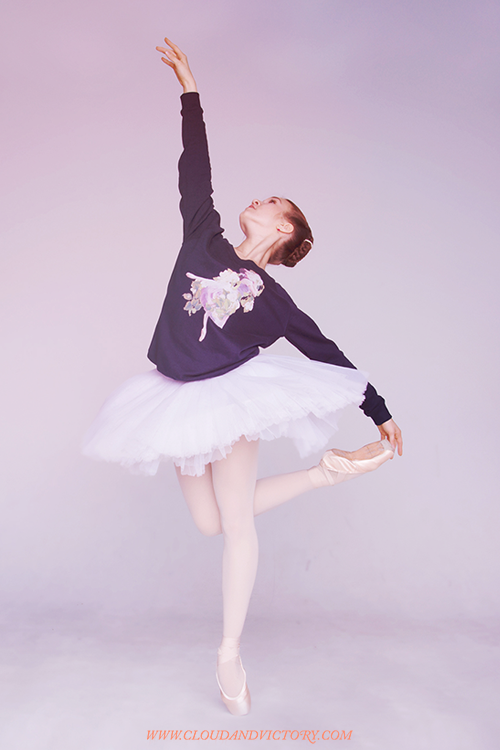 Mary Puart for Cloud & Victory – in our Vishneva sweater
What is a typical day like for you at school?  
A typical day for me starts at 9:20. First we have a couple of the usual subjects. After that there is class from 11:10 – 12:45. Then we have a lunch until 13:50. Next is another pair of subjects and then some of special subjects, like character dance or Pas de Deux class. After that there are rehearsals. Sometimes they last until 20:30, when our day ends.
You have many good friends at the Academy but at the same time there are so few solos that you get to dance and  only a few get chosen to dance them. How do you deal with that competitive aspect when you are all friends?
I can count my real friends on one hand. And in normal life I regard them as my friends, and I am theirs. But in our profession we are dancers. We all have different possibilities, different pluses, minuses, and bodies. We are different! I think it's great because we can dance different roles!
Ballet has very exacting standards, and sometimes it can feel like your friend or classmate might be better than you or your teacher might like them more. How do you keep your confidence?
To me it doesn't matter if someone doesn't like me because I know who I am in this profession. I know how to work with my body. And I hope I will achieve what I want to one day.
Masha and her friends: Sasha, Renata, Nastya and Olga. See the full Cloud & Victory x Vaganova girls shoot here.
What is it about Vaganova that makes it so special? 
I think it's our old school, the old traditions from Vaganova.
Are they very strict on you regarding weight? 
They are not very strict about our weight but it influences on our marks.
Do you do any other exercises or conditioning to help you with your dancing, or are your ballet classes enough hard work as it is? 
Personally, our lessons are not enough for my body. I need to do lot of exercises for be flexible as I am.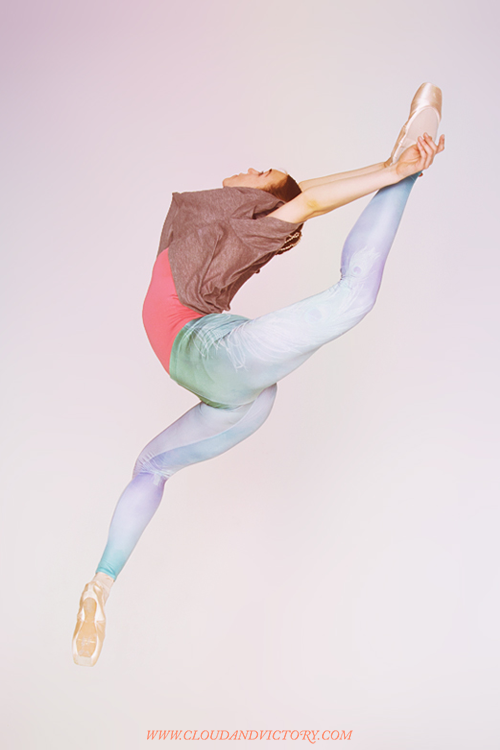 Ballet is such a difficult profession to succeed in, and the life of a dancer can be hard – so why did you want to become a dancer?
Because I can't live without dance, without the stage.
What do you love about ballet?
I can't pick out only one reason why I love ballet because there are so many! It is something special for me, for my little world inside me. The best thing is that you can play different and interesting roles, be different people! It's fantastic!
The hardest part is that you don't have stability. Every day you have a different body. One day you can't jump, another day you can't lift your legs or do a lot of more "fun" things. And you have pain. Always.
How does your family feel about it – of course they must be supportive to let you study at Vaganova, but how did they feel about you wanting to dance professionally?
Of course my parents are worried about me. And I love them so much and I am very thankful for their assistance. But they know that I am a dancer, even right now.
Russia has a grand and deep ballet culture; its seems like many Russians love ballet. Is it seen as a very prestigious thing to become a dancer? Or is it very normal, like any other job?
In my opinion, dancers are special people. And this profession is not for everyone. I think being dancer is one of the most difficult things in the world.
You must have danced on the Mariinsky stage a number of times by now. Do you still get nervous, or are you used to it?
I am used to dancing on this stage from my childhood. We don't have a lot of performances now but we do have Nutcrackers in December.
Masha, Renata and Olga, wearing Cloud & Victory.
What do you think are your best qualities as a dancer?
I am thankful to God that he gave me good balance. Also I try to feel my heroes when I dance and express their emotions from myself to the audience. I really like modern dance.
What has been your proudest achievement so far?
I think it was my  successful summer ballet intensives in Spain and Germany this summer.
Which dancers would you love to dance or partner with one day?
I really want to continue dancing with one of my friends and partners, Nikita Ksenofontov, because he is amazing! Also with my best friend Murat Ushanov – he is a super partner!
And although it is just a dream – I would love to dance something with Marcelo Gomes one day. He is my favourite dancer in present day.
What is your dream – the goal that you hope to achieve through dancing?
My dream is my secret! But it's to be global – to dance in Europe.
Besides dancing, what else do you enjoy? 
I can't imagine my life without dance. But as a hobby I really like cooking sweet dishes, participating in the photoshoots as well as other things like drawing, reading.
——————-
See the Cloud & Victory x Vaganova girls shoot here.
Text, photos, header graphic by Min, Cloud & Victory.
Follow Mary Puart on:
Instagram: @marypuart