Mckayla Maroney is probably one of the most well-known athletes today.
She was widely already admired by the gymternet for her technically impressive vaulting skills and seemed practically assured of the vault gold at London, no mean feat given the unpredictability of gymnastics.
But she crashed out on her second vault at the London Olympics – and so the story goes, ended up catapulting to fame, thanks to the infamous Not Impressed meme.
But there is much to be impressed about when it comes of McKayla Maroney. It's not simply her vaulting skills which are admirable – although it doesn't get much better than that, to be fair! In the aftermath of the Olympics, she handled herself with grace and moxie while dealing with newfound attention and criticism, managing to charm everyone in the process. She has made her intentions clear: she underwent surgery post-Olympics, but after her rehabilitation period was over, it was straight back into the gym for McKayla Maroney. She wants Rio 2016, and she's made that perfectly clear in words and deed.
It's still early days, but we definitely wouldn't bet against McKayla. Here are some of the things that make us love her.
Perfection on a broken toe: Her Amanar in the Olympic team finals in London 2012, which she performed despite fracturing a toe earlier in training. The stuck landing is the exclamation point on a vault that looks flawless even in a slow-motion replay. The only nitpicky deduction you can take is her legs apart on the takeoff from the springboard. If this was the early '90s, this vault would easily have scored a perfect 10.
Shake Your Tailfeathers: We love McKayla in this leotard so much we made a poster of it. She looked stunning at the 2013 US Nationals in this unique Adidas design, which featured graduated green Lycra with a peacock motif and crystal embellishments. Less is usually more when it comes to leotards, but nary a rhinestone looked out of place on McKayla.
Cool Cat: This picture of her and her best friend/Olympic teammate, Kyla Ross, on a rollercoaster. Basically, WINNING.
All Arounder: Not content to rest on her laurels as a vault prodigy, McKayla used her inability to fully train on her pet event following her surgeries to brush up on her other events. She had to spare her legs from too much pounding on the floor and vault, so until her injuries had properly healed, McKayla capitalized on the time to brush up on bars – her weakest event, as well as beam. Of course, a few months of work couldn't turn her into a Nastia Liukin.
But by the time the 2013 World Gymnastics Championships rolled around, McKayla had sufficiently impressed Marta Karolyi that she was allowed a shot at qualifying for the all around finals, where she competed same high-level vaults she did in London, an improved bars set, and one of the artistically stronger floor routines of the championships. Unfortunately, a fall on beam dashed her chances, but it certainly doesn't diminish what she managed to accomplish in a limited amount of time.
Floor (qualifications)

Vault (qualifications)

Bars (qualifications)

Beam (qualifications)

Point Proven: Oh, and she also picked up that World Championship gold medal at vault finals, and made it look like a walk in the park. When gymnastics legend Bart Connor calls her Amanar 'the best vault in the world', you know it doesn't get any better than McKayla Maroney.
http://www.youtube.com/watch?v=m8x69tgRouk
Budding Thespian: Several Olympic medal-winning American gymnasts have tried their foray into the entertainment industry with varying degrees of success. There was Carly Patterson's music video, Shawn Johnson's cameo on Secret Life of an American Teenager and Nastia Liukin's appearance on Gossip Girl.
Following the London games, McKayla Maroney was invited make a guest appearance as McKaley Miller's best friend Tonya, on Hart of Dixie, which starred Rachel Bilson. Her acting debut made enough of an impression that she parlayed it into 2 more appearances on the show, as well as an upcoming appearance on the David Boreanez and Emily Deschanel-led crime-solving show, Bones.
McKayla Maroney on Hart of Dixie


Rhythm & Moves McKayla also has madly adorable dance skillz, which have been .gif-ed by the Tumblr community for our viewing pleasure.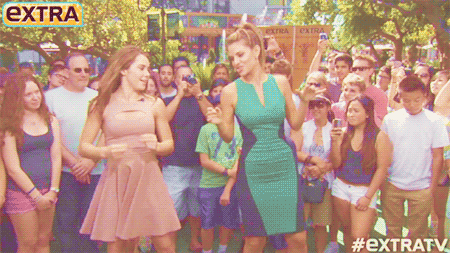 Sassy McSasserson: It is generally not a good idea to engage with online trolls, but McKayla's comebacks are witty while lacking maliciousness, which make for the ultimate burn.  Haters beware.
Heart of Gold: It was not gymnastics' finest moment when certain Italian gymnasts – shall we say – threw some shade that was racially charged and implied Simone Biles did not deserve her beam gold at Worlds. The Italian gymnastics federation stuck by their athletes, but McKayla showed her support for Simone with the simplest and truest of statements.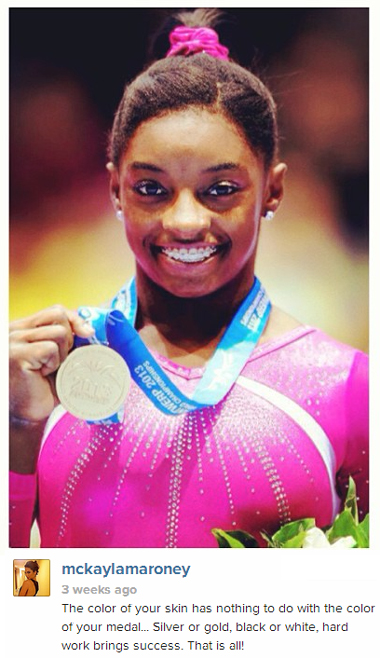 White Queen: We love a good white leotard here at C&V. It can look clean, classic and lend a certain balletic elegance to the right gymnast.  McKayla is not one to shy away from white, and this colour certainly emphasizes her lean, slim lines.
And of course there was McKayla's appearance in the music video for 30 Seconds to Mars single Up in the Air. She and fellow Olympian Jordyn Wieber performed gymnastics clad in white leotards, their hands dusted with chalk in a hue especially favored by US  elite gymnasts: hot pink.
We hope she doesn't treat her fall in the London vault finals as a sign that she shouldn't wear white. Not when she pulls it off so well. In fact, we hope she rocks out the white at Rio 2016. Fingers crossed!